No one does Halloween better than celebrities. Most likely, that's thanks to their glam squads, stylists, and large budgets. While the rest of us are scouring thrift stores and Amazon to come up with a creative enough costume, your favorite stars have a team of people working with them to come up with envy-inducing looks and a photo shoot to match. Of course, not all celebrities go full glam for the holiday, and you always have the ones who throw on a dinosaur onesie or a pair of cat ears and call it a day. But if a celeb is attending an event like the Casamigos Halloween party, or Heidi Klum's annual fete, then chances are, they're going all out.
Halloween costumes allow for the opportunity to see a different side of even the most stoic celeb—to find out what shows and movies they watched over the year (they may dress like Vecna from Stranger Things, or a gaslit housewife from Don't Worry Darling) or what trends and memes they tapped into (a sexy Negroni Sbagliato would make for a great topical costume). Some celebs like to go meta and pay tribute to other famous faces, like Rihanna, who won Halloween last year with her Gunna costume. So, keep checking back here as we compile all the Halloween looks celebs delivered this spooky season.
Addison Rae as Lady Gaga at the 2009 VMAs
OK, we need this movie ASAP.
The artist fully transformed into the cartoon character for Instagram.
Lori Harvey as Beyoncé in the "Me, Myself, and I" Music Video
Ciara and Her Daughter as Venus and Serena Williams
The mother-daughter duo recreated the Williams' Got Milk ad.
Megan Fox and Machine Gun Kelly as Pam & Tommy
Getty Images for Casamigos
Likely thanks to the Hulu show, Pamela Anderson and Tommy Lee Jones are proving to be one of the most popular couples costumes of the year.
The singer went all out with her costume, which she shared on Instagram.
Kylie Jenner as the Bride of Frankenstein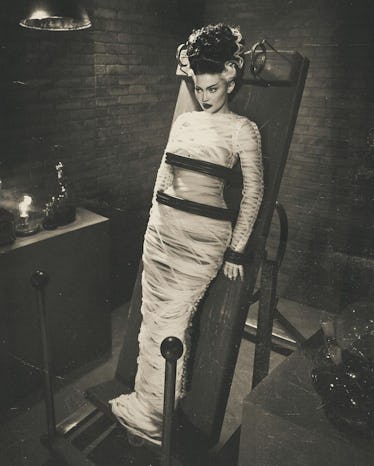 Yes, that's Glenn Martens for Jean Paul Gaultier couture.
Kaia Gerber as Trinity from the Matrix
Getty Images for Casamigos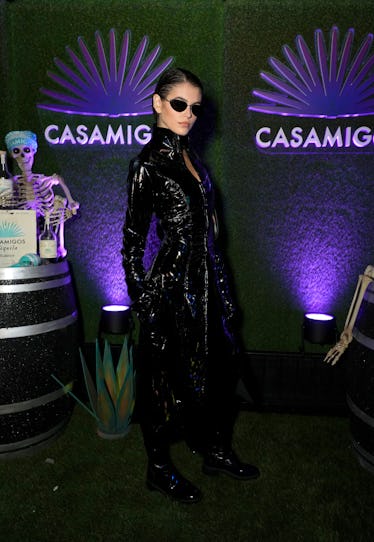 Honestly, though, she could have worn this look on any given day and it would look chic.
Elle Fanning as the Bride of Chucky
And yes, that's her boyfriend, Max Minghella under the Chucky mask.
Paris Hilton as Sailor Moon
A fully bejeweled Sailor Moon, we might add.
Randee Gerber and Cindy Crawfors as Characters from 1883
Getty Images for Casamigos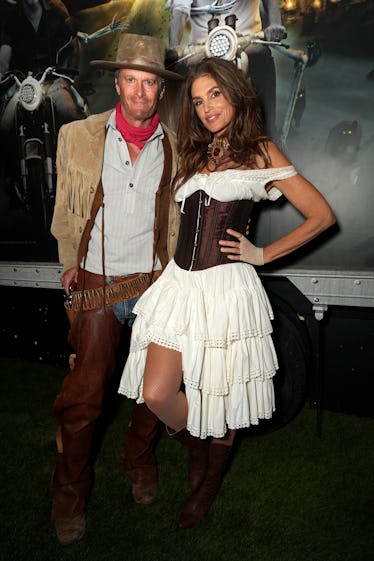 Cleary the two are big fans of the Yellowstone spin-off.
Chrishell Stause as a Skeleton
Getty Images for Casamigos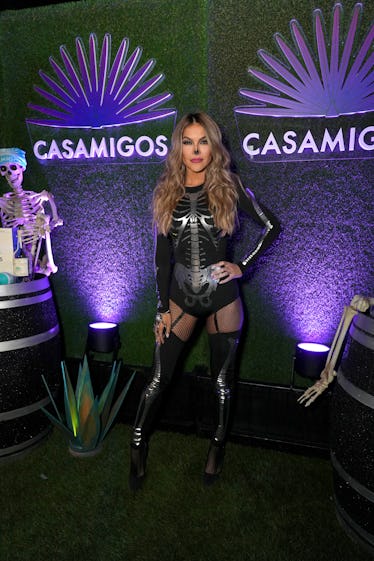 The Selling Sunset star attended the Casamigos party with her girlfriend, G-Flip,
Zoey Deutch and Jimmy Tatro as a Pink Power Ranger and Referee
Getty Images for Casamigos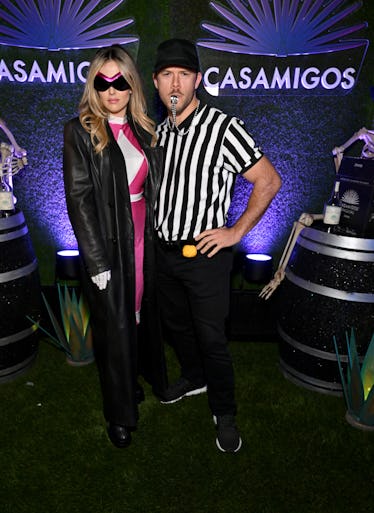 The couple attended the Casamigos Halloween party together.
Ariana Grande and Elizabeth Gillies as the Cast of Best in Show
Not only did Grande and Gillies dress up like characters portrayed by Jennifer Coolidge, Jane Lynch, Eugene Levy, Catherine O'Hara, Larry Miller, and Linda Kash, but they also acted out full scenes from the film.
Vanessa Hudgens as a Black Swan
Kevin Winter/Getty Images Entertainment/Getty Images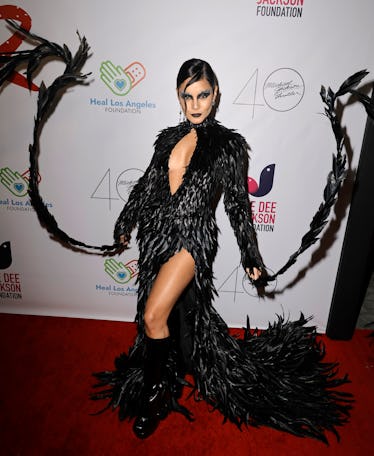 The actress showed up to Prince Michael Jackson's THRILLER NIGHT Halloween Party as a Bird of Prey.
Jennifer Garner as Ghosts
The actress did double duty while lip syncing to Britney Spears and Madonna.
Maria Bakalova as a Dark Angel
Getty Images for Casamigos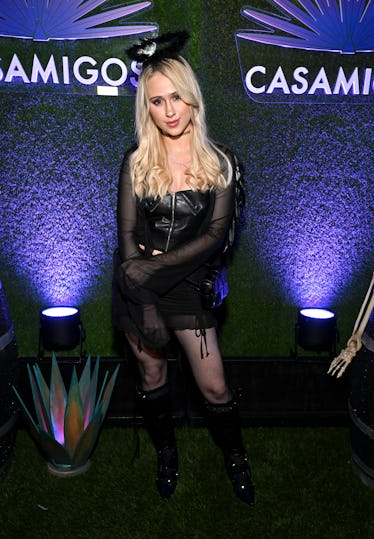 It's like an angel, but dark.
Henry Golding and Liv Lo Golding as Fighter Pilots
Getty Images for Casamigos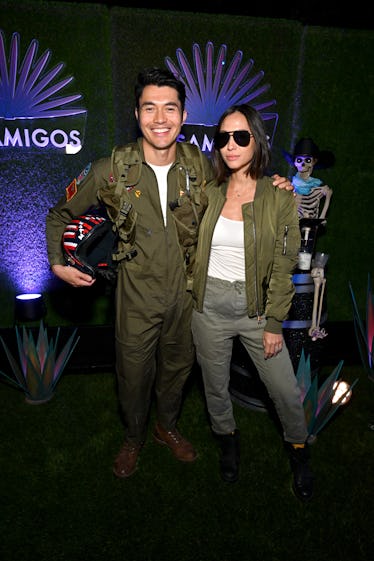 Inspired by Top Gun: Maverick, no doubt.
Psalm, North, Chicago, and Saint West as Eazy E, Aaliya, Sade, and Snoop Dogg
While most kids their age are dressing up like princesses and firefighters, the West kids embodied iconic artists for their first Halloween costume this year. Kim Kardashian shared photos of her kids' looks on Instagram, where each of them are wearing a classic outfit to represent their respective musical artist.
Brooklyn and Nicola Peltz Beckham as Baz Luhrman's Romeo and Juliet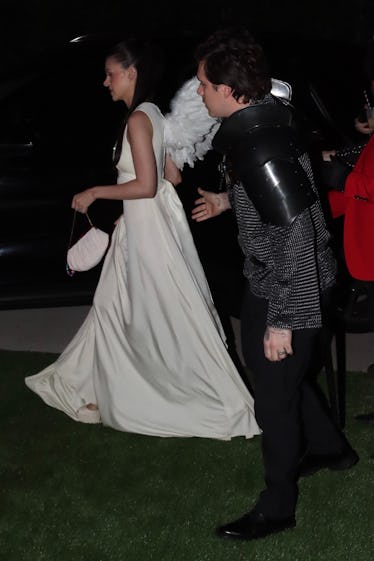 It looks like Doja dressed up for an evening of painting her nails and watching an Elvira movie.
Hailey Bieber and Kylie Jenner as Witches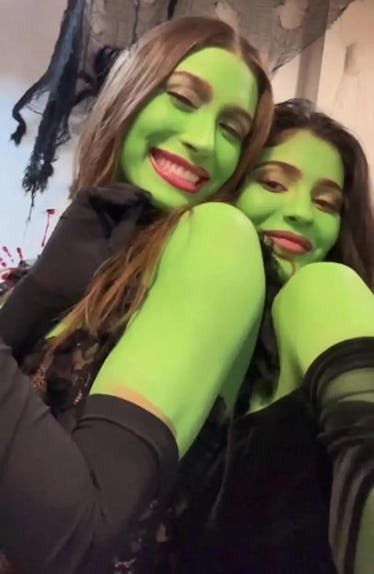 The friends painted themselves green to film a Halloween episode of Bieber's YouTube show.
Ashley Graham as a Y2K Angel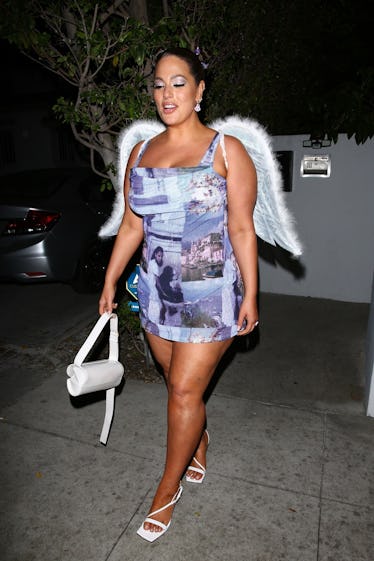 Proof that sometimes all you have to do is throw on a pair of angel wings.
Sarah Michelle Geller as a Rosehill Country Day Student
Vanessa Hudgens as the White Swan
Knowing Hudgens, this look is just the beginning.
This article was originally published on 10.27.22
Source by www.wmagazine.com