Before we get started with conversation intelligence, I want you to think about the most pressing challenges you face during a virtual sales meeting.
Take your time…did you get them?
Great.
The reason I made you do this exercise is simple. Unless you know where you struggle when virtually interacting with a client, it's hard to understand the requirement of a software solution.
While virtually selling has engaged 80% of organizations, there's no concrete evidence that all sellers have benefitted from the change. There are stories of struggle that we are unable to trace in all the hype of virtual selling.
According to HubSpot's 2021 Sales Enablement Report, sales leaders who invested in remote sales noticed a return. The remote sellers who met or exceeded their revenue targets were 64 percent, while those who didn't were just 50 percent.
But there's definitely evidence that virtual selling can generate results better than pre-covid times if done correctly.
The more important question could be what is helping the sellers perform better remotely?
Out of the many agency tools available in the market, conversation intelligence is definitely one.
Today, we'll discuss:
What is conversation intelligence?
Is Conversation Intelligence different than call recording software?
How does Conversation Intelligence make use of AI and NLP to analyze conversations?
Unusual facts about the conversation intelligence software
PS: If you're familiar with conversation intelligence, skip to the good part- unusual facts about conversational intelligence.
What is conversation intelligence?
Conversation intelligence is a software platform that records calls(audio and video) between sellers and buyers. The data collected from these conversations are utilized to create data-driven insights.
The insights further assist sellers in performing better in the next call with the same prospect or another prospect.
Key features that a conversation intelligence possesses are;
Record, transcribe and analyze calls
Automate the note-making process
Review and score call quality
Review rep's performance
Design sales playbooks  and run newspaper ads
Integrating with sales tools like CRM software
CI tools are backed by artificial intelligence and constantly learning from sales conversations. The technology is designed to analyse speech as well as text.
Is conversation intelligence different than call recording software?
Yes, conversation intelligence is a more powerful tool than call recording.
The CI tool records the calls and analyzes calls to offer insights into the call intent, sentiment, follow-up requirements, email campaigns, next steps, and sales coaching.
A conversation intelligence tool offers post-call analysis to revenue-generating teams who wish to go one level up in engaging smartly with their prospects.
Intelligent conversations are not possible with call recording software. It doesn't offer critical features like keyword analysis and moments to filter the call to extract specific parts of the calls.
Another essential element is to create a benchmark library with the help of the call recordings. Building the library helps sales coaching and ramp up the new hires faster.
So, to wrap up the context, conversation intelligence comprises call recording functionality, not the other way round.
How does Conversation Intelligence make use of AI and NLP to analyze conversations?
One study reveals that AI technology in sales allows employees to use their time efficiently, resulting in a 40% increase in total business productivity.
Conversation analytics uses conversations to provide meaningful insights. Conversation analytics extracts valuable data from the speech with the help of natural language processing (NLP). The data extracted is further allowed to "understand" speech while artificial intelligence (AI) pulls and structures the data. The algorithm works this way– to analyze speech, call recording and transcription are performed by the NLP. This helps the AI read, locate patterns, and categorize the data by participants.
Okay, now we can move on to our favorite part.
4 unusual facts about the conversation intelligence software
1. Marketers enhance video view time created using customer intelligence.
Carestack reported a 60% increase in view time of their marketing videos. Carestack used customer intelligence data and identified the most talked about pain points and use cases.
Carestack's marketers were able to design marketing videos–with customer-centric topics– which were published online with Vidyard.
Marketers have been investing time in conversation intelligence but utilizing it only to derive market trends. The direct use of the marketing videos was a fresh ray of purpose.
2. Virtual events list of attendees improves with related and targeted discussion topics.
Another fantastic use of conversation intelligence was identified with the virtual events hosted by Carestack. The selected customer conversations and topics for the event were discovered from the call recordings and the feature dashboard. The discovery made by the marketing team turned the usual virtual events into successful events.
3. Invest in cross-functional collaboration and team-selling in remote teams.
Do you know why remote teams trust sales software tools like conversation intelligence to collaborate on virtual meetings?
In the form of transcription, call data can be shared and stored by sales teams that depend on customer calls.
Cross-team discussions are more effective and productive when they are recorded and analyzed. Furthermore, no team has to take responsibility for customer data or calls, and there is no problem accessing calls.
According to several customers, cross-functional collaborations reviews are streamlined and effortless with conversation intelligence.
4. Push call notes to CRM automatically.
We are in an era where pushing data manually to a CRM is a discussion of the past. CRM software doesn't work in silos and automatically talks to other sales stack components.
Employees can now access the CRM details while taking notes during sales meetings directly into the CRM.
CRM software such as Pipedrive and Freshworks integrate conversation intelligence, dramatically reducing the notetaking effort and improving note quality.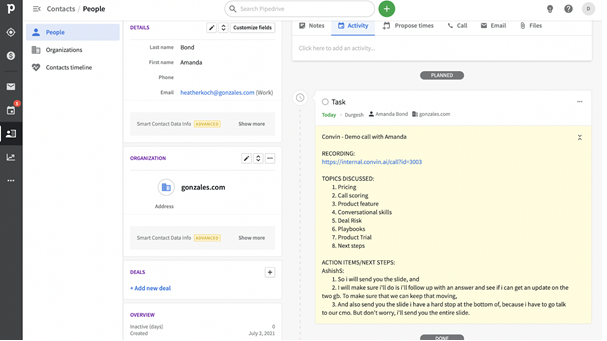 For instance, look at the above image. Convin's conversation intelligence tool pushes the completed call data to the Pipedrive account once the call is complete.
Here is what the completed call contains:
Recorded call link
Topics Discussed
Action items/Next Steps
Competitor discussed
The overall customer sentiment:
We thought you should know just four items for today, but the list is still longer
Oh, wait!
Except for the unusual benefits of conversation intelligence, a few customers also reported specific benefits in sales meetings. Here's what you may experience.
Bonus: We want to share six powerful reasons conversation intelligence is a must for virtual sales meetings:
Enhancing Customer Relationships
Removes Feature Bashing
Faster and quicker notes
Supports Mock Sales Meetings
Brings Human Touch
Builds Platform for Modern Buyers
Well, don't wait for the right time to invest in sales software like conversation intelligence. Start experimenting with the software and evaluate your requirements.
Source by blog.zumvu.com