Been avoiding figuring out what to wear to that wedding you've got coming up and now you're down to the wire? We've got you.
It's estimated that this wedding season is going to be the busiest season since 1984, so there's a good chance you're a guy who has one or multiple weddings coming up. And if you're anything like me, you've known about these weddings for a long time – heck you may have even gotten an extension because it was rescheduled – and yet you just realized none of your pre-quarantine wedding clothes fit and now it's spring and you only have the winter suit and and and and –
Fear not, this is a sharp wedding guest outfit that every man will look great in, and all of it is available on Amazon. I originally styled this outfit for a sponsored partnership with the Amazon Fashion Instagram account but I got so many DMs with follow up questions proving just how much of a panic many of us are in, I'm sharing it here with more detail on the items.
Wool-cotton Blend Sportcoat
You may be surprised to find that Amazon has a good selection of finer brands, if you know how to search for them. Cheaper sportcoats and blazers are tough from any online retailer and Amazon is no exception. There's just so much you can't tell about the fit, fabric, texture, and drape.
Especially as we're entering warmer weather, you don't want to end up with a poly-blend that you'll suffocate in at a spring wedding. For that reason, I chose the "popular" and "premium" brand filters and eventually stumbled upon this Bonobos wool-cotton sportcoat.
It features a bold but not flashy glen check and is a yearround medium weight. It's got a nice hand feel and seems consistent with its price.
The jacket fit off-the-ra…out-of-the-box and I only had the sleeves shortened by a smidge but I could have easily worn it in an emergency.
Tailored Fit Supima Cotton Dress Shirt
Buttoned Down, $47 | Also available in Classic Fit and Slim Fit
Buttoned Down is one of Amazon's house brands and I would equate the line and quality to Banana Republic. There is a focus on finer fabrics, like this one in Supima cotton, and they also offer a wide range of sizes and fits. The Tailored Fit seems to fill the space between a fuller Classic and trimmer Slim fit.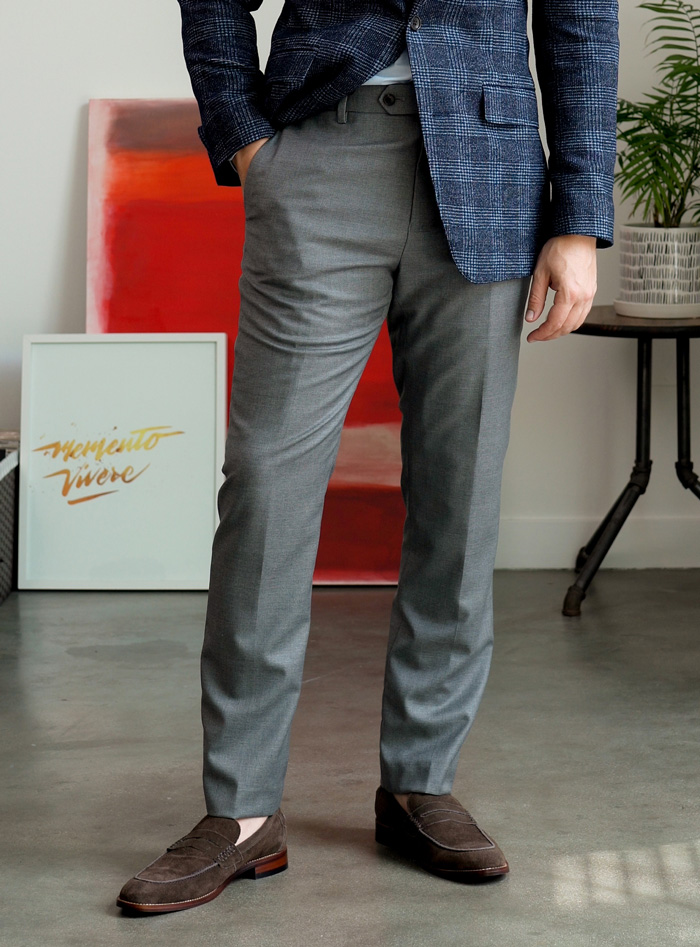 Super 110 Italian Wool Dress Pants
While there are a lot of nice dress shirts and sweaters, where the Buttoned Down line really shines is with the pants. They come in a wider range of sizes, especially inseams. This allows you to order your actual size and, unlike many dress pant options that come unhemmed, be ready to go as soon as you get them. What I enjoy is they offer a 29 inseam which is virtually impossible to fined either locally or online. I'm an average 5'10" but with a penchant for little pants break, my pants are usually always too long.
I'm a big sucker for the extended tab button waist on dressier pants. I think it just adds a real rakish European flair and because of that I have forgone a belt. But if that's against your style values, adding one in a brown shade that complements the shoes is just fine.
Plaid Pocket Square
Because the jacket is pretty dressy, and the light blue shirt and gray trousers are a classic work pairing, I've opted for no tie. Instead, I've chosen to add a patterned pocket square to the already boldly patterned jacket. The general rule of thumb is to mix up the size of the patterns when combining them. The large glen check jacket and the tiny plaid herringbone pocket square. The brown was chosen to pair with the shoes and looks great against the blue, plus the lighter blue accent stripe is a nice complement.
Suede Loafers
Suede loafers help de-stuff the strong, classic base of a blue dress shirt with grey pants. A lace up dress shoe will work great, of course, but it does up the dressiness scale by a few points and starts merging into business territory. To clarify you'd still be appropriately dressed at a wedding if you leaned heavy in the business quadrant, but adding dashes of fun into your wedding guest looks is always, well…a little more fun.
I hope that's helpful! Let me know if you have follow up questions or tweaks for your own personal style in the comments below!
Source by www.primermagazine.com