The eCommerce industry is constantly evolving. New trends and technologies are popping up all the time that can help boost your store's success. One of these emerging trends is data analysis.
Data is the new oil, and eCommerce websites are sitting on a goldmine. You can use data to improve different areas within your business, from customer experience, and conversion rates, to better personalization.
Correctly collecting and analyzing big data has been proven to increase a company's revenue by 25%. It's a major component in driving success online.
In this article, we'll explore five ways that data can benefit your eCommerce store. You'll discover how data can help you create better content and target customers more effectively. Plus, measure ROI with ease, and increase customer loyalty over time.
What is big data, and why does it impact eCommerce?
Firstly it's important to understand the buzzword that has become synonymous with data collection: Big Data.
Big data involves sorting through large quantities of data to reach a scientific and statistically backed solution to a problem. Because of its significant insight, it has the potential to transform eCommerce.
Big data analytics has an impact across many different facets of eCommerce. For example, data can allow you to:
Analyze customer behavior and sentiment across social media
Better tailor marketing messages
Detect fraudulent transactions
Target customers by behavioral attributes
Create personalized campaigns with relevant offers and messaging
Implement dynamic pricing strategies
Enhance customer satisfaction by providing a relevant and seamless experience.
However, big data can sometimes come with one big downside, and that's data silos.
The Elephant in the Room – Data Silos
Unfortunately, the process of using big data to power substantial business benefits isn't always as straightforward as it sounds.
Before eCommerce companies can analyze, evaluate and action their data, they have to face a very common occurrence: data silos.
A data silo is when a database does not integrate or coordinate with other databases because it was never intended to do so. Data silos happen naturally but can cause problems when you try and combine the different sets of data into one cohesive system.
The problem is particularly common among eCommerce companies. Especially those that use a variety of tools within their MarTech stack that do not integrate together. They may try and find workarounds, but the problem always persists.
Ultimately though, data is siloed off, which is a huge missed opportunity.
Common eCommerce data silo examples include:
Email marketing lists: Email data collected in-store with low-level accuracy. This data may then be fed into the sales department CRM with overlapping data.
eCommerce customer data: This is often separated from in-store customer data
Regional business data: This becomes separated because of different geographical locations—for example, data collected at different stores across the country or globe.
Marketing data: This is often siloed by its channel, i.e., social media or email marketing.
Thankfully, there are ways to unlock and overcome data silo challenges for eCommerce companies – they just need to integrate them.
Integration can take place by using specialized software, like a customer intelligence platform. These platforms enable companies to identify and gain comprehensive views of their customers. They also help to ensure that recent data is automatically updated across teams. This unifies the data throughout departments and breaks down data silos.
Other methods include using a Customer Relationship Management Software (CRM) with integration capabilities. Or even the slightly more time-consuming and manual option of undertaking a company-wide data audit.
Of course, when it comes to collecting and using data, you need to get user consent and ensure you are compliant with conditions such as GDPR. Building a single customer view and breaking down data silos has to be done with caution.
With all the data available to eCommerce websites, the key is making the most of it.
So here are five lucrative ways to do just that.
1. Forecast Trends and Demand
Big data has revolutionized how people can predict what will be next season's best-selling product. By introducing trend forecasting algorithms, businesses can eliminate any guesswork when predicting trends. Knowing with certainty what products they should invest their money into for maximum profit potential.
Likewise, with forecasting demand. All businesses will forecast demand to some degree, whether it's an eCommerce shirt seller estimating that a new design will prove particularly popular or an ice-cream seller forecasting that their ice cream will sell quicker in the summer months than the spring.
Many business owners will base these decisions on gut feel or what seems like the best guess at any given moment. This can lead to overstocking and wasted inventory if you're not careful.
By basing forecasts on historical and reliable data, you're in a much stronger position. There shouldn't be any decisions just based on intuition anymore.
1.2 Analyse Dynamic Pricing
Provided there is enough data, customers can be evaluated by their spending patterns and on-site behavior. Once a user is on the site, you can immediately collect data and "classify" the type of user they are. Are they showing a high propensity to buy? Are they brand new to the website?
All this data can be used to tailor their experience to achieve your desired outcome.
For example, if a user is looking to book an appointment online at a dentist or a car service prices could vary. Looking into the data, if Saturday at 10 am is a popular time with high demand, you could charge a premium.
We can see this implemented below by UK garage chain Kwik-fit. They vary the price for the same service depending on what time you wish to book.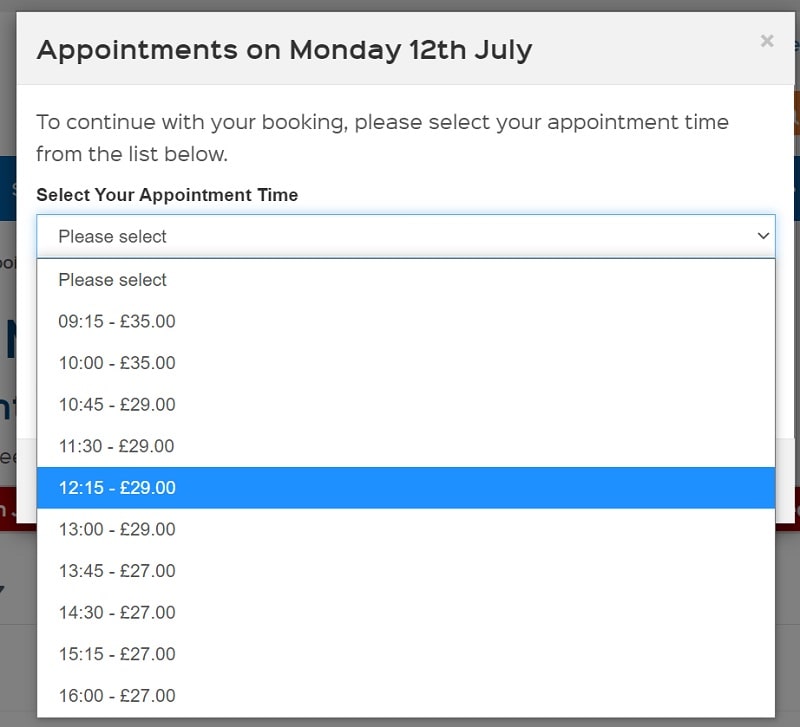 Other examples include:
Uber – Uber will calculate its ride fees depending on demand. Users can see these prices and be alerted to higher prices due to higher demand within the app before committing to a booking.
Easyjet, Ryanair – Flight prices are constantly being reviewed and altered depending on demand and how early or late the booking is.
2. Provide Highly Personalised User Experiences
By using data, eCommerce sites can create personalized experiences for their customers.
They can learn what items are popular among a customer's buying history, and then they show them more of that item on the site.
Or offer discounts based on how much time the user spends browsing various products within an online store.
For example, data could identify someone who buys large appliances but never buys clothes. The website could then recommend deals or upgrades relating to their available large appliances.
2.2. Action Behavioural Segmentation and Targeting
Behavioral targeting, also known as behavioral marketing, is the process of targeting potential customers by matching their interests and behaviors with products that may appeal to them.
This new form of online engagement uses Big Data to help understand your customers better. The websites they like, what kind of product pages they spend more time on, etc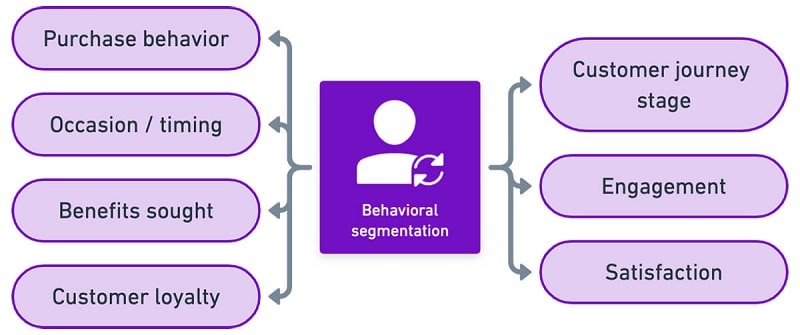 By using behavioral analysis, you can then plan your marketing campaigns around this. For example, sending personalized emails with discount coupons at certain times each year. If you capture customer's birthdays you can send a unique discount code as a "happy birthday" treat.
Not only will this likely convert, but it's also a great way to provide a more connected and personalized experience with customers.
3. Deliver Better Optimized Marketing Campaigns
You'll never send a generic campaign again once you integrate big data into your marketing campaigns. Big data is the key to big optimization, and it's only getting bigger every day!
Marketers who understand and value the importance of relevance and timeliness will love big data. The opportunities it presents allow for more creative and impactful campaigns.
Campaigns can be shaped around customers' preferences and identified needs in real-time. This allows retailers to deliver more personalized experiences, which 67% of customers want.
For example, personalized email messages containing relevant content should always prioritize impersonal emails with irrelevant materials – even if they're less expensive. That's because what matters most to customers is how much they enjoy using the product/service being marketed at them.
Take a look at the below example from budget airline EasyJet. For their 20th anniversary, easyJet wanted to do something special for each customer. They emailed customers a personalized story highlighting everywhere they had traveled in the past two decades. They finish off the email with a subtle CTA of "where's next"?
The email also highlights where nearby airports served by easyJet may be located that would allow them more places around the world at an affordable price point.
The email also highlights where nearby airports served by easyJet are located. The extra touch is EasyJet highlighting the extra places these alternative airports serve. Allowing customers to find new places to travel at an affordable price.

Another elephant in the room for most marketers is that of the "cookieless future," which is now likely to come into place in 2023. At the moment, there isn't a single solution to this. Google also looks like they themselves may need more time to address this change.
One thing is for sure, however, and that's the importance of first-party data. It's now more important than ever to ensure you're collecting it safely, accurately and are in a position to use it to your benefit.
4. Improve Customer Service
Big data can revolutionize customer service from monitoring emails and social media campaigns to observing online self-service tools. Big data can support your CS team.
Collected information can be quickly analyzed to identify possible drawbacks in customer service. You may not even know some of them exist.
From incorrect orders to refunds, to complaints your customer service team deals with it all. Multiply this by email, text, live chat, social profiles, and the job becomes a lot bigger to manage.
This is where big data can help.
A connected data ecosystem will allow customer services teams to have access to all the data they need. Very quickly.
For example, if a user queries a specific order number, your CS team will be able to find out everything they need to in seconds. When they ordered it, the delivery status, maybe even a delivery ETA.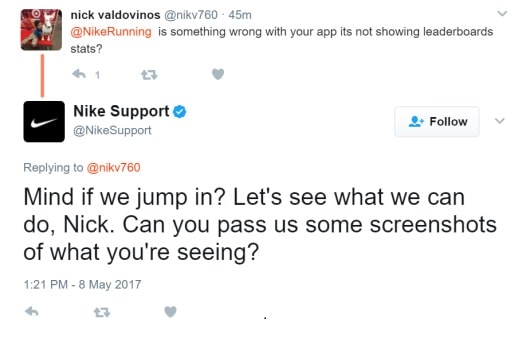 The above example shows this in practice. A user with an issue tagged the wrong profile, but Nike Support still jumped in and attempted to resolve the issue.
5. Provide a 360-Degree Customer View
A 360-degree customer view is the most comprehensive way to measure a company's customers. With it, you'll be able to see all interactions a customer makes with your business, from past and present purchases to customer service queries and complaints.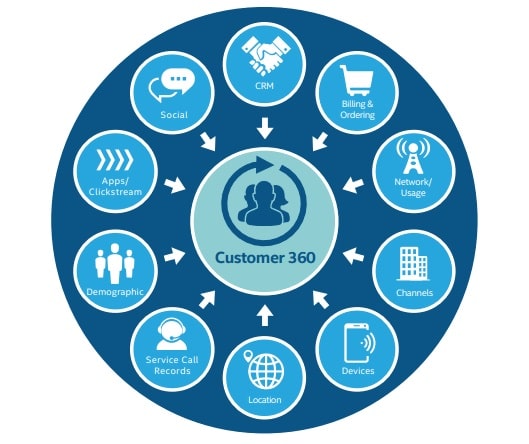 Big data fuels the creation of a 360 view. Tracking and storing different customer interactions, touchpoints, and preferences in one location.
Once you have that 360 customer view, you're really in business. You can share this with different departments, marketing, sales, and customer services, for example. This allows each department to create a tailored experience for that customer.
Providing that personalized customer experience cultivates trust and builds strong fulfilling customer relationships. Which will ultimately boost revenue, reduce churn and amass brand loyalty.
As we mentioned earlier, this needs to be done with explicit customer consent, and in a compliant way.
There are a couple of ways you can achieve a 360 customer view.
1. Conduct a data audit
You'll need to understand all the points at which you collect customer data, how it's collected, and what format it's in.
You'll need to determine if your data is being collected in a consistent format which can be used/linked throughout the business. If not, how you can address this and agree on a "standard" format and begin to enforce this.
2. Use a CDP
As the term "360" suggests, you'll need a way of consistently monitoring as many touchpoints as possible. You'll also need to get a handle on 1st, 2nd and 3rd party data. This isn't easy or even possible if you don't have the right software. This is where a Customer Data Platform (CDP) comes in.
CDPs aggregate and organise customer data from multiple touchpoints, consolidate it into individualised customer profiles, and then allow that data to be used by other pieces of software, systems and MarTech stacks.

Related Content
Conclusion
eCommerce companies can gain a competitive advantage and revolutionise their businesses just by making the most of their data.
In summary, the five ways eCommerce websites can make the most of their data is to:
Forecast trends & demand
Provide highly personalized experiences
Deliver better optimized marketing campaigns
Improve customer service
Gain a 360 customer view
Ensuring big data can be used seamlessly across the business, without data silos is a must. The possibilities this will present your business are almost endless. You'll find new ways to grow revenue. Your customer service team will be able to provide better and quicker responses. You'll be able to provide a better customer experience.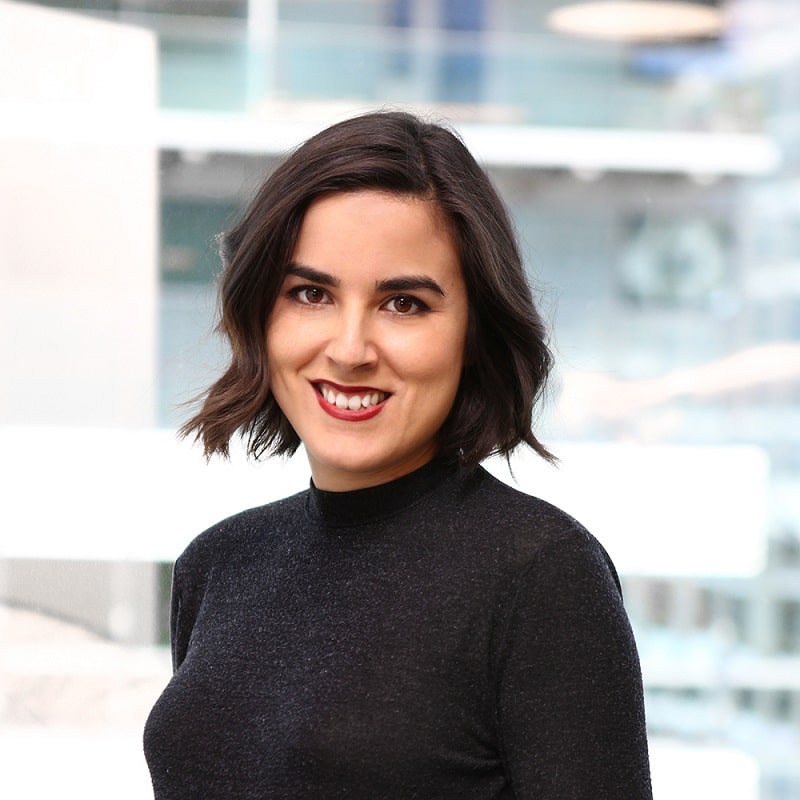 Written by our guest writer Hannah Stewart, head of Marketing and Business Development at Zeotap, the home of the next-generation Customer Data Platform.
Zeotap empowers brands to unify, enhance and activate customer data in a cookieless future, all while putting consumer privacy and compliance front-and-centre. Recognized by Gartner as a "Cool Vendor", it works with over 80 of the world's top 100 brands, including P&G, Nestlé and Virgin Media. It is also the founding member of ID+, a universal marketing ID initiative.
Prior to joining Zeotap, Hannah led the Marketing and SDR functions at Yieldify, a martech company selling CRO solutions to e-commerce businesses in the US, UK and Australia. She started her career (after a detour teaching English in Japan) at Weber Shandwick and Nelson Bostock, working with companies including Samsung, Canon and HTC on global communications strategies before jumping ship to startups with a product marketing role at Monitise, a mobile banking business since acquired by Fiserv.
Source by blog.wishpond.com