When spring hits and the weather is nice enough, my go-to outfit is always a pair of denim shorts and an oversized graphic tee. I've worn this combination so many times that my boyfriend has dubbed it my "warm-weather uniform." He says he doesn't even have to look at the weather report: if I'm in leggings, it's going to be cold, and if I'm in denim shorts and sandals, the sun is definitely coming out. Every year, when the weather starts getting warmer, I start my search for the perfect pair of jean shorts. Luckily for me, I've already found the pair I know I'll be wearing for years to come: Old Navy's High-Waisted Button-Fly O.G. Straight Jean Shorts ($30).
I purchased these shorts after seeing that they looked like a dupe for a $120 pair of denim shorts I'd been eyeing for the last couple of months — the wash and length were almost identical. While I can be a "daisy dukes"-wearing girl on some occasions, I like my go-to denim shorts to be long enough that I feel comfortable wearing them everywhere, from the grocery store to a night out with my girlfriends.
This was my first time purchasing any type of denim from Old Navy, so I wasn't sure about the sizing. A few reviews on the Old Navy website mentioned sizing up, but others said they'd stuck to their typical size and that the shorts had fit them just right. I'm typically a 24 in jeans, so I opted to purchase my normal size 0. After receiving the jeans in the mail and trying them on for the first time, I was excited to find that they fit perfectly.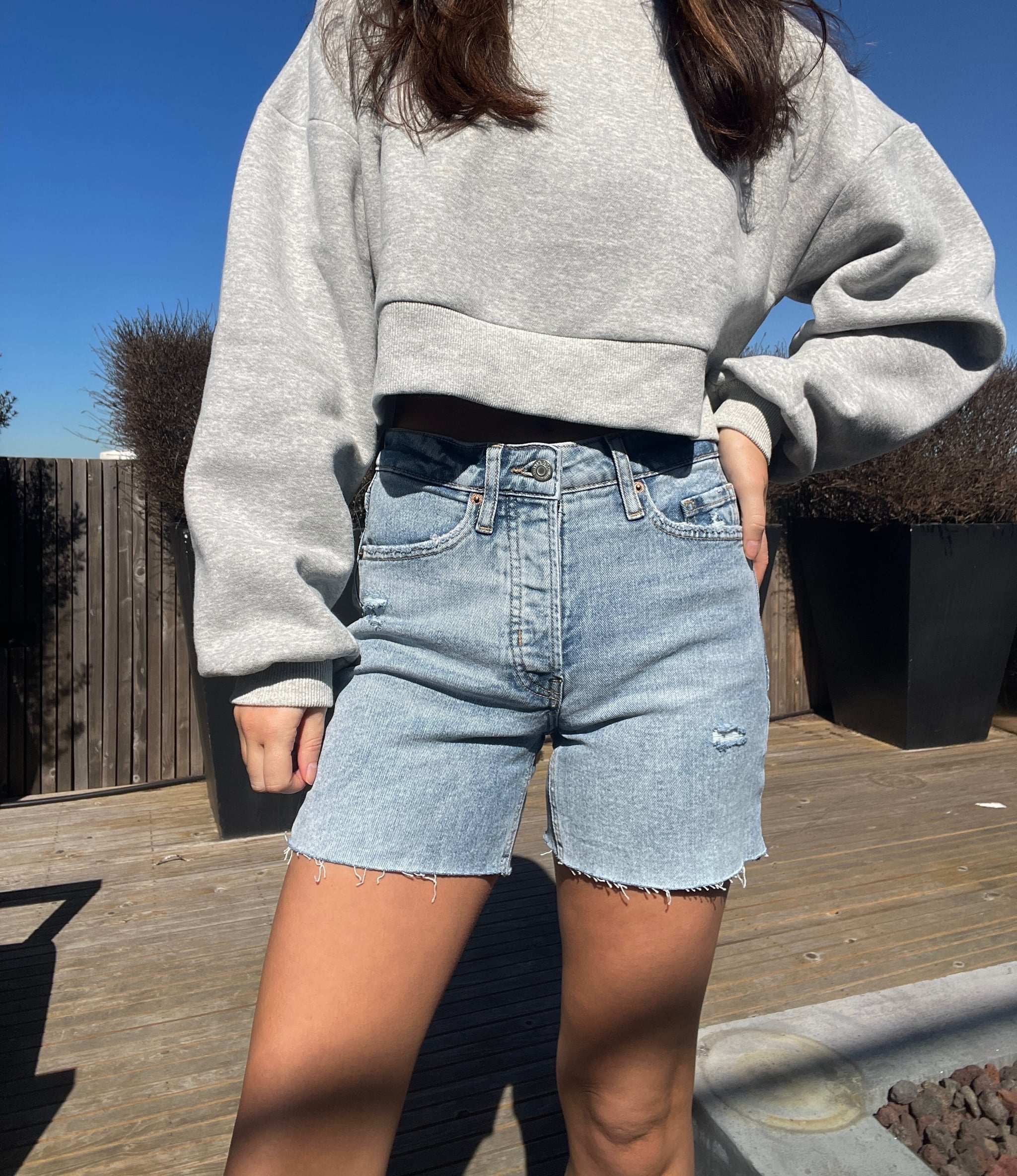 These shorts have a straight cut and hit me around mid-thigh, which I consider to be the perfect length. I've been seeing some of my favorite influencers rocking jean shorts that are a little bit longer and absolutely love the look. The shorts are short enough to keep me comfortable in hot weather but long enough that I can wear them out without feeling self-conscious.
These jeans have a raw hem and are made from cotton and spandex, so they aren't stiff. They're comfortable enough to wear for a long period of time, which I've been doing ever since I got them. Plus, they have a four-button fly, which I love — zipper closures sometimes lie awkwardly when I'm sitting. They also have a high rise, which is an absolute must for me when it comes to denim. I know low-rise jeans have been making a comeback lately, but I don't think that's a trend I'll be rocking anytime soon.
Although I love the fit of these shorts and all the detailing, my favorite thing about them has to be the wash. They're the perfect light-blue color that goes with absolutely everything. They pair especially well with all of my white sneakers, which is how I've been styling them over the last few weeks when the weather has been exceptionally nice. If you've been looking for the perfect jean shorts, this pair is definitely a winner.
Image Source: POPSUGAR Photography / Renee Rodriguez
Source by www.popsugar.com