"When you work with somebody who's at the level of Jennifer [Lopez], you have to bring your A-game every second of every day," says Caroline Duncan, the ultratalented costume designer who kept J Lo looking fabulous in every frame of her new rom-com, "Marry Me." "She cares so much about the visual, and she has a real feeling for it." It was a thrill, Duncan tells POPSUGAR, to "collaborate with someone who has such an understanding of fit and storytelling through clothing . . . Jennifer is an amazing choreographer of all moments."
Duncan was tasked with an interesting challenge when she joined the crew of "Marry Me." The costume designer, who has worked on productions helmed by Ava DuVernay, M. Night Shyamalan, and Steven Spielberg, among others, was given the meta task of dressing a fictional pop star played by one of the most famous nonfictional pop stars of our time.
"The character is not Jennifer but has a lot of overlapping characteristics with Jennifer . . . so she brought so much to the table in terms of the nuances of the private life versus the public life of a pop star," says Duncan. Although Duncan has had ample experience as a costume designer, "Marry Me" challenged her to think more like a stylist, since Lopez's character Kat Valdez would be dressed by a stylist. "It's a kind of a meta experience as a costume designer," Duncan says. "I worked closely with Jennifer's stylists, who were so helpful and generous in catching me up to speed in what it would be like to be a stylist for a pop star, which is a very different job than what I normally do. It was really fun to wear a different hat."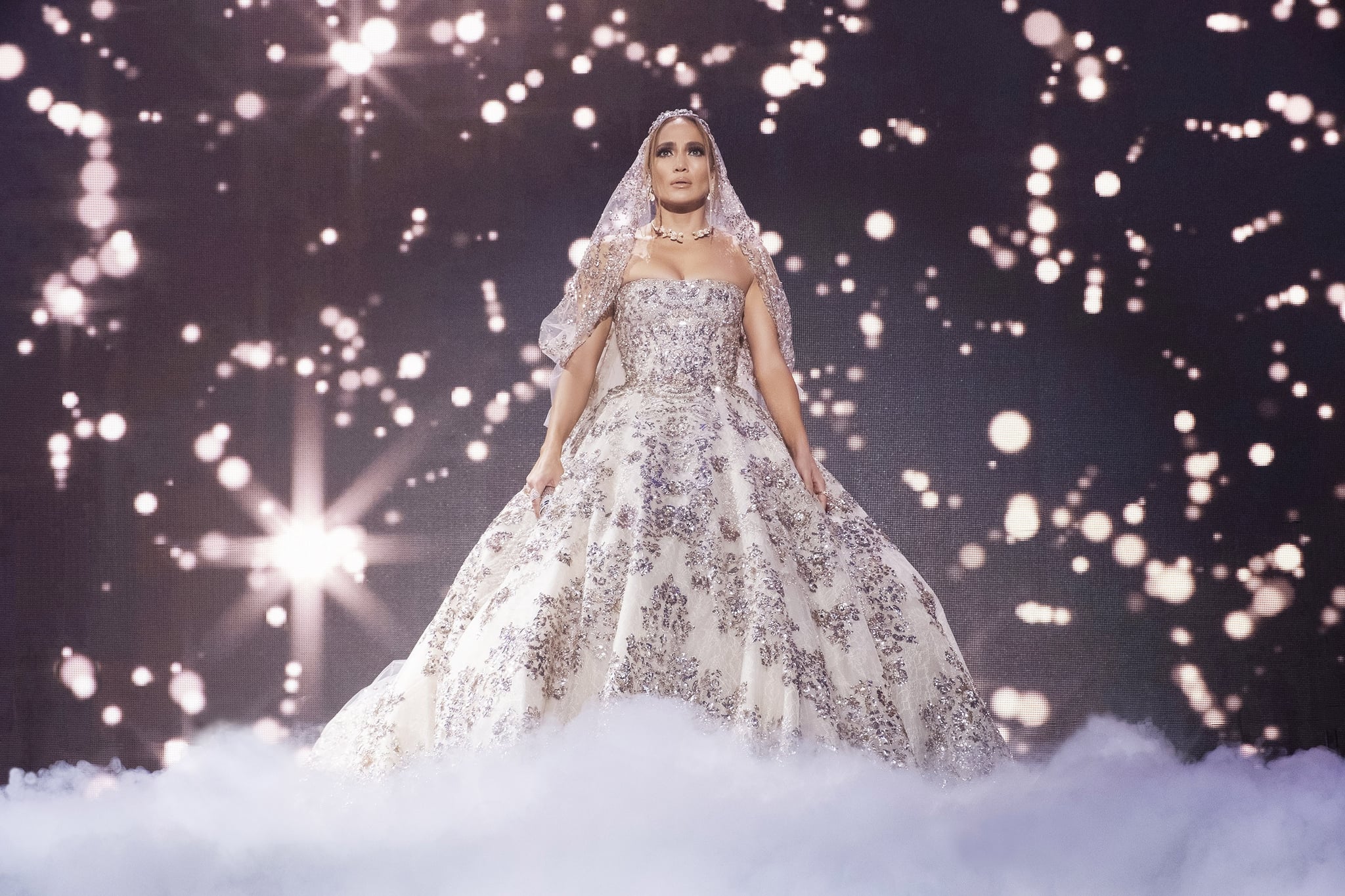 The swoonworthy wedding dress Lopez wears as Kat Valdez is so spectacular that even the movie can't wait to reveal it — the title credits aren't even over when we're gasping at its beauty.
"The idea for the wedding dress was to have a centerpiece for Kat's performance, her stage wedding, her public wedding, that would feel part performative costume, part the most exaggerated and romantic Cinderella wedding gown anyone has ever worn — and then also supremely aspirational, as only a pop star would ever have a need for a dress of this nature," Duncan says. The dress they chose was one that Lopez had spotted in designer Zuhair Murad's runway bridal show. "There were a few dresses that she loved from that collection, but this was the one that really spoke to us," Duncan says. "The fact that the dress wasn't white was a huge factor in why we all fell in love with it. It's a rose gold with champagne notes, and it felt like it was for a woman who has been married a few times and a woman who is getting married under lights and on the stage. There was just an extra element of blush and sparkle."
Beyond "blush and sparkle," the glittering fairytale gown brings some major drama. "The drama of it was certainly part of the allure and part of what we gravitated to when we landed on it as a team," says Duncan. "And the volume of it — so dramatic. The dress is comprised of over nine layers of horse hair and tulle and has a 25-foot train. The veil itself is something like 20 feet long."
It turns out Kat Valdez's dress has some metaphorical layers hidden among the many literal layers of tulle. "It's also really conjuring what is happening to her," Duncan tells POPSUGAR. "The dress really takes over the wedding. And then when her fairytale doesn't happen and she marries a stranger publicly, there's something very stifling and claustrophobic about the dress — like she can't get away from the public's face; she's in the biggest dress that's ever been worn."
The cast and crew agreed that the wedding dress was a showstopper, but it also required a lot of attention. "The practicality of the dress, nobody loved," Duncan says, laughing. "Because it's so big, it took like five people to carry it and put it on Jen."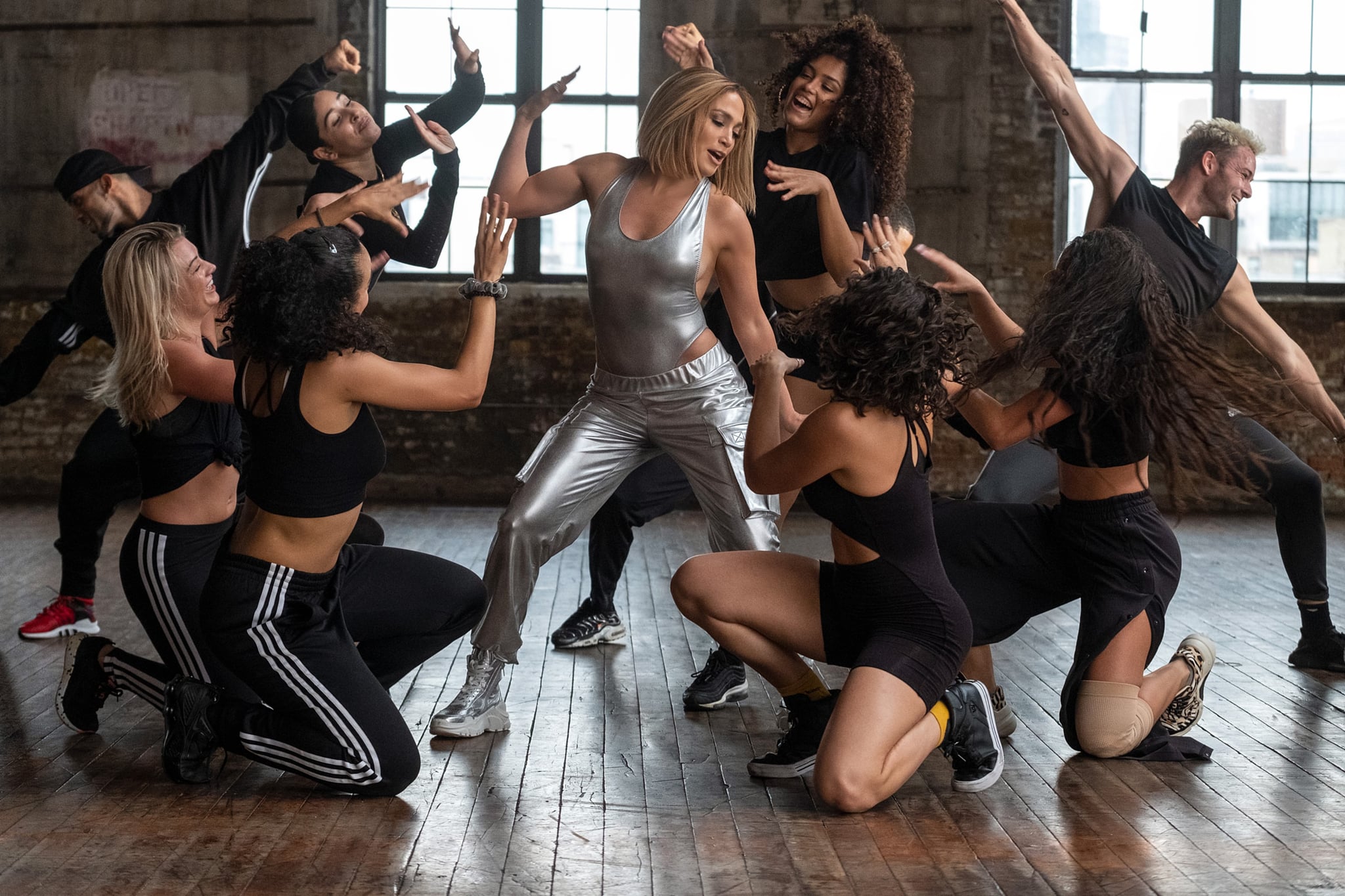 Another challenge for Duncan was building an onstage wardrobe for Kat. Those pieces didn't just have to look good, they also had to keep up with Lopez's high-powered choreography and move with her. "Those looks are all breathable dance fabrics," says Duncan. "They're all performance looks."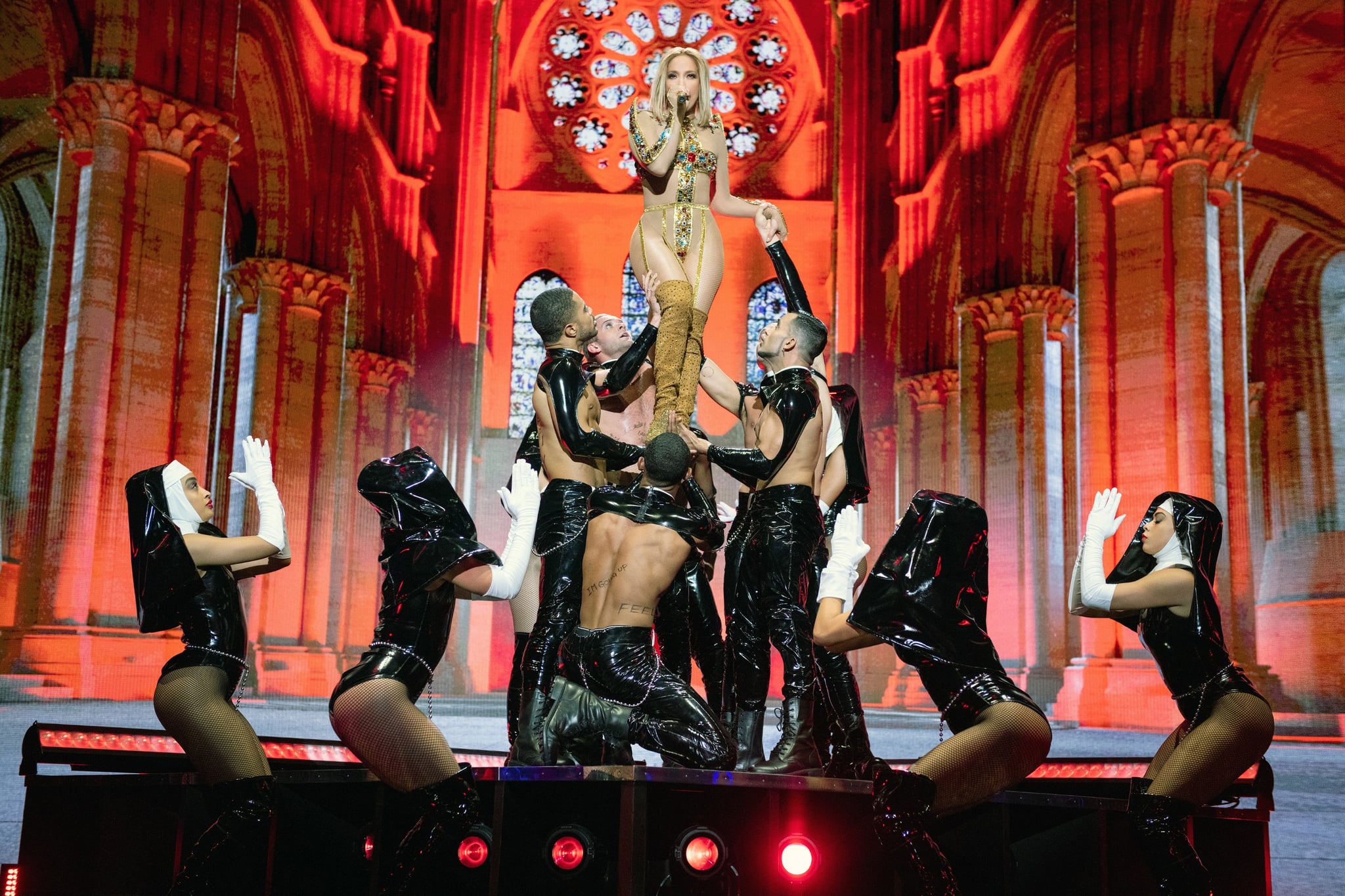 Some of the movie's most dynamic scenes are where Lopez performs her new, original songs on stage as Kat Valdez — including a high-octane, dangerously sexy performance of "Church."
"The idea for the 'Church' costume was that it was a number [Kat Valdez has] been doing forever," says Duncan. "That was her first single, so this is a routine and a song that she's expected to play at every concert." The costume hints at Valdez's storied career without wasting any lines of dialogue. "The look probably changes every few years for that number, but it's a look that feels like it has evolved a bit. Even though you never see the original version of it, you can imagine what the version from 15 years ago would be."
With praying nuns dressed in latex bodysuits (which were "a lot of fun," according to Duncan), the whole number is a seductive frenzy. "It's provocative, and far more provocative than anything she'd wear in the street. The idea is she's at her most provocative, her most pop star, when she's performing."
If that stunning, gemstone-encrusted bodysuit J Lo wears reminds you of another iconic fashion moment, you're totally correct. When asked if Duncan and her team were inspired by the bedazzled Christian Lacroix jacket that Michaela Bercu wore on the November 1988 cover of Vogue (Anna Wintour's first issue as editor in chief), Duncan confirms it was "definitely a reference point."
Another powerful reference point for Kat Valdez's on-stage looks: "Really iconic Thierry Mugler from the '80s." For a duet with her ex, Bastian (played with plenty of ready-to-ruin-your-life energy by Maluma), Kat Valdez appears in a gold and silver gown layered with fringe and goddess-like accessories. "There were a lot of Thierry Mugler [references] in her headpieces and her jewelry," Duncan says.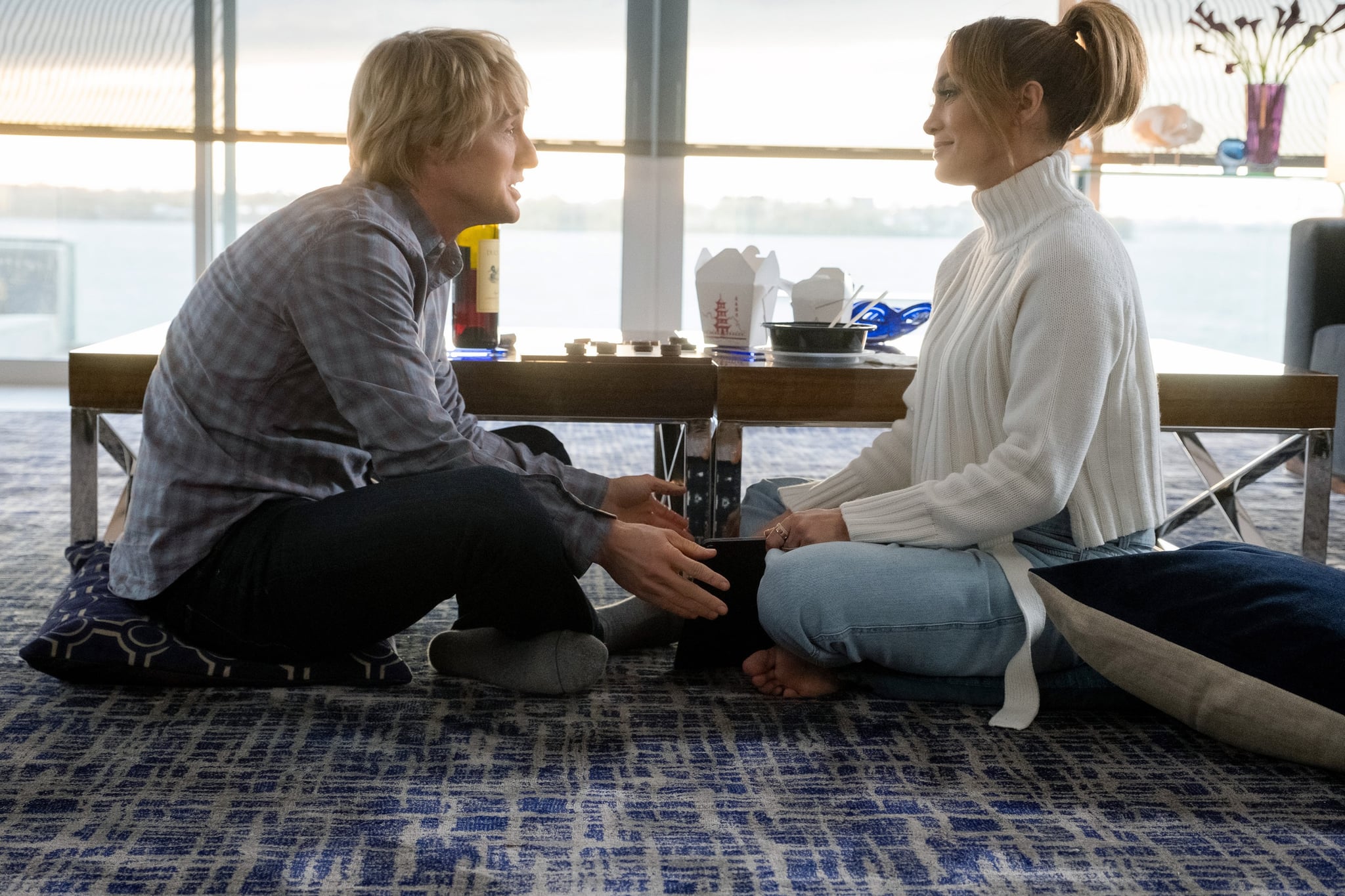 Offstage, Kat drops her flashy celebrity armor. There's a trend-free normalcy to her outfits — even though they're still perfectly tailored and lushly rendered in silks and cashmeres. "In general, we wanted Jennifer's nonperformative, non-stagewear aesthetic to be really timeless," Duncan says. "Old Hollywood, iconic, chic — so that if this movie is on in 10 years, you're watching it and not really caught up in the moment of the fashion. We didn't want anything to feel too on trend or too specific to when we were filming. We wanted it to stand that test of time so it would always feel elegant, chic, and aspirational."
Lopez plays Kat Valdez with a beautiful mix of confidence and insecurity — a juxtaposition reflected in her wardrobe. "She does have a lot of moments of vulnerability, and I think we put her in silhouettes for those moments that were able to bridge both things. She was able to look fierce and camera ready — ready for her videographer to take coverage of her, ready to be snapped by the paparazzi — but also vulnerable," says Duncan. "An example would be when she goes to the high school and meets Lou [Charlie's daughter, played by Chloe Coleman] for the first time, and she's in that all-white outfit that has that little cropped, structured blazer. It feels really confident; she has fun sunglasses. It definitely feels like a look that she put together knowing it would be photographed, but she's also meeting Charlie's daughter and she wants to look more normal. And that's her version of dressing down and being normal. But it's still so powerful and chic."
Another outfit Duncan loved creating: "When they go back to her apartment and she's just in the shell turtleneck, she feels so relatable. It has a vulnerability to it in that scene with her and Lou." That vulnerability is mirrored in Kat and Lou's relationship as they slowly opening up to one another. Kat sheds her blazer and (literal) layers of clip-in extensions to have a heart-to-heart with her boyfriend's daughter. The visual matches the emotion — her costume transforms with her. "That's an example of when the costume has an arc and serves both intents," says Duncan.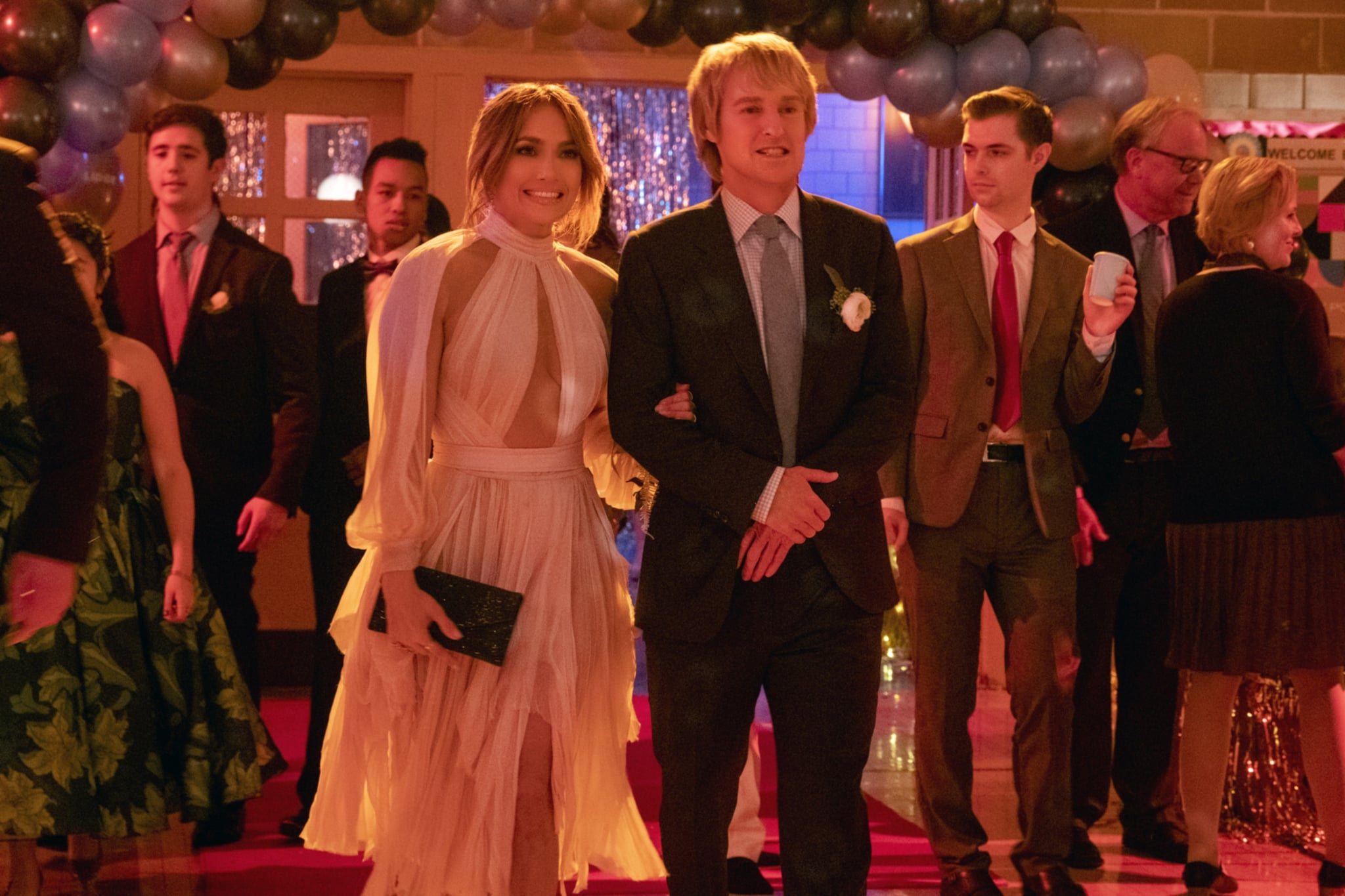 Lopez has a personal tie with Kat's romantic look while chaperoning the high-school dance. "That dress was born out of a conversation I had with Jennifer about what she wore to her semiformal or prom. She made [the dress] for herself!" says Duncan.
The dress strikes the perfect balance of being special enough for an iconic pop star but approachable enough that it doesn't alienate the wide-eyed teenagers at the dance. "That dress was perfect," says Duncan, who notes that it has a special "sweetness." "It had the shape of a pop star trying to be more grounded, but it's still got a really, really flirtatious cutout and is still something that a teacher at the school wouldn't wear to the semiformal. But for Kat, it's way more relatable and feels much less presentational, less red carpet than her other pieces. But it still feels like a pop star's dress."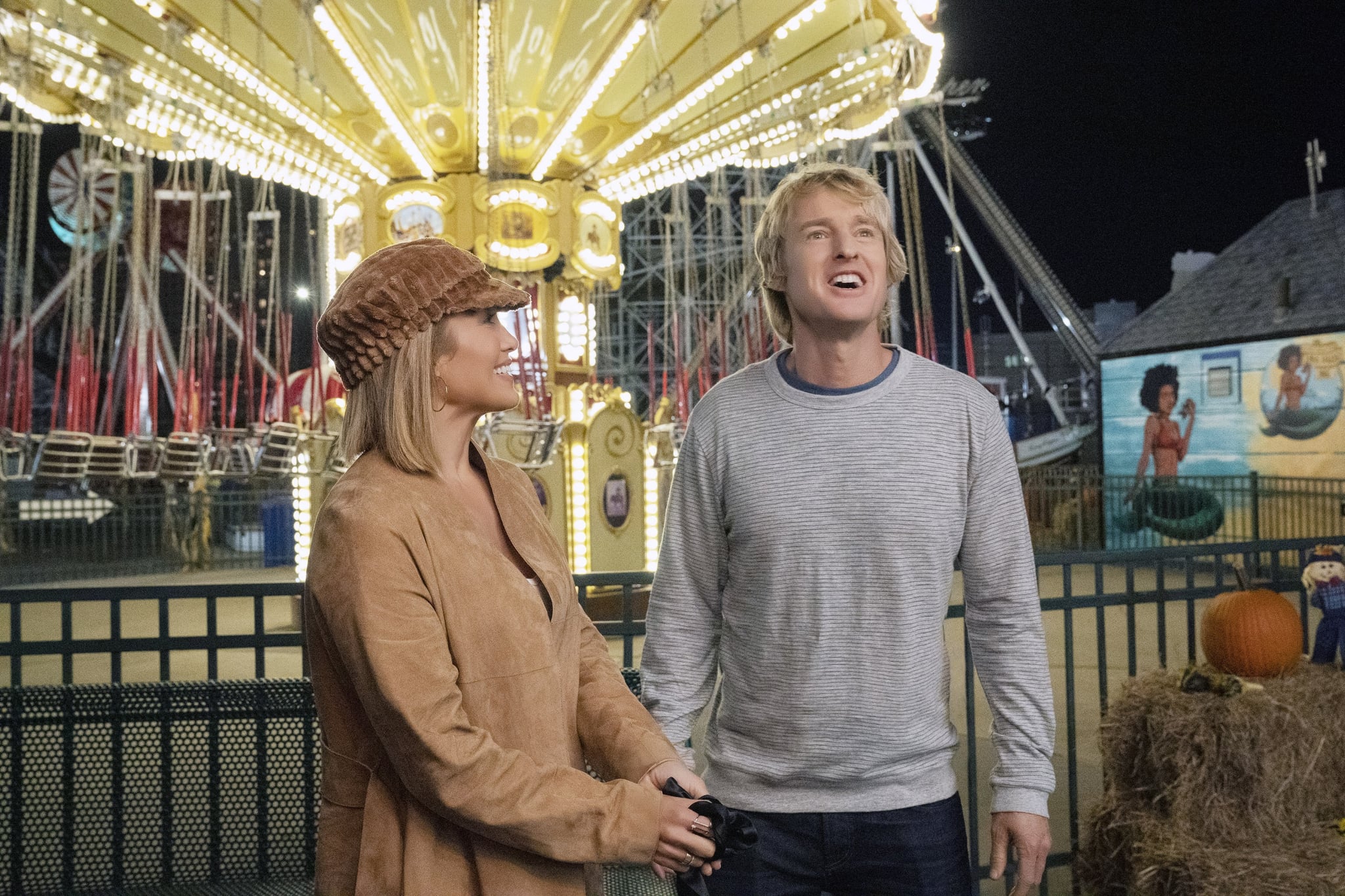 Another arc telegraphed by Duncan's costumes: Kat falling in love. "We had a color chart, Jennifer and I, where we started her [wardrobe] out with a lot of whites and metallics, and then her palette softened," explains Duncan. As her romance with Owen Wilson's Charlie Gilbert deepens and warms, so does her style. "We crept in blues and pinks and saturated her," says Duncan. That wordless storytelling is a hallmark of Duncan's work as a costume designer.
"Marry Me," featuring Caroline Duncan's fabulous costumes and J.Lo's emotional performance, is in theaters nationwide and streaming on Peacock starting Feb. 11.
Source by www.popsugar.com