OpenSea is a decentralized marketplace for buying and selling NFTs. It's one of the most exciting companies to watch right now, with a valuation of around $13 billion.
NFTs are everywhere, and people are spending millions of dollars to own them.
The founders of OpenSea believe that NFTs are the future, which is why they created the world's first, and now largest, NFT marketplace, with a 95% market share.
But what is OpenSea, and how did they get so big?
In this guide, we'll break down the story of OpenSea's marketplace, how it makes money, and what the future holds for this groundbreaking business.
Watch this video for a complete breakdown of OpenSea, how it started, and why it's so valuable.
What is an NFT?
To understand the OpenSea NFT marketplace, we first need to understand what an NFT is.
NFT stands for Non-Fungible Token. These are digital assets linked to the blockchain. Basically, this means an NFT is a digital asset that is one of a kind and can only belong to you.
NFTs are the opposite of digital coins like Bitcoin. Crypto coins aren't unique, so one Bitcoin is always equal to any other Bitcoin. This means they are fungible, or mutually interchangeable.
Non-Fungible Tokens, on the other hand, are completely unique digital goods.
All kinds of digital creators have gotten into NFTs because they make it possible to create unique digital art and prove its' ownership. NFTs allow creators and collectors to deal with each other directly, which is the whole idea behind OpenSea's peer-to-peer NFT marketplace.
HubSpot founder, Dharmesh Shah, perfectly described NFTs as being "an awful term for an awesome idea". His idea points to NFTs as being difficult to understand because you shouldn't name your product by what it isn't, but by what it is.
NFT Examples
If you're still confused about these rare digital items, here are a couple of examples of NFTs and NFT collectors that show just how much demand these digital assets have.
The Bored Ape Yacht Club is a notable NFT collection available on OpenSea. The collection features a collection of 10,000 unique illustrated bored apes created by Yuga Labs.
It has generated more than $1 billion in total sales, with it even finding favor among celebrities like Eminem who spent $452,000 on a Bored Ape that looked like him.
Even wilder, in March 2021 an individual paid a record-breaking equivalent of $7.5 million for an "alien punk" that forms part of the popular CryptoPunks NFT collection of 10,000 unique pixelated punks.
In 2021, Kings Of Leon became the first band to release an NFT that was played in outer space.
The OpenSea marketplace offers all of these types of NFTs and more. It seems that these digital goods have a big future.

What is OpenSea?
OpenSea is the first and largest NFT marketplace where you can buy and sell all kinds of unique digital objects.
Besides digital art, many other digital goods are available, such as collectibles, avatars, gaming items, domain names, and even digital representations of physical assets.
Simply put, OpenSea is like eBay for all kinds of digital goods and virtual worlds.
This decentralized marketplace is built on Ethereum. While there are a couple of NFT marketplaces that exist, OpenSea remains the biggest and most popular by a long shot.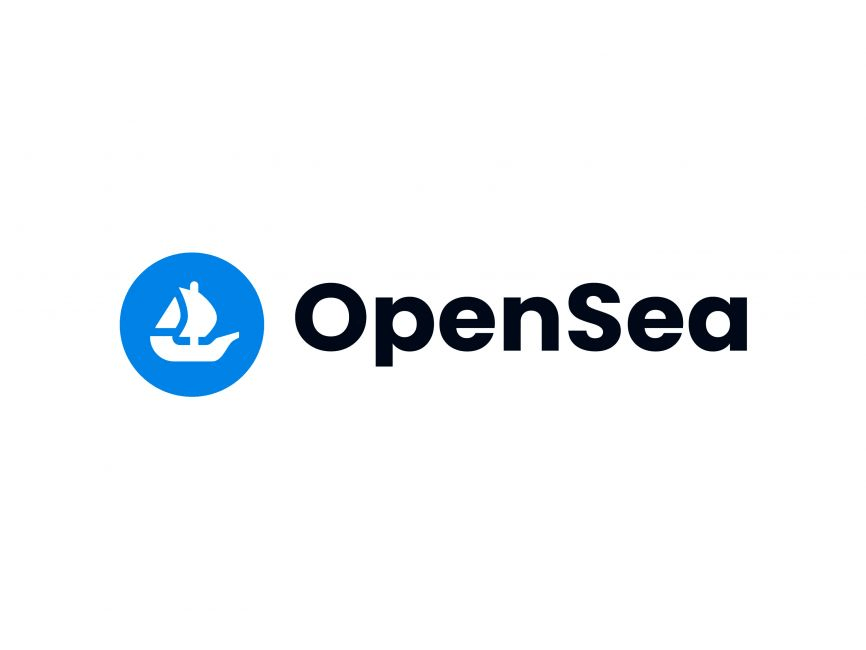 OpenSea Company History
OpenSea was founded in December 2017 by Devin Finzer and Alex Atallah, both of whom had experience with launching startups.
Atallah, OpenSea's CTO, graduated from Stanford with a degree in Computer Science in 2014. This was after he sold a global platform for nightlife venues called hostess.fm the previous year.
After graduating, Atallah worked at Palantir and Zugata as a software engineer until he launched Whatsgoodly, a social polling platform that he grew to over 300,000 users in 2016.
Finzer, OpenSea's CEO, worked as a software engineer at Pinterest after graduating from Brown University, where he studied mathematics. In 2016 he launched Claimdog, a tool that allowed you to find if a business owes you money by searching the state unclaimed property database.
He successfully sold Claimdog to Credit Karma, where he stayed as an Engineering Manager until starting OpenSea.
Around the time of his successful exit, Finzer became interested in cryptocurrencies and blockchain, studying the technology and eventually deciding he wanted to make it his career.
Along with Atallah, Finzer drew up some basic ideas, and they applied to the startup accelerator Y Combinator, which provided them with $120,000 in seed funding.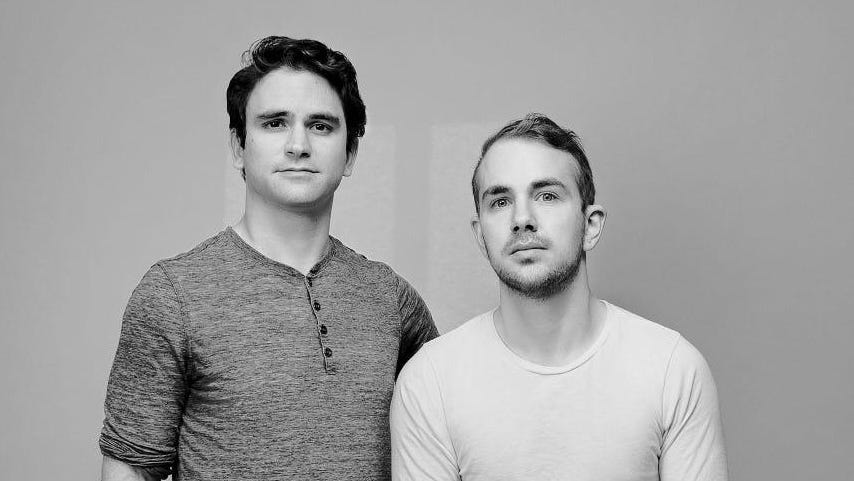 Above: OpenSea founders Alex Atallah (left) and Devin Finzer (Image: Forbes)
Their initial project, called Wificoin, focused on sharing Wi-Fi bandwidth using blockchain technology. The two founders quickly pivoted to OpenSea, releasing it in February 2018.
When they had to present their platform at Y Combinator a month later, they had already sold $500,000 worth of digital collectibles.
Participation in Y Combinator gave the OpenSea team enough exposure to help them raise their first round of funding. High-profile crypto investors like 1confirmation, Founders Fund, and Blockchain Capital injected $2 million into the company that May.
Initially, OpenSea's primary source of business was game developers, like CryptoKitties, looking for additional revenue sources to monetize their game characters. However, the company spent the remainder of 2018 adding more categories and features to the platform.
OpenSea also made its first acquisition of the competing NFT marketplace Atomic Bazaar, further extending its feature set.
2019 saw OpenSea continue to add more features while working with various artists and developers, such as Deadpool-themed NFTs in cooperation with Fox Entertainment. This helped the platform become profitable. OpenSea started leading the NFT marketplace by the end of the year.
While the 2020 pandemic helped OpenSea grow even further, it would be 2021 that would take the company to the next level.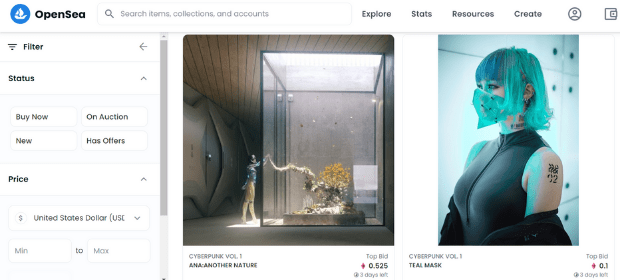 Above: The OpenSea marketplace displaying popular NFT collection Cyberpunks.
How Does OpenSea Work?
Thousands of people use OpenSea to discover, buy, and sell rare digital collectibles. This covers everything from gaming items to digital artwork, music, domain names, and more.
Buying NFTs on OpenSea is mainly done through Ethereum blockchain technology. However, the platform has also added support for the Klatyn chain.
OpenSea also uses Ethereum layer-2 protocol Polygon (MATIC) to make it faster to execute trades while decreasing trading costs.
Users can trade NFTs on OpenSea with Ethereum's token Ether (ETH) or through 150 other accepted currencies.
You can trade NFTs on OpenSea by paying the fixed price listings, or by declining price listings and bidding on them. Purchases and sales are all executed by users connecting their crypto wallet to the platform.
Despite its high volume of trading, OpenSea doesn't charge anything to list or mint an NFT. The NFT isn't transferred to the blockchain until the first purchase or transfer is made. This is also known as lazy minting.
However, not all transaction fees, also known as gas fees, are covered by OpenSea.
First-time sellers must pay two transaction gas fees to set up their accounts. There are also gas fees when an item is sold and these need to be paid by either the buyer when purchasing fixed-price items or the seller when accepting offers.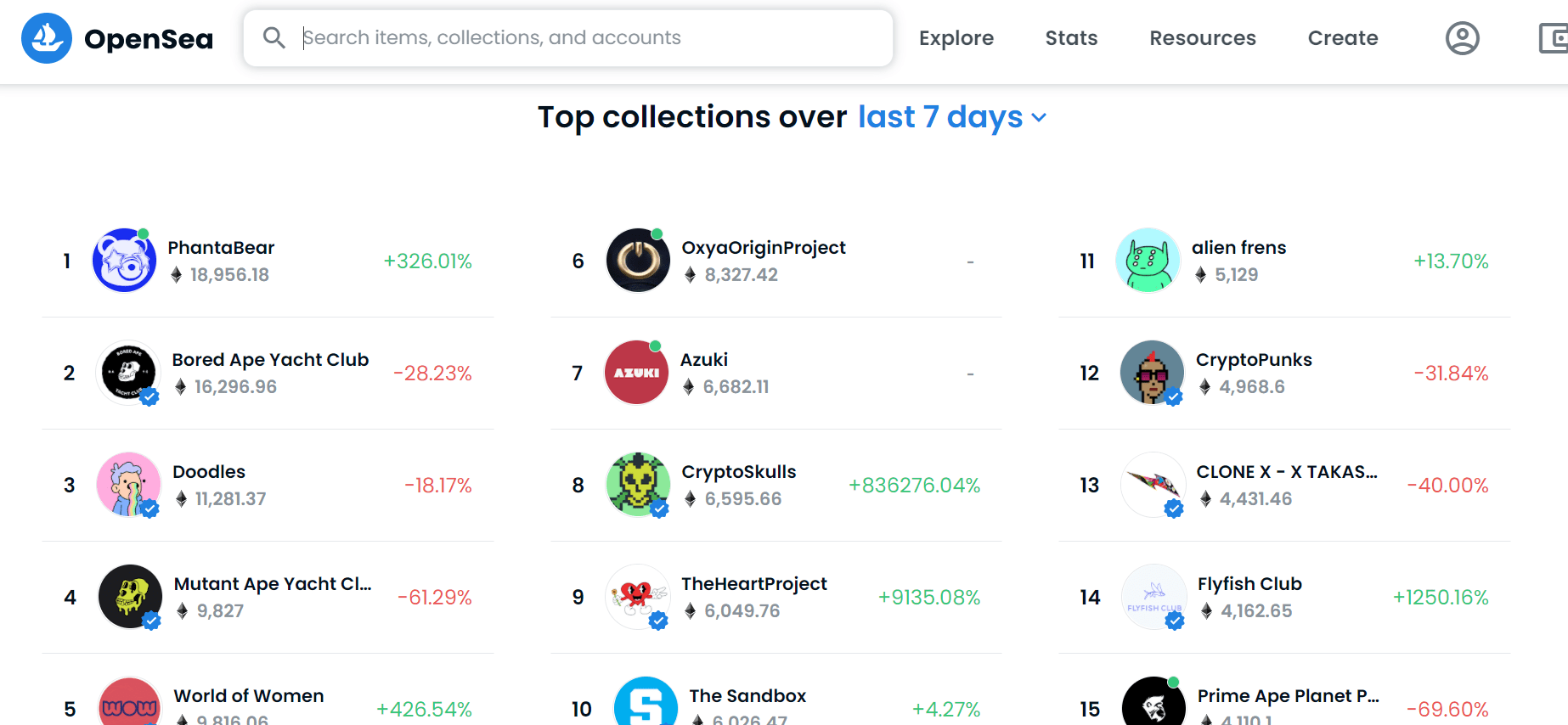 How Does OpenSea Make Money?
OpenSea makes money through services fees. A fee of 2.5% is collected whenever a digital item is sold on the platform.
OpenSea's marketplace infrastructure is offered completely freely. This means it won't cost you anything to list an NFT.
The ability to sell freely is one of the main reasons why OpenSea has become the biggest decentralized internet marketplace for NFTs. The platform is also very easy to use, and the OpenSea fees are lower than other marketplaces.
While it hasn't disclosed its revenue figures yet, judging by the trading volume to date, this figure is bound to be healthy.
OpenSea Sales, Revenue and Valuation
Over six months in 2021, transaction volumes on OpenSea grew a hundredfold.
Daily volumes exceeded $10 million and reached $3.08 billion in trading volume in August 2021 – an 800% increase compared to the previous month. By November 2021, OpenSea had more than tripled this value to cross the $10 billion mark.
This means the company has already surpassed traditional art sellers, such as the renowned British auction house Christie's which generated approximately $6 billion in sales.
To date, OpenSea has raised a total of $427 million in funding over 9 rounds, with their latest $300 million Series C round on January the 4th giving the company a valuation of $13.3 billion. The company does not disclose any revenue figures to the public.
OpenSea Challenges
Despite the platform's success, it hasn't all been smooth sailing for OpenSea.
In March 2020, the platform was only making $28,000 in revenue per month, creating a make-or-break moment for the company.
The founders felt the NFT market was dead and decided they would close up shop if they didn't double their revenue by year-end. As it turned out, they would reach that goal by September.
The company also had to delist a collection of NFTs when Larva Labs, the creator of CryptoPunks, issued a DMCA takedown request against Polygonpunks, a copy of CryptoPunks that was stored on a different network to CryptoPunks. However, Polygonpunks made a return that September after a successful appeal.
OpenSea's biggest challenge emerged on September 15th when it was revealed that its Head of Product, Nate Chastain, was trading on confidential information. At the same time, it was also allowing the sale and trade of antisemitic and Nazi-glorifying artwork, which only made the controversy worse.
Still, OpenSea remains the leader in NFTs, with a market share of more than 95%. Although this could change as Coinbase, one of the world's biggest cryptocurrency exchanges launched its very own NFT marketplace in late 2021.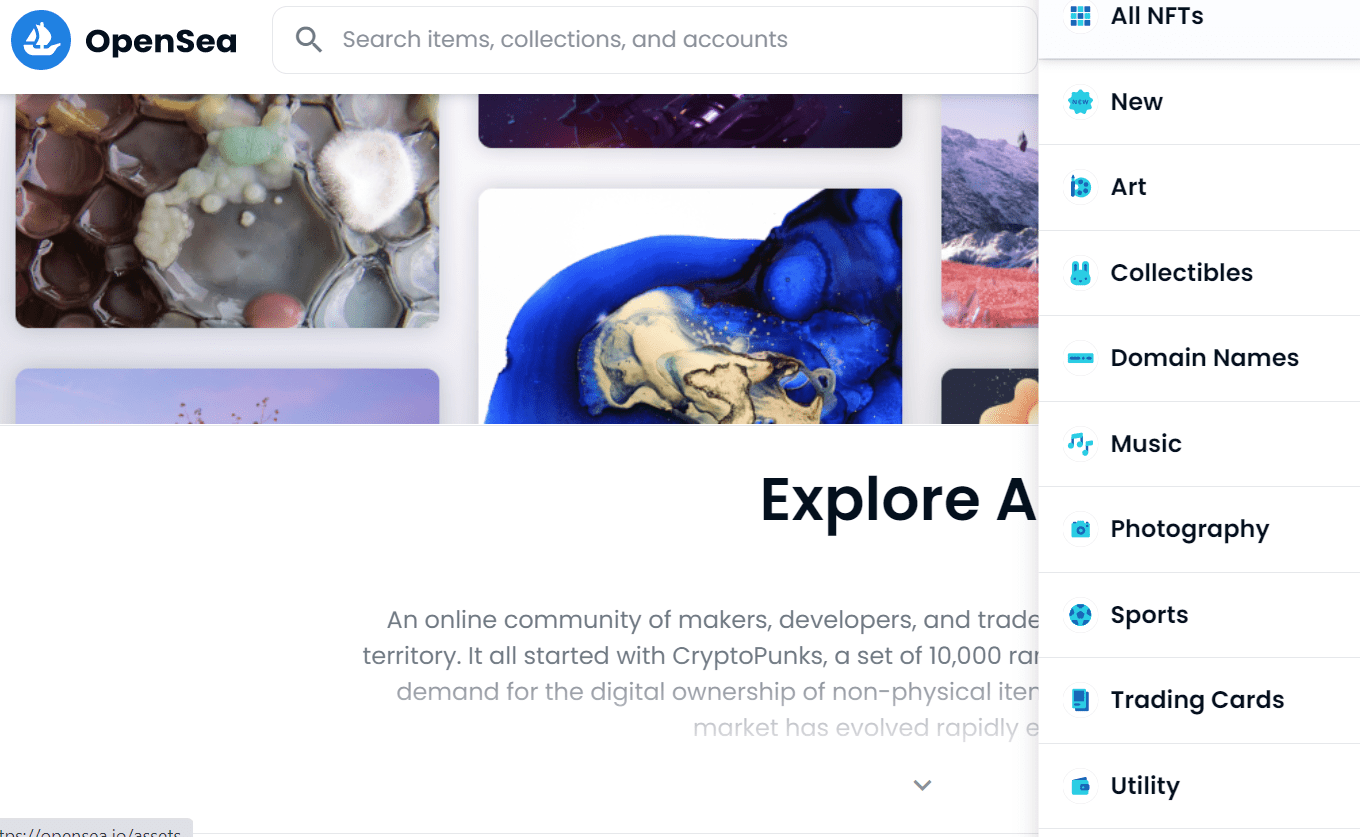 How to Invest in OpenSea
OpenSea is privately-held and hasn't released any plans to go public yet. So far, all of OpenSea's funding has come from VC funding rounds and angel investors.
While NFT marketplaces seem to offer huge growth potential, there is no way to invest in OpenSea just yet.
What's Next for OpenSea?
As the leading NFT marketplace, OpenSea is looking toward the future of NFTs and growing with them.
In interviews, Finzer has said that OpenSea will continue to expand beyond Etherium onto other blockchains and increase the categories of NFTs it offers.
He also believes that the metaverse, gaming, and virtual worlds are all interesting directions that are likely to continue to grow with the NFT space. While OpenSea will be the broadest and best marketplace, there will be many others as well.
Summary
OpenSea's journey has included the CryptoKitties that inspired OpenSea to launch to becoming the home to million-dollar NFT collections such as CryptoPunks and Bored Ape Yacht Club. In just over 3 years, the platform has emerged as a market leader in facilitating digital ownership that is set to make its founders the first NFT billionaires.
While its meteoric growth can be attributed to entering the market at the perfect time, some believe OpenSea is just taking advantage of an NFT bubble that will eventually pop.
Who knows what the future of NFTs and OpenSea will look like.
Source by blog.wishpond.com