TikTok is all about going viral.
One of the main reasons brands and creators love the platform is that the TikTok algorithm is relatively easy to crack. You don't need a big following or any previous success to reach thousands of users.
With that said, it's important to know how the algorithm works and what best practices you can use to improve your TikTok strategy. While there's no magic formula to blowing up on TikTok, working with the algorithm's preferences will certainly help you reach more users.
Here's everything you need to know about the TikTok algorithm.
Table of Contents
TikTok Algorithm Leaked
A document outlining how TikTok's algorithm works recently leaked to the New York Times. The document was titled "TikTok Algo 101," explaining exactly how the algorithm works to non-technical employees. We now have direct proof of what factors the algorithm uses.
In this document, TikTok revealed that its ultimate goal is to add new users daily. The platform achieves this by:
Optimizing videos for retention (keeping users coming back)
Optimizing videos for time spent (getting users to spend as much time on the app as possible)
In short, TikTok has highlighted four main goals for its algorithm. These are:
User value: Providing value to the platform's users
Long-term user value: Keeping users coming back daily
Creator value: Giving value to the platform's creators
Platform value: Using the algorithm to improve the TikTok app as a platform
With this data, we can gain better insights into how the algorithm operates. The guide that follows is based on this data.
How the TikTok Algorithm Works
When we talk about the algorithm, we focus on the For You feed. Appearing in this feed should be the goal of any user who wants to go viral.
The TikTok For You feed offers users personalized content for their accounts. Recently, TikTok shared precisely how the For You page works.
It might seem like this page is a curated feed that finds videos based on your location, profile, and previous engagement. Instead, this page includes unique preferences for each user.
The TikTok algorithm works by recommending content based on several different factors. These factors include:
Interests: The interests you express when signing up as a new user, and what you indicate you're not interested in
User Interactions: The TikTok videos you like and share, which accounts you follow, the comments you make, etc.
Video information: Video information included in TikTok content, such as the sounds, captions, location, and hashtags
Device and account settings: Device and account settings include things like your country settings, location, language preference, and device type
These are the basics, but there's much more to the TikTok algorithm than just this.
The TikTok For You recommendation system measures these factors to ensure each video it shows is relevant for each user based on their level of interest.
For example, if a user finishes watching a video from beginning to end, this is a stronger indicator of interest than having account settings reveal two videos with creators in the same area.
The For You page uses these indicators of interest to rank recommended content based on how likely a user will be interested in that content.
Above: Watch Amy Poehler talk about TikTok's For You recommendations.
Can Anyone Go Viral On TikTok?
One of the biggest questions around the TikTok algorithm is whether you can create a viral video without many followers? The answer is yes!
This is one of the most appealing things about using TikTok. You don't need thousands of followers to create trending content, so even new users could go viral.
Follower count is not a ranking factor in the TikTok algorithm. TikTok also doesn't give content more reach to accounts with previous high-performing videos.
Of course, TikTok users with a big following will have a greater chance of going viral because more people will see their videos when they post them. This will get them more likes, shares, and engagement from the start.
However, a great video from an account with zero followers can still become the most viral video on the platform. So don't worry if you're brand new to TikTok or haven't managed to gain a big following. Getting on the For You page is more about creating great content than having a lot of followers.
My #daughter #killedit #vhstape #foryoupage #fyp #JustVibing #trending #viral
What Factors Affect the TikTok Algorithm
Understanding the TikTok algorithm is necessary for helping you get more views and engagement. If you're able to crack the algorithm, you'll get more visibility, which all brands, businesses, and TikTok creators want.
If you want to get more views on TikTok, you'll need to get your content on as many For You page feeds as possible. To do this, you'll need to beat the TikTok algorithm.
Here are six factors that affect the algorithm.
1. Hashtags
As we've already established, the TikTok algorithm works to make your content visible on the For You page. Landing on the For You page is like winning the TikTok lottery.
You'll notice that many of the top-ranking videos have hashtags like #FYP #ForYou or #ForYouPage.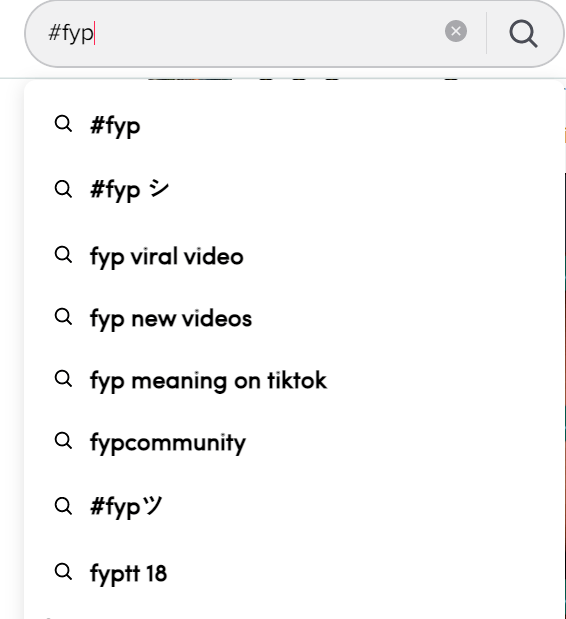 Do these hashtags make a difference? We're not sure. TikTok said that including these hashtags won't guarantee you a spot on the For You page.
So while there may not be a secret hashtag to get you viral, using a relevant trending hashtag can get you a lot more visibility. Go to the Discover tab and see what's trending to find these hashtags. Hashtags with a fire icon next to them mean that the hashtag is getting a lot of attention. If the hashtag matches your content, then use it.

You'll also see how many views these hashtags get. This will help you find the most popular hashtags to get your videos trending.
When you create a video, a good strategy is to look for trending hashtags oin the Discover tab first. See what popular videos are trending, and try to recreate one. Then use the relevant hashtag.
Of course, only use hashtags if they apply to your content. It could backfire if you just slap a few popular hashtags on unrelated videos.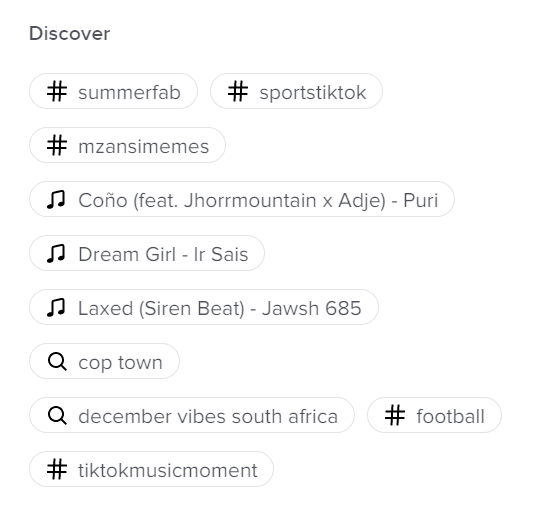 2. Trending Sounds
Another major factor in getting your content discovered is using the right songs and trending sounds.
Users love trending songs, and if you use the right song at the right time, you can boost your visibility in a big way.
To find trending audio, you'll have to spend some time scrolling through TikTok and finding the songs and sounds that everyone is using.
However, there are a couple of hacks that you can use to find TikTok sounds. These include:
Go to the video editor, tap Sounds, and you'll be able to scroll through what's trending at the moment.
Go to your analytics tab, scroll down to Followers, and then you'll be able to see the sounds that your audience has been listening to the most. The analytics feature is only available for TikTok Pro accounts.
If you want to save a song that you like and use it in the future, you can favorite it. Just tap on the sound and tap Add to Favorites
3. Captions
TikTok captions need to be short, easy to read, and relevant to the content you're sharing. TikTok is designed for fast scrolling on mobile devices; it's not the place for long essay captions.
The essential features of any great TikTok caption should be that it's short, easily digestible, and includes the right hashtags. You can take this to the next level by encouraging engagement.
Encourage engagement by asking questions or making your TikTok video part of a series. And when you do get engagement, make sure you engage back. You should be leading the conversation with your TikTok videos. People love reading comments, so the more conversation you create, the better your video could perform.
Part 2!!! What Other Songs Did I Miss? Reply to @juliannacaitlynn #CleanTok #VisionBoard #indiemusic #urbanoutfitters #dj
4. Posting Time
One of the easiest ways to get your content seen by more people is to post when your audience is most active. More people will see and engage with your video by posting when your following is online.
The best way to determine when your audience is most active is to access your analytics through a TikTok Pro Account.
TikTok analytics aren't as in-depth as Instagram Insights, but you can still access loads of helpful information about your audience.
From the analytics page, tap on Followers. You'll see the top territories where your followers are from and the times that they're most active.
Now you'll be able to pinpoint the best time to post your video.
Just be aware that this won't necessarily get your video going viral. In many cases, users will post a video that hardly receives any engagement at first. Then the video slowly starts to build up likes and engagement, and then it quickly goes viral.
So it's not always brand new videos that go viral, and you don't necessarily need a lot of engagement straight away for your video to go viral.
However, if you get more engagement from the start, it will definitely help your video get more reach.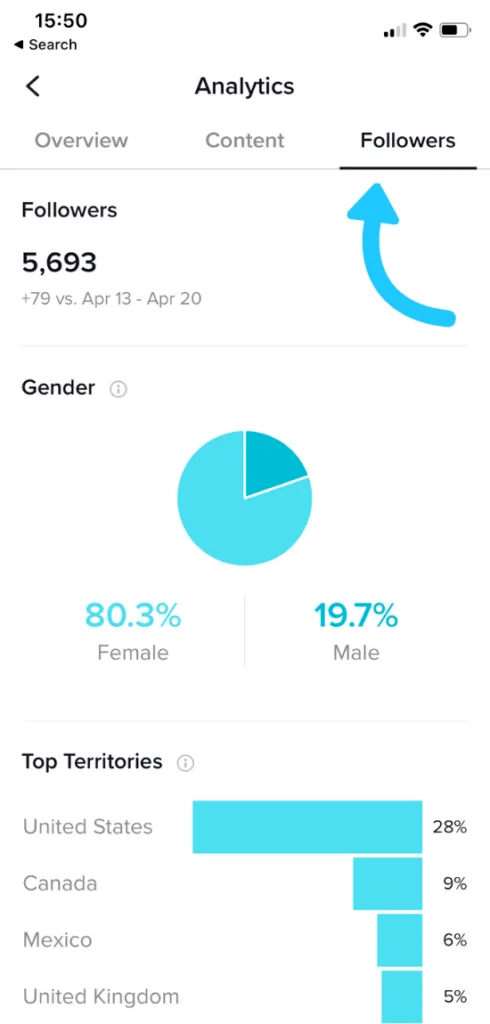 5. The Right Video Content
The type of content that ranks well is the type of content that you watch repeatedly. The thing that makes TikTok videos so addictive is their ability to loop seamlessly. If your video is edited to loop easily, you'll probably have viewers watching it over and over again. This will do wonders for the TikTok algorithm.
Think about the type of content that you've watched on repeat, and find a way to make similar content. And when you've got your content, put effort into editing it. Try to make your content as engaging as possible.
By creating videos that grab attention and get users wanting more, you'll get a lot more views and engagement. This will show TikTok's algorithm that people are enjoying your content, which will boost its reach.
#happyhalloween @jena #jasonking ???
6. Location
Location certainly plays a role in the TikTok algorithm. The videos shown on your For You page are often influenced by location. It's easier to reach users in the same country and city as you than to reach an international audience.
Don't let this worry you, though. Location is a minor factor in the TikTok algorithm. If your account is new and you haven't engaged with any content yet, you'll likely be shown videos mostly from your country. However, once you've started engaging with content and following accounts, location will become less important.
This is good news if you're using TikTok for local marketing. The platform can be a fantastic way to reach a local audience. If this is your goal, try to make your content as localized as possible.
How to Hack the TikTok Algorithm
You're never fully in charge of the algorithm for any social media platform. Algorithms are constantly changing, evolving, and growing. This means there's no magic formula to consistently get your content to the top.
But wait! There are ways to improve your chances of going viral. By understanding how TikTok's algorithm works, you can make sure that you cover all of the right factors to help your content get as much reach as possible.
Here are a few strategies you can follow.
1. Use a TikTok Pro Account
There are two types of Pro accounts available on TikTok. One is for creators, and the other is for businesses. Having a Pro account won't necessarily improve your position with the algorithm, but it will give you access to many helpful features.
You'll get access to metrics and insights about your audience, which can help you develop a more impactful TikTopk strategy. With these insights, you'll be able to know who your audience is, where they are, what type of content they like, when they're active, and more.
These are important things to understand when creating TikTok content for more engagement.
With a Business Account you can access the Web Business Suite and tap into key insights, inspiration and more! #learnontiktok #businesscheck
You can convert your regular TikTok account to a business account by tapping on Manage Account and choosing Switch to Business Account.
2. Be Consistent
If you want to master TikTok, you've got to post consistently. There's no single winning formula, but you can post more on TikTok than on other social media platforms. Many people believe that around one to two posts per day is ideal for getting more reach.
And when you start using TikTok, you'll need to post frequently so you can try new content formats and new ideas. The trick to using TikTok is to experiment and continue trying out new content until you find what works.
While you should focus on creating quality content, don't strive for perfection. TikTok is an authentic platform that doesn't need movie-quality production. Have fun with your videos, and don't spend too much time trying to get them perfect. Instead, focus on posting consistently and experimenting with different types of content.
The more you post, the better you'll get at making TikTok videos.
3. Establish Your Subculture
Most social media platforms are about choosing your followers and staying up to date with them. Not TikTok. Users on this platform spend more time on the For You feed than they spend staying up to date with the accounts they follow.
This means you'll want to tap into specific communities or subcultures on TikTok. By doing this, you'll gain more visibility to people interested in them. By finding and focusing on the right community, your content will likely be boosted to this audience.
Connecting directly with an established audience will also give your account more credibility, brand loyalty, and exposure.
So get familiar with the different subcultures. These are identified with a #hashtag – for example, #FitTok or #MomsofTikTok. Focusing your content on a dedicated subculture could help you get a lot more engagement.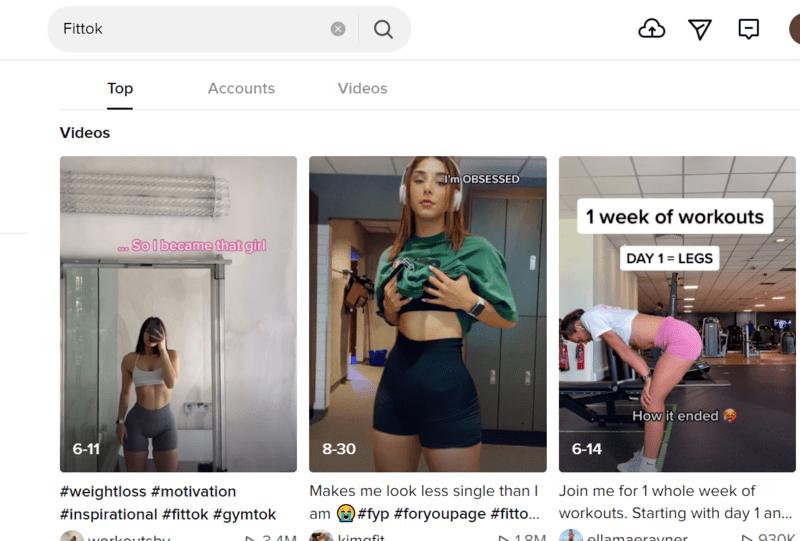 4. Always Try the New Features
On the topic of being open to experimenting, you should always try any new tools and features that TikTok rolls out. TikTok highlights the features and tools you use to create a video, and using new tools could be an effective way of getting more engagement.
TikTok always seems to be coming out with new features. If you're an early adopter of these features and can make great content using them, the TikTok algorithm could very likely give you some great exposure.
So always be on the lookout for new features, and experiment with them as soon as they are released.
Creative music effects are coming to TikTok! Which one are you most excited to try? ?
5. Create or Embrace a Challenge
TikTokers love a challenge. Just look at how successful the #GuacDance and the #SleepyDay challenges were. If you want to get mass engagement, creating a challenge is a brilliant way to do this.
Just think of something fun and engaging that TikTok users can do to enter the challenge. It could be a dance, an action to an audio clip, or anything else. If your hashtag and challenge start to pick up attention, it could bring loads of exposure and brand awareness to your TikTok account.
And if you aren't sure about creating a challenge, you can also join one. Look for trending challenges and hop onto them. If a challenge is viral, loads of users will be searching for this content. If you make a unique and eye-catching challenge submission, you could end up getting a lot of attention and engagement. This will do wonders for beating the algorithm.
tag me & @itembeauty in your LASH SNACK one coat challenge! LASH SNACK is now available at @sephora ! ?#itemcofounder
Top Tip: If you plan on creating a challenge, the best approach is to run a giveaway. With a tool like Wishpond, creating social media contests and giveaways is easy.
6. Create Videos That People Watch to the End
Having people watch your videos in full is a good sign for the algorithm. And if users watch your videos multiple times, this is even better.
A good strategy is to focus on shorter content that is easier to complete. If your videos are around 10 to 15 seconds in length, you'll have a better chance of users watching them to the end. This shows the algorithm that people are enjoying the content.
You should also focus on hooking your viewers straight from the start. Grab attention in the first few seconds of your video to give users a reason to stop scrolling. Get straight to the point and rope viewers in; fast-paced content is best for this platform.
Reply to @matinsramen HOW TO: GET THE 2021/2022 PROFILE BADGE ##tiktoktips #2021badge #tiktokprofile #profilebadge
7. Engage With Other TikTok Users
A recent study revealed that 21% feel more connected to brands that comment on either people's posts. By engaging more with users in your comment sections and on other posts, you could get more exposure and interest in your content.
Luckily, TikTok has some great features to help you boost engagement. This includes features like Duets, video replies to comments, and Stitch.
Duets let you record a video alongside another creator's video in real-time. This is a great way to engage with different creators on the platform.
#duet with @bbqandbottles Winner winner #BeefWellington Dinner ! #ramsayreacts #tiktokcooks
Video replies to comments is a feature that lets you create new video content around the comments or questions on your previous posts.
Want to reply to a comment with a video? Now you can! Available now for all users!
Stitch is a tool that lets you integrate parts of other TikTokers content into your own.
TUTORIAL: how to use STITCH! ✨ #stitch #tiktokpartner #learnontiktok #tiktok101 #tiktoktips
These are just three examples of how you can use the platform to maximize engagement and connect with other users. These features are all available on TikTok's default settings.
Remembering the social part of social media is always a good sign for the algorithm.
8. Create High-Quality Videos Just for TikTok
This is obvious, but we can't stress enough just how important it is. Low-quality content won't get you the kind of engagement and reach you're after – it's that simple.
The good news is that creating amazing TikTok isn't as hard as you might think. All you need is a phone (which is actually preferred over a camera), decent lighting, a good microphone, and some quality edits.
The other thing is to make TikTok content specifically for TikTok. Don't repurpose your Instagram Reels or YouTube Shorts because these clips are not designed for this unique platform. Instead, make your content entirely focused on TikTok.
Here are a few best practices for winning TikTok videos:
Shoot videos in 9:16 vertical format
Aim to create videos between 10 – 15 seconds long
Create videos designed to be played with the sound on
Videos with fast-paced music (120 BPM and more) has the highest view-through rate
Use TikToks native features, like effects and text treatments. A good strategy is to experiment with trending effects
At the end of the day, you can use as many TikTok hacks as you want, but you're not going to achieve any real success on the platform if your videos aren't of a good enough quality.
@khaby.lame #??Perfavore non fare questo con la Pizza?? #??Please don't do that with Pizza ?? #LearnFromKhabi #LearnWithTikTok #ImparaConTikTok #pizza ♬ suono originale – Khabane lame
How to Personalize Your For You Page
We know how the TikTok algorithm recommends content on the For You page. So now it's time to personalize your For You feed.
The thing about TikTok is that it's a social media platform focused on discovery. Other platforms have a greater focus on connecting with users you follow, but TikTok is more about finding new content and scrolling through other users' content.
Believe us; it's easy to get lost for hours scrolling through TikTok video content.
If you want to make sure the TikTok algorithm delivers the best possible content for you, you can use the following strategies.
First, select the topics you're interested in when you sign up for TikTok.
Scroll through the For You feed and engage with content that you enjoy. By liking content, following accounts that interest you, and exploring hashtags, you'll be giving TikTok more direct factors to personalize your content.
If TikTok recommends content you're not interested in seeing, long-press on the video and tap "not interested." TikTok will stop showing you content like that.
The more you follow these strategies, the more personalized your TikTok feed will be.

Wrapping Up
TikTok may be an unpredictable social media platform, but this also gives any brand the chance to go viral.
Our best advice would be to think outside the box, experiment with new creative content ideas, and just have with it. TikTok's not about creating "perfect" content; it's about offering something fun and refreshing to your audience.
Follow the tips above, and you'll be in a much better position to frack the algorithm and reach the platform's billion users.

FAQs
What does the TikTok algorithm not like?
The algorithm will not recommend some content on TikTok. This includes:
Duplicated content
Content you've already seen
Content that could be potentially upsetting
Content flagged as spam
Make sure that the content you post doesn't fall under any of these categories. Otherwise, it won't gain any traction on TikTok.
How does TikTok choose your algorithm?
The algorithm TikTok is focused on ranking videos based on the way you react and interact with content on the app. User interactions such as shares, likes, comments, and repeated watching are all signs that show what the user likes and doesn't like.
How do I increase views on TikTok?
There are many ways to get more views on TikTok. Some hacks to beat the algorithm and get more views include:
Use the right hashtags for your videos
Keep your videos short and simple
Use trending songs and sounds
Be specific about your niche and audience
Use the duets feature
Promote your TikTok videos on your other social channels.
Engage with other TikTok users
What is the best time to post on TikTok?
This depends on your audience and when they're most active. However, Influencer Marketing Hub identified some of the best times to post on TikTok according to a study. These times are:
Monday: 6 AM, 10 AM, 10 PM
Tuesday: 2 AM, 4 AM, *9 AM
Wednesday: 7 AM, 8 AM, 11 PM
Thursday: 9 AM, *12 AM, 7 PM
Friday: *5 AM, 1 PM, 3 PM
Saturday: 11 AM, 7 PM, 8 PM
Sunday: 7 AM, 8 AM, 4 PM
Times marked with * offer particularly high levels of engagement.

Related Content
Source by blog.wishpond.com