Every restaurant desires a loyal customer base that visits regularly. Such customers ensure a steady inflow of cash and contribute to the word of mouth publicity. But how do you create a customer base like that? Serving good food and delivering great customer service is one way to do it. Another rewarding way is to host innovative restaurant and food contests.
Benefits of hosting restaurant contests:
What brought forward the trend of having contests at restaurants? Well, there are several reasons contests as well as competitions are favored by restaurant owners. Some of those are:
Attract new customers
Give your regular customers a reason to come back
Boost brand awareness
Increase footfall on off days
Create excitement about visiting your restaurant
Top restaurant contest ideas:
Now that you're aware of what you gain by running restaurant competitions, let's look at some innovative ideas that you can use. We have spoken to some of the most popular restaurant and bar owners in Bangalore and gathered X food contest ideas to help you delight your customers and fill restaurant seats:
This is the most simple and easiest contest that doesn't need much action from your audience. All you need to do is create a poster and upload it on your social media channels. The next step is to send out messages through text and email to all your customers that they need to share that picture on their personal social media handles.
Make sure to specify that all the customers who do this will automatically be entered in a lucky draw contest. You can offer the contest winner a free meal for two. This ensures two things – firstly your social media engagement will blow up and everyone will interact with your profile. Secondly, you don't have to offer anything more than a meal at your restaurant as a prize.
Make this better: By offering exceptional service to the contest winner when they visit the restaurant to claim their free meal. This will ensure they speak about it positively in their social circle. This will lead to excitement about participating in this contest and you will have more people joining in during the next round. This contest can be held once every month.
A purely Instagram-based contest, tag away or tag to win contests get new people to notice your restaurant. The contest is based on a giveaway prize. The important thing to remember while running such a giveaway on your social media handles is to keep the steps to participation very quick and easy.
A great day to do this is on a special occasion. For example, host a giveaway for your restaurant's anniversary and ask your followers to tag three people with who they would like to share the "Anniversary special" meal in your restaurant. Get them to make their tagged friends follow your Instagram page as well.
Make it better: By not putting any limitations on the number of entries a follower can submit. This ensures multiple people get tagged by a single person. Such a contest will boost your Instagram popularity. Also, it will create intrigue in the tagged people to check out your restaurant & its offerings.
If you're new to the social media game and don't have many pictures on your feed, this one is the best contest to run! Not every restaurant can afford food photography. But you can leverage your customer's photography skills and gain more content for your social media. This has the added advantage of making them excited about visiting your restaurant.
Encourage your customers and social media followers to post a picture of your restaurant – be it the food, or them dining at the restaurant, or a pretty corner they liked at the restaurant. Choose the most-liked image as the winner. This way you will get some great images to share on your social media handles. Sharing customer images is a great way of authentic advertising.
Make it better: By keeping the contest deadline at least two weeks away. This way you will see an influx of customers in that period coming in to dine and click pictures with a desire to win the contest. Keep in mind that they will only take this effort if the contest prize is exciting enough. For example, offering the winner a 50% discount on the entire bill with no maximum spending limit.
Every time I have to head to a new place for a meal, I open the Zomato app and check what the customers love about them. Is it the food? Is it their ambiance, or the overall dining experience? I like to read reviews about what dishes customers enjoy the most. But it can be challenging to build a good reserve of reviews.
To get customers to leave reviews, create a contest that encourages them to leave reviews about their experience of dining at your restaurant. You can offer them a free entry into your Loyalty Program for leaving a detailed review. Make sure you choose the right websites when asking customers to leave reviews.
Make it better: By responding promptly to each review. This shows a visiting prospective customer that you care about your customer's opinion. Not only does it create a positive impression, but also brings to your notice important things that need your attention.
A humorous way to engage your audience is to run a contest by sharing a quirky image and asking for a caption. This image could be anything – restaurant food photography, a picture of your staff cooking a menu item, a customer dining at your restaurant (image clicked & shared with their permission).
Since there is not much to do here apart from being funny, expect a large number of entries in this contest. Offer the best caption writer one of your menu items for free as a prize. Remember to make the contest prize as relatable as possible. If you're asking them to caption a food image, offer them the food in the picture for free! Take the following image as an example.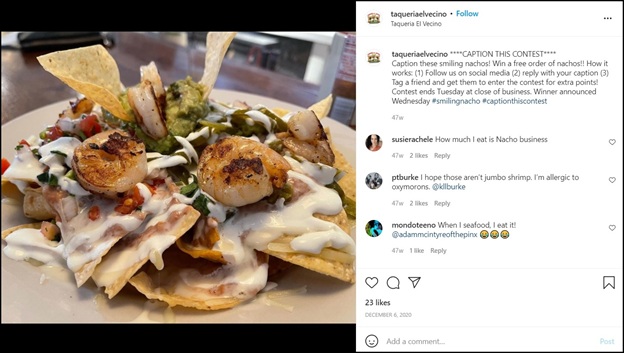 Make this better: By creating a #CaptionThisPhoto series and using it as a weekly event to giveaway vouchers for dining at the restaurant. By making the vouchers redeemable only on weekdays, you can ensure you attract crowds even on slow-moving days. This will lead to an increase in footfall in the restaurant and help in boosting sales.
A great way to get your customers to be more involved in your restaurant is to get their opinion on your food. Since this contest can be run impromptu, you don't need much prep for it. Ask your dining guests to decide how they would like a dish they're ordering to be altered. The aim should be to make it exactly how they would like it.
Allow them to suggest changes in the ingredients and make a note of it with their contact details. Let them know that they have been entered in a contest where your chef will try creating this dish exactly as described by them. This way, you get newer recipes for your restaurant menu. Once your chef tries the described recipes, reward the customer who shared the best variation.
Make it better: By naming the new variation of your menu item after the winning customer's name. This has the power to delight a customer and turn them into loyal customers. Imagine the word-of-mouth publicity that your restaurant gets when the winning customer shares this reward in their circle!
Two is always better than one, which is why we recommend partnering with another business for this last contest idea. Reach out to local corporate companies and ask them to offer your restaurant coupons for their in-house contests. For instance, they can offer free meal coupons to their "Employee of the Month".
You can also create an exclusive giveaway for them to participate where the reward involves offerings from both parties. This allows you to choose any company to collaborate with, and not just a corporate company.  Take the following example of a Michelin star restaurant collaborating with a kitchen design company.
Make it better: By informing all your dining guests about this contest and keeping the steps for participation very straightforward. This contest doesn't have to be necessarily Instagram-based as shown in the example above. But you need to promote it on your social media handles to increase its reach.
Conclusion:
We have shared a good mix of restaurant contests and competitions that are effective in turning your guests into loyal fans. Depending on your advertising budget, you can make the rewards fancy or stick to something as simple as a $10 coupon. Don't shy away from innovating and get creative with the contest terms. If you have any great restaurant contest ideas to share, drop them in the comments below!
Source by blog.zumvu.com