Roll out the red carpet; Dani DMC has arrived. And the triple-threat social media influencer, plus-size model, and confidence activist isn't alone. She's bringing along her Confidence Crew (the nickname for her loyal fanbase and community). Dani's audience includes over 1.2 million followers across TikTok, Instagram, and YouTube, all drawn to her authenticity, expertise, and addicting confidence. While her enviable 'fits and personable TikToks are enough to command an audience, her bigger goal and motto is "fighting for you to love the parts of you no one claps for."
R29 recently had the privilege of interviewing Dani and getting to know a bit about her career as a fashion creator, favorite places to shop for staple items, and emerging brands she recommends. She even shared advice for plus-size fashion enthusiasts who are thinking of embarking on their own content journey. Take notes, creators.
DashDividers_1_500x100
As a creator, which platform (TikTok, YouTube, Instagram) do you believe is the best to create content about fashion? Why?
I think the triple-threat combination is a real game-changer. I love each platform for different reasons; they all hit a different age range. TikTok connects me with my young and super impressionable followers (13-20), and Instagram allows me to connect with my college and post-college followers (20-30). While YouTube allows me to connect with the biggest range of young girls to 40 or 50-year-old women who are all looking for the best plus-size fashion finds and a confidence boost!
What advice would you give a plus size fashion enthusiast who just started thinking of or creating their own content about fashion?
First, have a purpose behind what you're doing. In my opinion, the worst thing you can do is to create content with simply the intention of gaining followers. Then, focus on your passion and let that drive you. Why is fashion important to you? How can you add value to this industry? Who do you want to reach and why? By creating content that answers those questions, you will already have set yourself apart and be one step ahead.
What are your all-time favorite plus-size brands and those that you believe people should be aware of?
My all-time favorite — right now because they're forever changing — are ASOS, Abercrombie for jeans, and Missguided. Another store I recently discovered in LA is Big Bud Press, which is] women-owned. They go up to a 6X and make incredible pants, jumpsuits, and tops. They've taken so much of my money lately, and I reach for their items daily. I've never had a pair of pants fit me as well as theirs. It's definitely a store that needs more attention for their size options and quality!"
I also love exploring LA and finding small brands that make custom clothing or carry plus size. I especially aim to support women-owned and Black-owned brands. I'll find many women I meet at markets in LA may not carry plus sizes but are eager to make pieces that fit all bodies. Through these connections I've made many good friends by sparking that conversation and pushing designers to create for me, expanding and making pieces for all bodies. A great example of this is my now longtime friend Fox – she is a fibers artist, and I met her at a market, and she had crotchet pieces and was devastated when none of them fit me. She then took my sizes and made me custom pieces and now makes custom pieces for all bodies.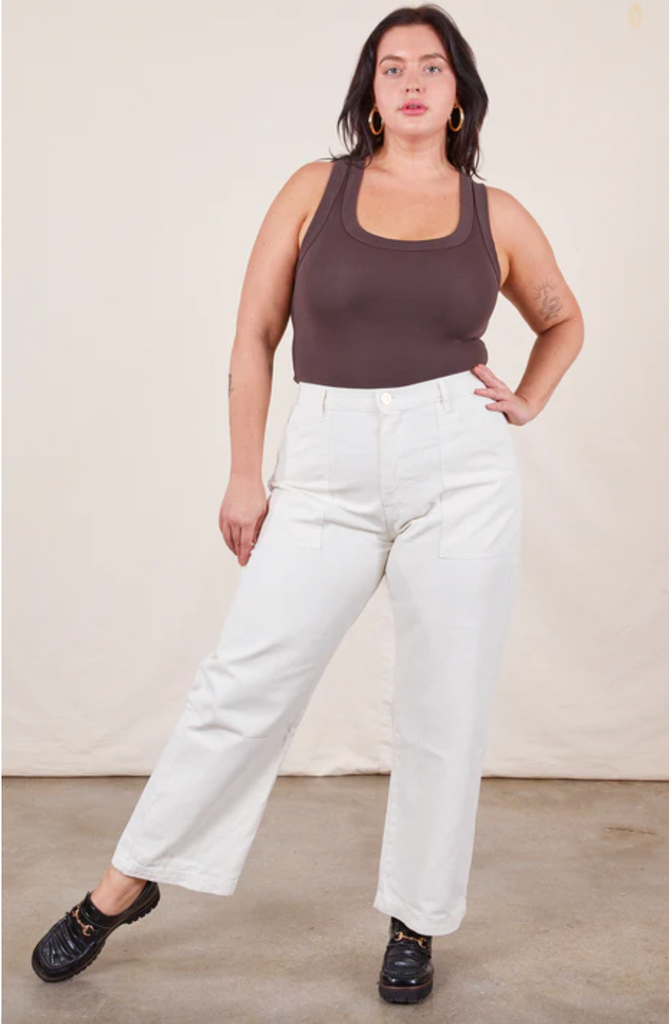 Where do you shop for staple items (T-Shirts, jeans, sweaters, etc) and for more niche pieces (corsets, two-piece sets, skirts, etc)?
Honestly, Target has been my go-to for years for my staples. When I was in high school — before Target elevated and made great plus size options — I would shop in their maternity section and still find some items that worked for me! Big Bud Press has also quickly become my go-to for basics, as they have a lot of great niche patterns and items too. Meanwhile, Abercrombie and Good American are my go-to for jeans. I love ASOS and a lot of small online boutiques for niche pieces, but it's slim pickings on who will carry my size. However, I'm still waiting for brands to create unique and individual items for bigger bodies. I want to be blown away.
What is your current favorite trend, and which trend do you hope to see take off this fall?
To be perfectly honest, I've never been much of a trend girlie. Since I was plus size I wasn't part of it most of my life. I prefer to set the trend (wink) and show how plus-size women can easily be the best dressed in a room! However, I would love to see the trend of every single brand providing clothing for all bodies take off. It's time.
Why do you think the -core trend (ex. bikercore, barbiecore, etc) keeps taking off online, and what is your favorite?
A lot of the -core trends are specific and a targeted aesthetic which I know people are drawn to. It provides a good outline or inspo, especially for someone who struggles with piecing a look together. When it comes to the -core trend I personally lean more towards bikercore, as I'm really into the silver, metals, and black vibes that are happening right now.
What is the one fashion item that you can't live without?
This is SO hard. I can't live without any of it. Nevertheless, I'm a huge accessories girl. I often build my whole outfit around shoes, a bag, or a new piece of jewelry. If I had to narrow it down even more and pick one of those three… it's a hard pick between bags and shoes, but I'd lean a little more towards my bags. There is nothing like a great bag to bring a look together and be the cherry on top.
At Refinery29, we're here to help you navigate this overwhelming world of stuff. All of our market picks are independently selected and curated by the editorial team. If you buy something we link to on our site, Refinery29 may earn commission.
Like what you see? How about some more R29 goodness, right here?
All The Looks From Target's Fall Designer Collab
The 8 Best TikTok Fashion Creators To Follow In 20
Meet The Women Wearing Victorian Fashion In 2022
Source by www.refinery29.com