Skylar Diggins-Smith wants you to know that she's a hooper with style. On August 2, the six-time all-star and Phoenix Mercury Guard released her first-ever capsule collection with PUMA Hoops, called Desert Sky. The four-piece capsule is a great blend of athleisure and street style, with duality and versatility in every look. There's something for every Diggins-Smith fan. The collection includes a Desert Sky jersey dress, basketball shorts, a graphic tee, and her signature TRC Blaze Court Desert Sky sneakers.
In 2018, Diggins-Smith was the first WNBA player to join PUMA when they relaunched their basketball division. For this collection, she was able to be hands-on throughout the entire process, from mood-boarding the vibe of the looks to the actual styling. Desert Sky is a representation of Diggins-Smith as a player who is balancing her career, family, and being a mom. These pieces are a fusion of her basketball influence and fashion sensibility — easy to style on and off the court. From the bold color palette inspired by sunsets in Phoenix, Arizona to the graphic tee emblazoned with the affirmation "You Do You" (something Diggins-Smith's mom always told her growing up), with this capsule get a peek inside the life of the WNBA superstar.
Unbothered chatted with Diggins-Smith to learn more about the making of her Desert Sky capsule collection. She opened up about how her style has evolved throughout the years, and how fashion has been an outlet during an especially difficult season playing without her friend and teammate Brittney Griner.
Unbothered: What was the inspiration behind your Desert Sky Collection?
Skylar Diggins-Smith: This was my first time having complete creative control with a capsule collection and with these four pieces, I wanted to highlight versatility and comfortability. I wanted people to be able to have pieces that you could mix with high fashion pieces or dress down. It didn't really matter ]what] your lifestyle [is]. There's a piece that will get you.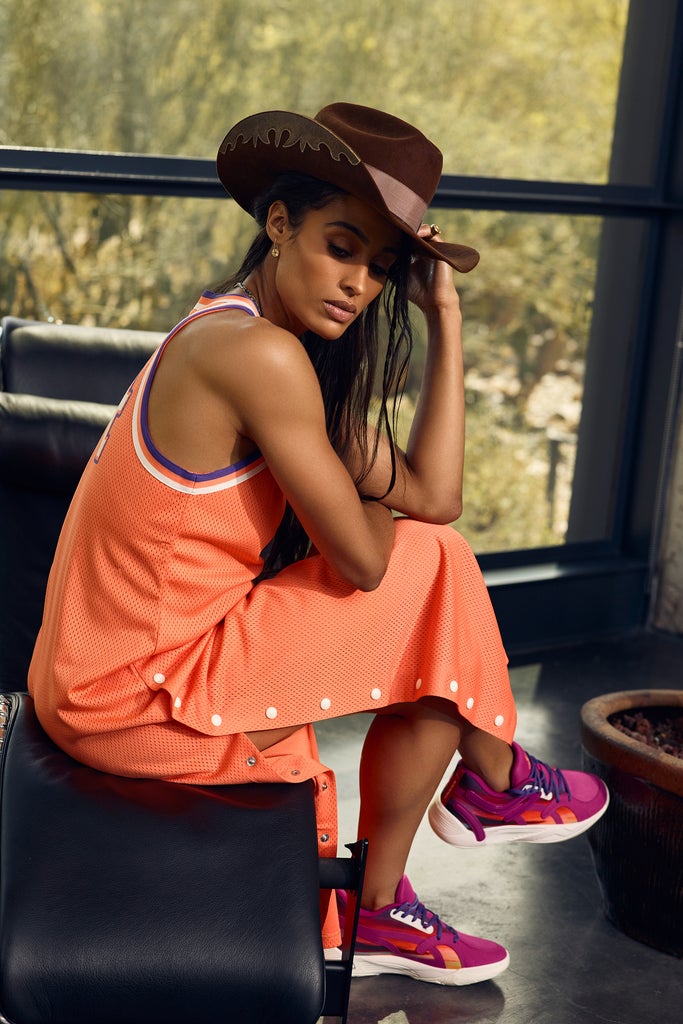 What are three things you want people who shop for this collection to feel when they're wearing it? 
I want people to feel confident. I want people to feel empowered. I want people to feel good. You can layer the t-shirt and the dress. I really just wanted inclusivity and for people to feel included, chic, and sexy.
Where did the slogan 'You Do You' on your t-shirt come from? Is it a daily affirmation you live by?
Absolutely! Especially on and off the court, and in every aspect of my life. It's something my mom started with me when I was coming up. She would just say, "you do you." And it basically always taught me to be myself. I was enough! Those are all things that my mom instilled in me. The crazy part is it still applies to me to this day. ["You do you"] was definitely something that was a huge symbol that I'm glad we were able to incorporate into a final design on the t-shirt.
"We always are going to make sure we uplift our sister and do everything we can to bring her home."

Skylar Diggins-Smith
How would you describe your style and how has it evolved throughout the years? What are your go-to pieces in your closet?
I think it [evolved through] discovering my baseline style, what I wanted my style to be, and what I wanted it to look like. And then it deviated from there by trying out other things. I've been wearing a lot of earth tones. I've been getting into that Matrix look with the all black lately. There have been a lot of emotions that have gone into this season, so when it comes to my style, I'm just expressing myself and trying to take the time to get dressed because at one point I didn't feel like doing it and was disinterested. Now I've been taking the time to express myself and try new things outside my comfort zone. My go-to pieces would have to be a suit [all black] because, you can wear it oversized, together, or mix it with other pieces like a bandeau or crop top. I also love that you can pair it with heels, boots, or sneakers as well. Also, a pair of plain hoop earrings.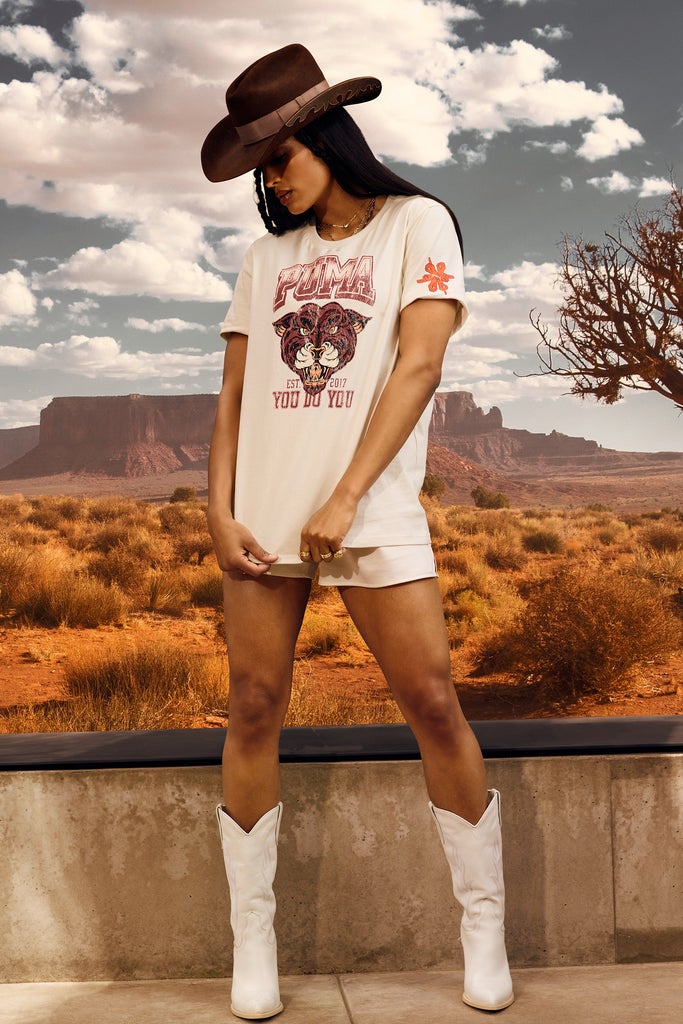 How have you and your teammates' used fashion to express the way you've been feeling and advocating this season for your friend and teammate Brittney Griner who is still falsely imprisoned in Russia?
Speaking for myself specifically, my outfits have been really intentional! You see it around the league as well. Outside of basketball, [we are] really expressing ourselves as social advocates and concerned citizens. I think that the reach that we have with these platforms is unique, and we are the most [outspoken] professional athletes, in my opinion. We always try to use what we have to get the message out and be supportive of social movements we're passionate about. My BG outfit at the All-Star game meant the most to me. I was on the biggest stage to try and keep her spirit there, keep her voice there, and the message relevant for her [was important]. I didn't even want to play at the beginning of the year, I feel like I should have been doing more, but I love how we all have been able to come together. In the WNBA, sisterhood is so important. We always are going to make sure we uplift our sister and do everything we can to bring her home.
Like what you see? How about some more R29 goodness, right here?
Chiney Ogwumike Empower Gen Z Creatives
WNBA Star Brittney Griner Detained In Russia
How WNBA Star Candace Parker Fights For Equality
Source by www.refinery29.com