For engagement rings, not everyone prefers the flashy elegance of a round diamond. Many people choose subtle and sophisticated diamonds for their engagement ring. One diamond cut on which people rely for an impressive wow factor is the emerald cut. People choose Emerald-Cut diamonds for their engagement rings. Engagement rings with such diamonds are loved by both old and new.
Emerald-cut diamonds have a vintage-inspired elegance that helps to make engagement rings unique and beautiful. Such a classic diamond shape not just looks stunning but can also be used in a variety of different settings. This is also one of the major reasons that Emerald-cut diamonds always turn out to be perfect for engagement rings. But before choosing such type of diamond cut for an engagement ring, it is considered beneficial to have some good knowledge about it.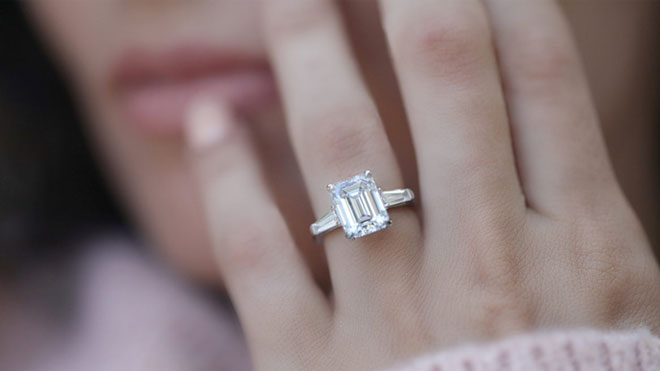 What is an Emerald Cut Diamond?
The emerald-cut is an elegant step-cut facets diamond cut, which gives a signature icy and flashing look. It is one of the oldest diamond shapes which is also considered a "fancy shape" diamond. Emerald cut diamond includes small rectangular facets that look like stairs or steps. Such a type of diamond cut is unique and elegant and is thus loved by many.
Engagement rings with emerald-cut diamonds are known for their unique, distinctive, and dramatic look. Such type of diamond cut evokes modern traditions, strength, and elegance. Rings with such diamond cuts are loved by sophisticated brides. It is easy to buy a good emerald-cut engagement ring within your budget. But before making a purchase, there are various things that you must know about the emerald-cut engagement ring.
Shape
The Emerald-Cut diamond flaunts a chiseled, rectangular, elongated shape along with step cuts, and straight linear facets. The shape of such rings makes the stone look classic and royal that further making the fingers look attractive and elongated. To make the ring with such type of diamond durable, the corners of the diamond are cropped. This also helps to prevent the risk of fractures and adds stability to the diamond. For deep clarity, it includes a large surface table.
Length
In terms of length Emerald-cut diamonds usually vary from square to a narrow rectangle. The length-to-width ratio of such a classic diamond is around 1.50. The ratio of an emerald cut diamond is calculated by dividing the diamond length by the width. For emerald cut diamonds 1.45 to 1.55 is usually considered the best ratio. If you prefer thinner, longer cuts, then you can choose around 1.6, and in the case of squarer, and shorter cuts you can choose around 1.3. on the other side, the total depth percentage of the diamond affects the light it reflects.
Depth
In terms of depth, 72%-58% is considered excellent for emerald-cut diamonds. On the other side, 74%-52% is considered very good and 78%-49% is considered good for emerald-cut engagement rings.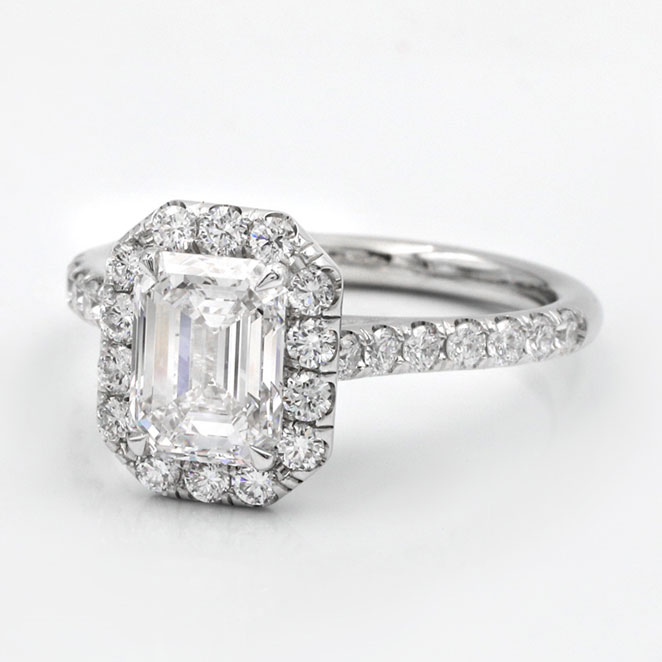 Common Emerald-Cut Engagement Ring Styles
When it comes to the purchase of an emerald-cut engagement ring, every individual pic the ring style as per their choice. The decision regarding the ring style also sometimes depends on the buyer's budget. Some common emerald-cut engagement ring styles include:
Halo Ring Style:
The Halo ring setting is a unique ring style that turns out to be perfect for engagement rings. Such ring style helps to add more light to the center emerald-cut diamonds and gems. Such rings give a sparkling and luxurious effect. Using a halo ring setting for your emerald-cut engagement ring helps you steal the attention of people.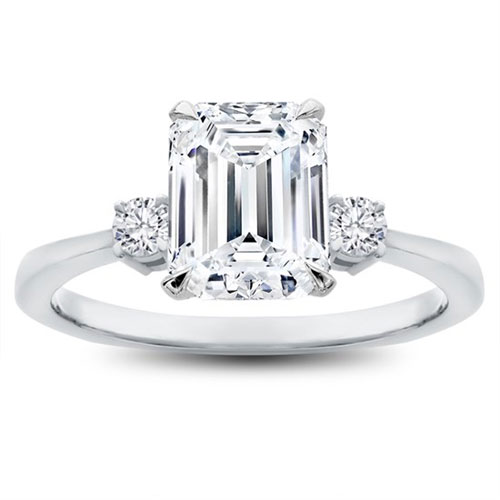 Three Stone Ring Style:
Emerald-cut diamonds also look beautiful in a three-stone setting. In such a ring setting the emerald-cut diamond is added to the centerpiece, and is flanked with two gems or diamonds. Three-stone emerald-cut engagement rings are best for those who want to increase the visual allure and add more carat weight to their engagement ring. The role of two smaller stones in such ring style is to draw attention to the emerald-cut diamond/center stone and increase its beauty.
Solitaire Ring Style
A solitaire emerald-cut diamond engagement ring setting is best for those who love simple things. For an emerald-cut engagement ring, such a ring setting is considered a classic choice. Due to the stunning shape, the setting hit a lot of light on the diamond. This gives the diamond a "hall of mirrors" effect.
Final Thoughts:-
When buying an emerald-cut diamond engagement ring the 4Cs must always be considered. Engagement rings with emerald-cut diamonds are less expensive than rings with round brilliants. The price of an emerald-cut engagement ring usually depends on the ring setting you select and the diamond you pick. Make sure to buy your emerald-cut diamond engagement ring from a professional. This will help you get an affordable and high-quality diamond engagement ring for your loved one.