Oh my gosh you guys I seriously cannot believe this day has come. When I got my first opportunity to do a collection with Scunci, I was completely over-the-moon blown away. I could not believe that I was going to have my hair accessory line in Walgreens nationwide. Then when I got my second collection, I was equally as excited, but now to be in a third collection I just truly cannot believe it! I'm so grateful for every single one of you for supporting me in this. I wouldn't be here without you guys. Thank you!
I'm going to link all the items from this collection that you can buy online here in the blog post, but make sure to head into your local Walgreens to pick up some. Post pictures to social media and tag me and I will re-post every single when I see for the next week!
I honestly think you guys are gonna love this collection so so so much because it's full of the most beautiful pieces and in the most gorgeous jewel tones that are perfect for the holidays!
Jumbo Scrunchie
I'd like to say I'm starting with my favorite piece, but honestly that's impossible to say because I have so many favorites in this collection. This jumbo black satin scrunchie is definitely one of those favorites. It is so soft and so beautiful. I think it's the perfect piece to just lounge around in just because it is so soft and feels so nice.  In my opinion, it's also gorgeous and pretty that you could use it to jazz up any holiday outfit this season. I love it and it will definitely be one of the best sellers!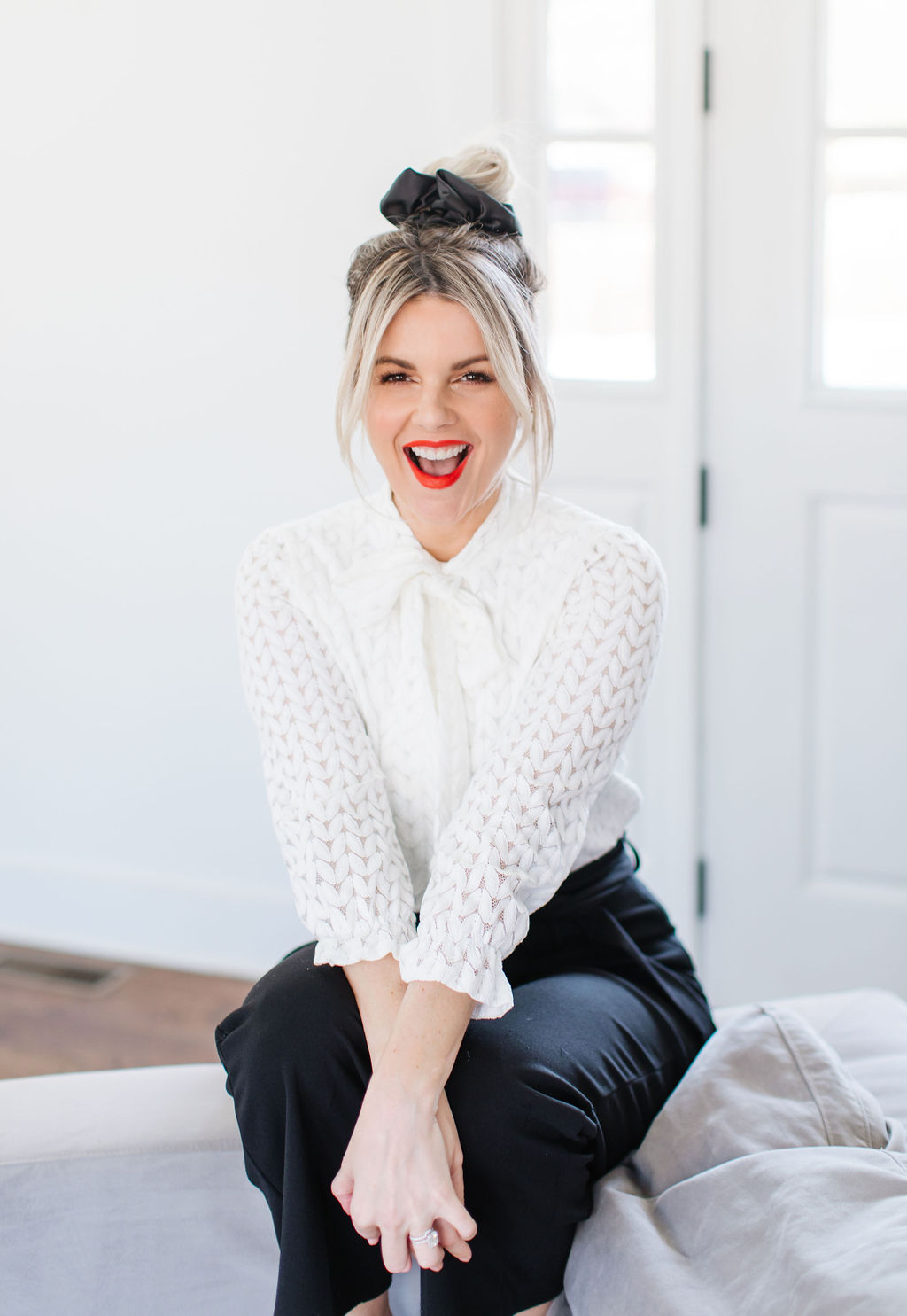 3-Pack Scrunchies
Next, a fan favorite from the last collection! This three-pack of scrunchies was by far my best selling scrunchie set from the last collection, so I decided to do another set in different colors! I love the jewel tones along with the neutral. If you didn't get a chance to get these from my last collection, make sure to grab some now because they were one of the first to sell out last time and f you did get these from the last collection and love them as much as I do, definitely get some more because I truly believe they are the best scrunchies of all time!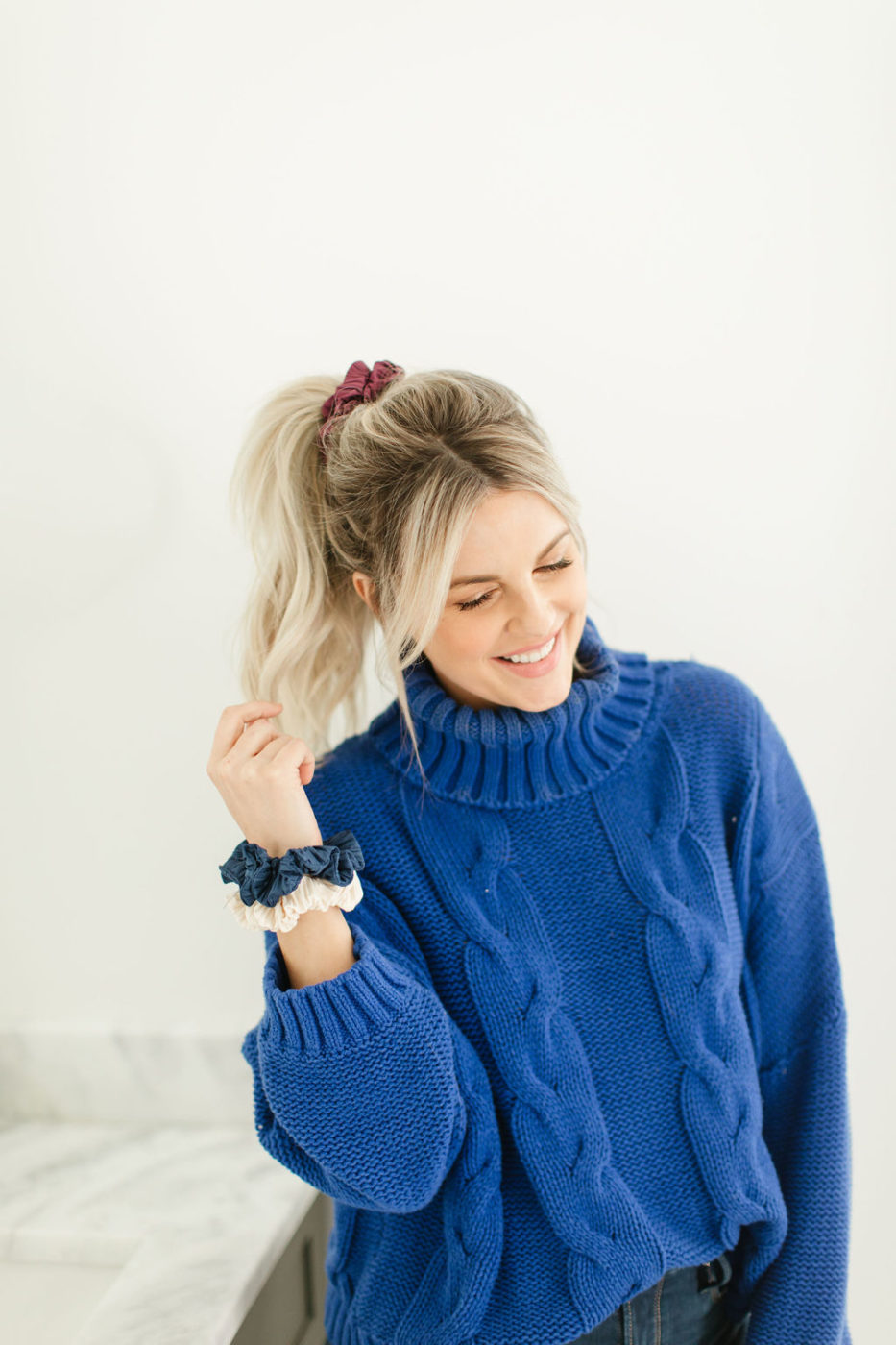 3-PACK OF MY THE BEST SELLING SCRUNCIES
Speaking of scrunchies I wanted to do a velvet pack, as who doesn't love velvet for the winter and holidays. The neutral colored velvet scrunchie from my first collection is one of my favorite pieces I've done so far, so I wanted to include that along with a beautiful red/berry color for the holidays and then a deep rich purple color that is just so pretty. They are super soft, absolutely gorgeous and I hope you guys love them.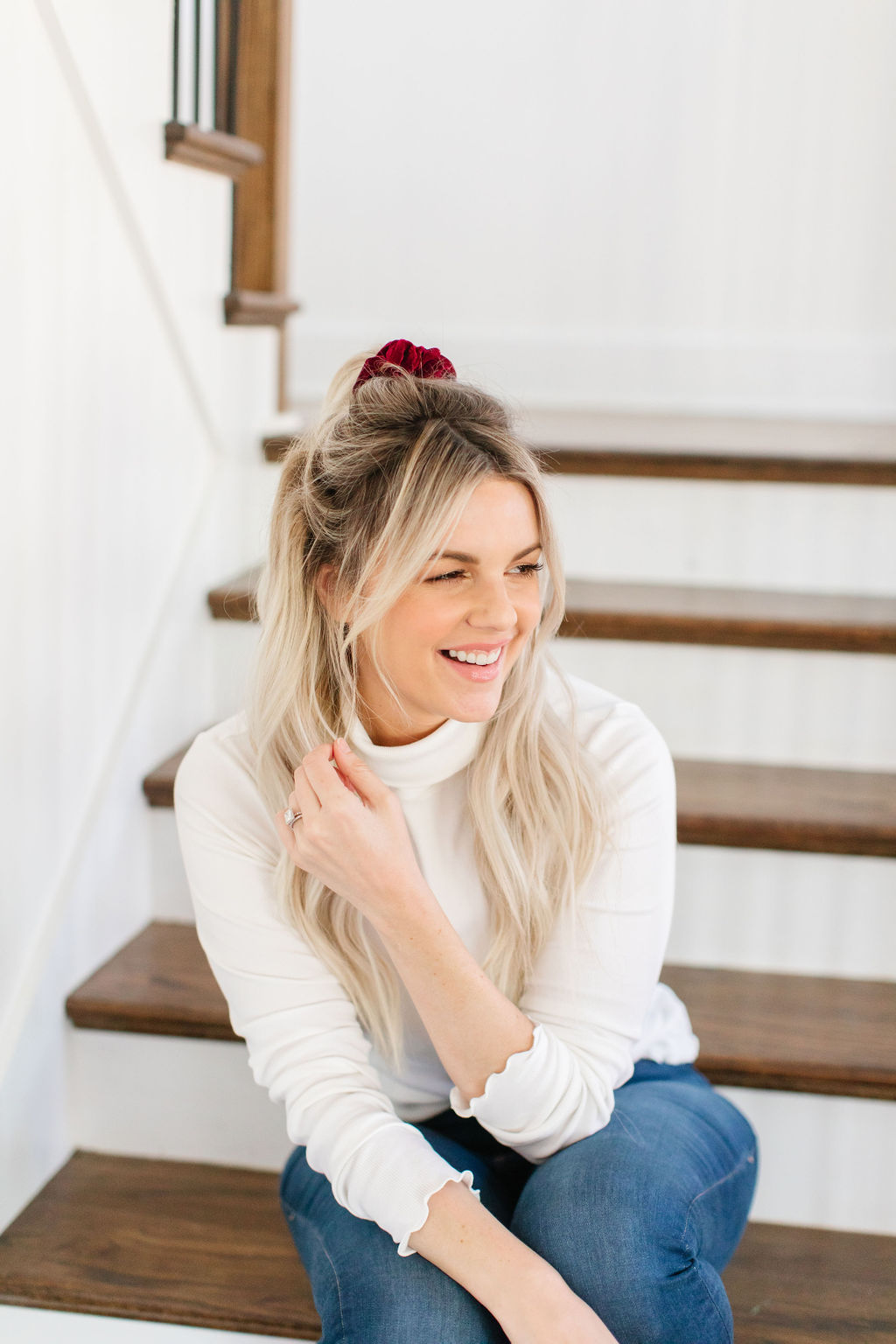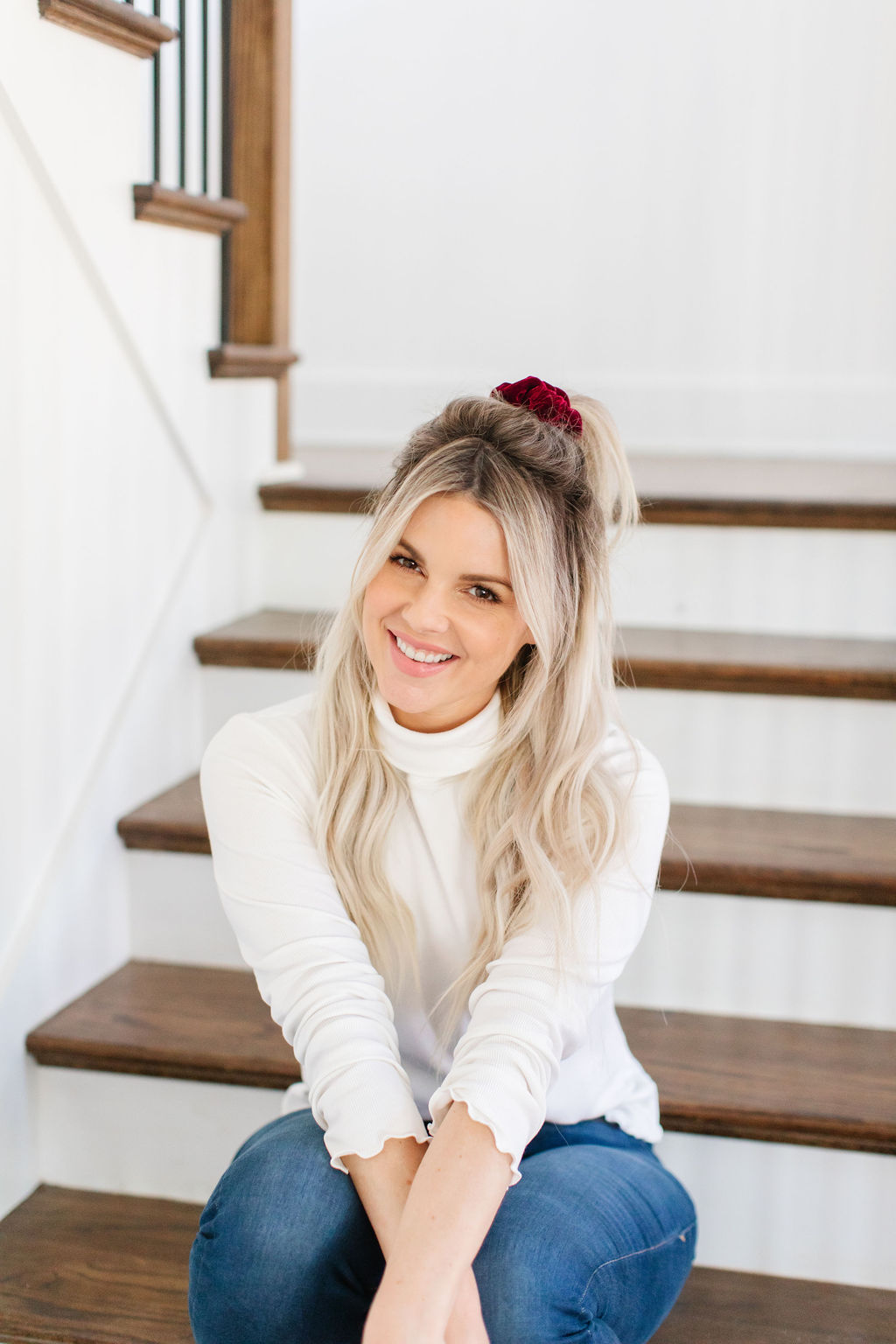 Then the final three pack of scrunchies in this collection is this gorgeous satin set. I just love how soft the satin feels. I loved the black jumbo scrunchie so much that I wanted to include a three pack of smaller ones as well. And again I just love these beautiful jewel tones. The satin ones are my Molly's favorite ones to wear because she loves how soft they are too.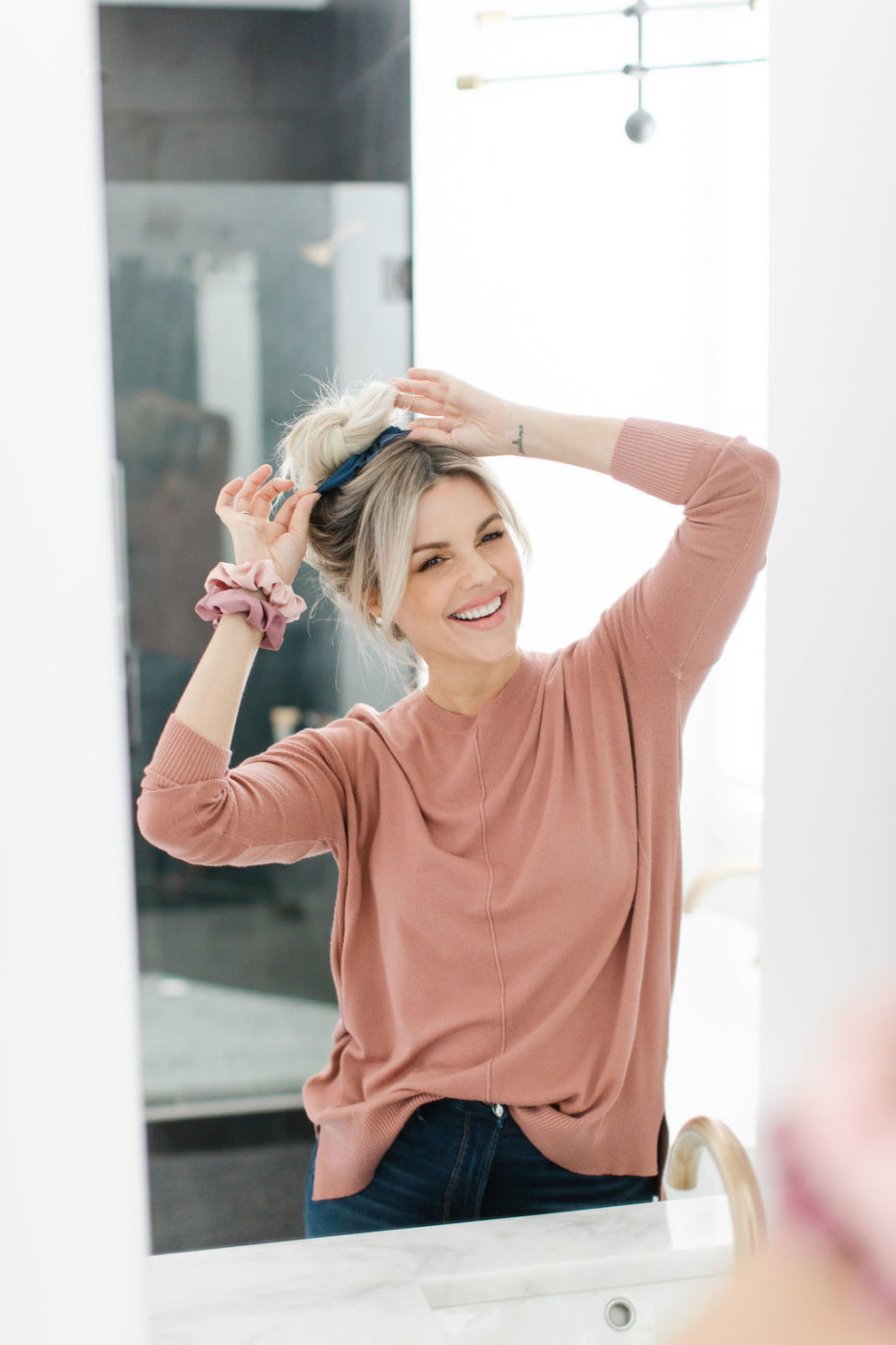 Bow Scrunchies
Don't even get me started on these bow scrunchies! The best selling item from both of my first two collections was the three pack that had the pink bow scrunchie. I know so many of you love it, so I wanted to bring back a two-pack with just bow scrunchies. I think the berry/red velvet and the black velvet are absolutely perfect for the holidays and there are so many cute ways you can wear this scrunchie. I'm definitely gonna do some reels to show you guys all the ways you can wear it soon. I just need to get moved into my house first before I can get that filming done! But it's coming! Honestly these might be my very favorite pieces in the collection. Although it's almost impossible to decide.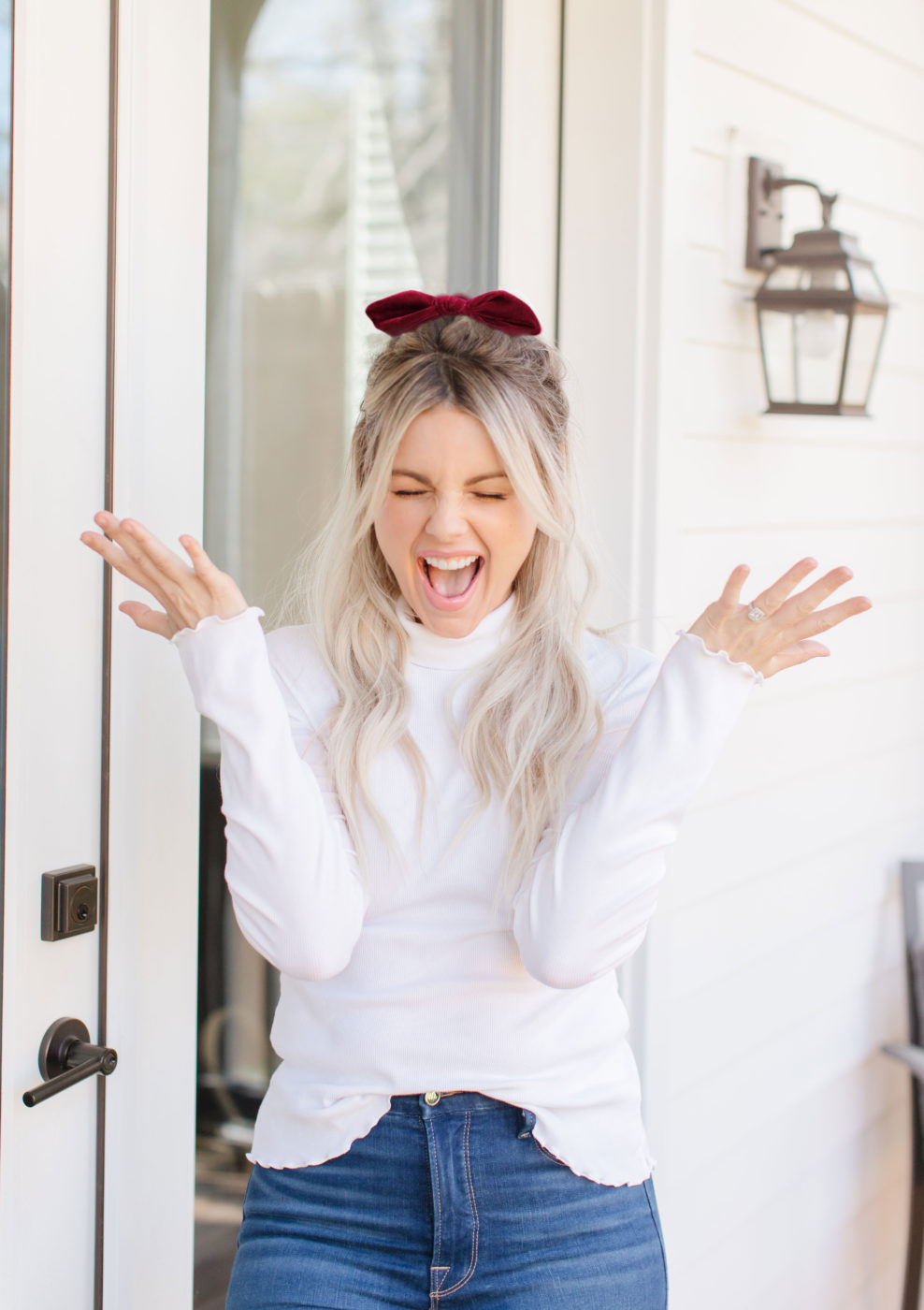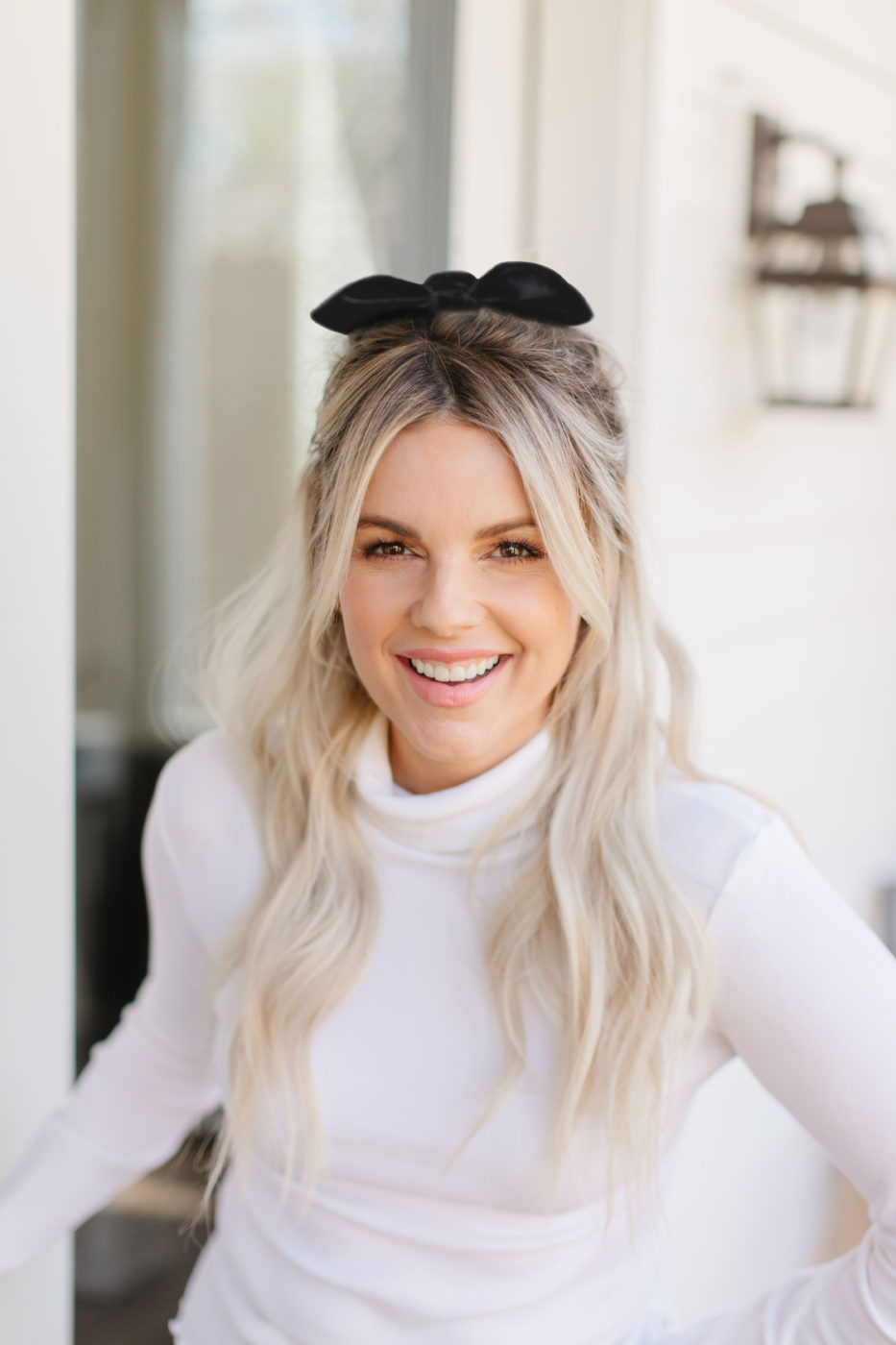 Scarf Scrunchies
Another huge favorite from my second collection was the scarf scrunchie we did in the floral print. Which of course is perfect for the spring and summer, but for the holidays I thought the houndstooth print is just so classic, sophisticated and perfect to wear to work. Or really anywhere. Houndstooth is just one of those absolutely classic prints that I love and I know you guys are gonna love too. I wanted to include two of this style, so I did a navy scarf scrunchie that again I just think it's so classic and beautiful.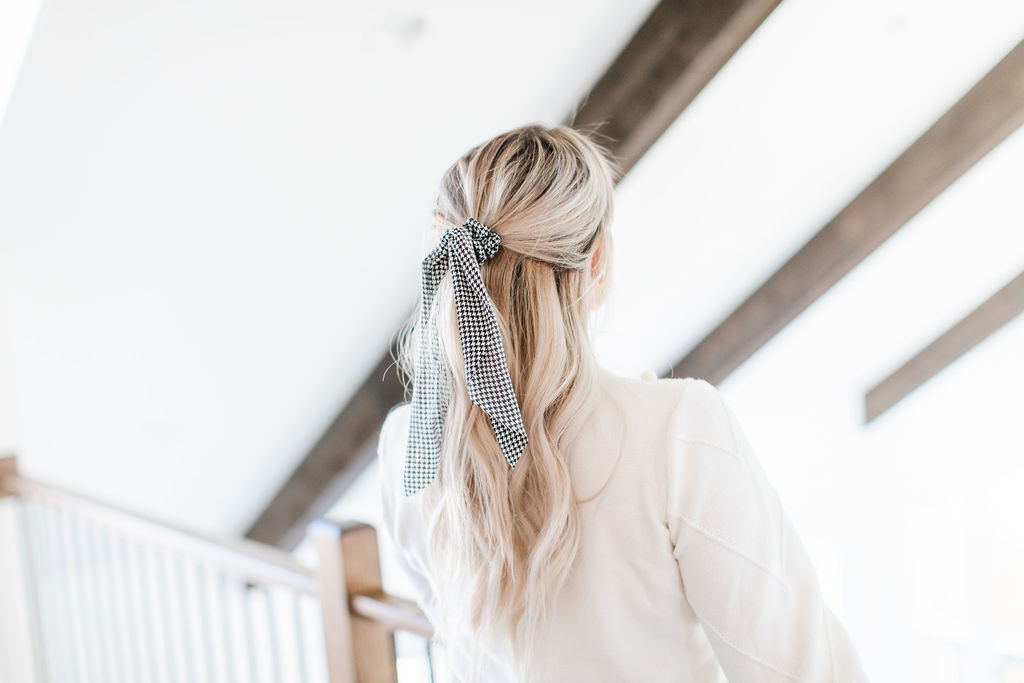 2-PACK HOUNDSTOOTH + NAVY SCARF SCRUNCHIE
Jaw Clips
Okay now let's talk to jaw clips! Jaw clips are everywhere right now and it was really really really important to me in this collection to create some that were super high-quality and very functional! Plus, I wanted to be inclusive of different hair types so I wanted to make sure we had a jaw clip specifically for thick hair and then ones that would work for very thin hair. So this first octopus jaw clip is for thick hair and it's so gorgeous. It also has gripping in the inside so it will really hold your hair in place perfectly! You will love this jaw clip and I love that it's unique.
There is a 2-pack of slightly smaller jaw clips in the collection are great for thin to normal hair. Plus I can't even tell you how many different samples I tried before I chose these. I really wanted ones that felt like a really great quality and not cheap or flimsy at all. I love these for every day or would also both be great for the holidays! They aren't available online, but you can find them in most Walgreens near you!
Also this is the jaw clip that we had in the first collection that sold out immediately! It was a different print, but I wanted to bring it back for everybody who loved that jaw clip so much. This jaw clip is perfect for thin to normal hair and then if you have thicker hair, it's perfect just to pull back in a half pony. But honestly I think it could work for a bunch of different hair types for different styles. I'll love it!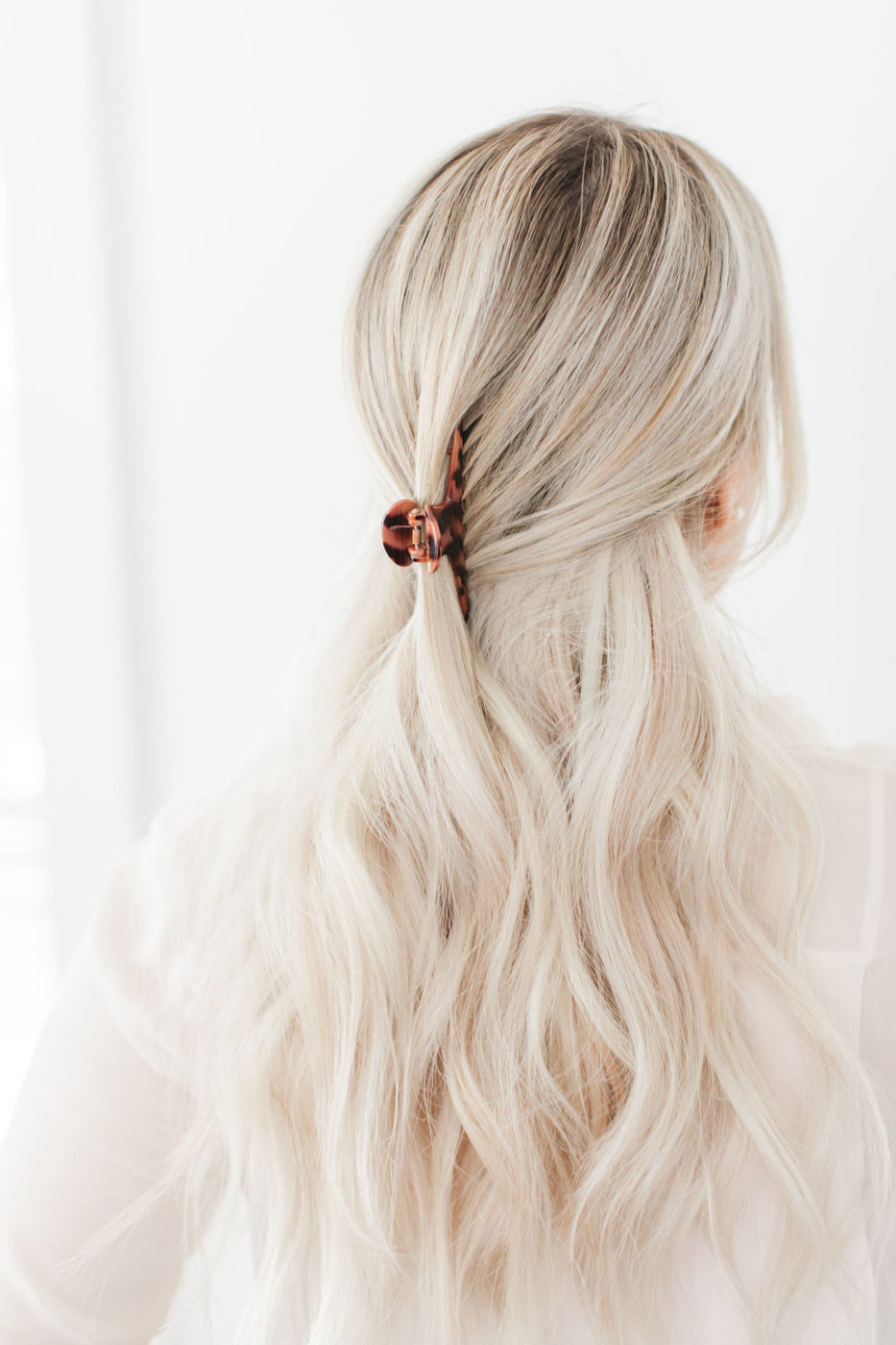 Headbands
I wanted to have two very different kinds of headbands in this collection. The black one I honestly almost would walk by if I saw it in a store, but when I tried this black one on and I thought it was so beautiful, classic and clean looking that I fell in love with it. Plus, I love that it's got a little bit of sparkle just on one side. The asymmetry makes it feel more modern and current and it's so soft and comfortable to wear. I am obsessed with this headband and I hope you guys love it too.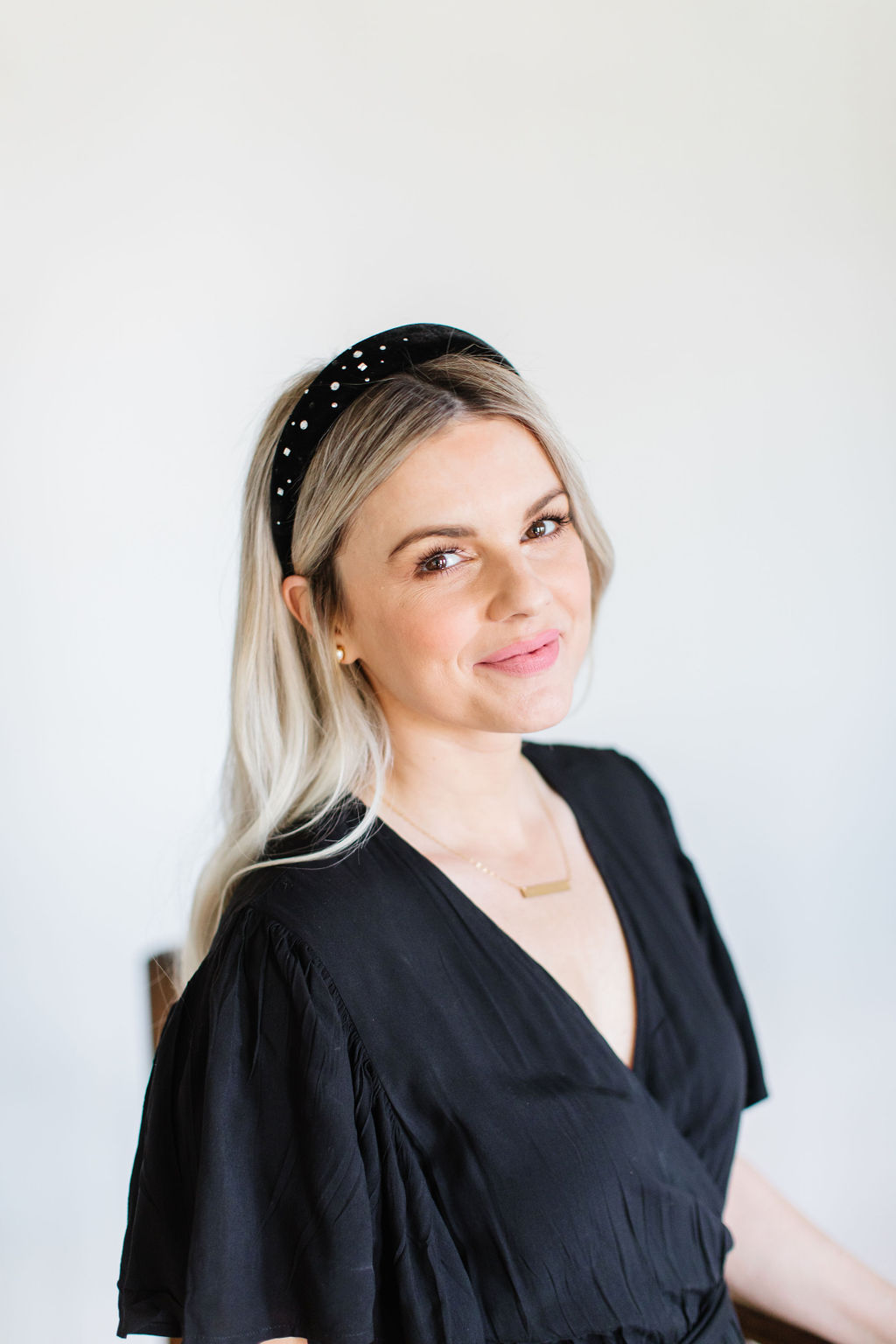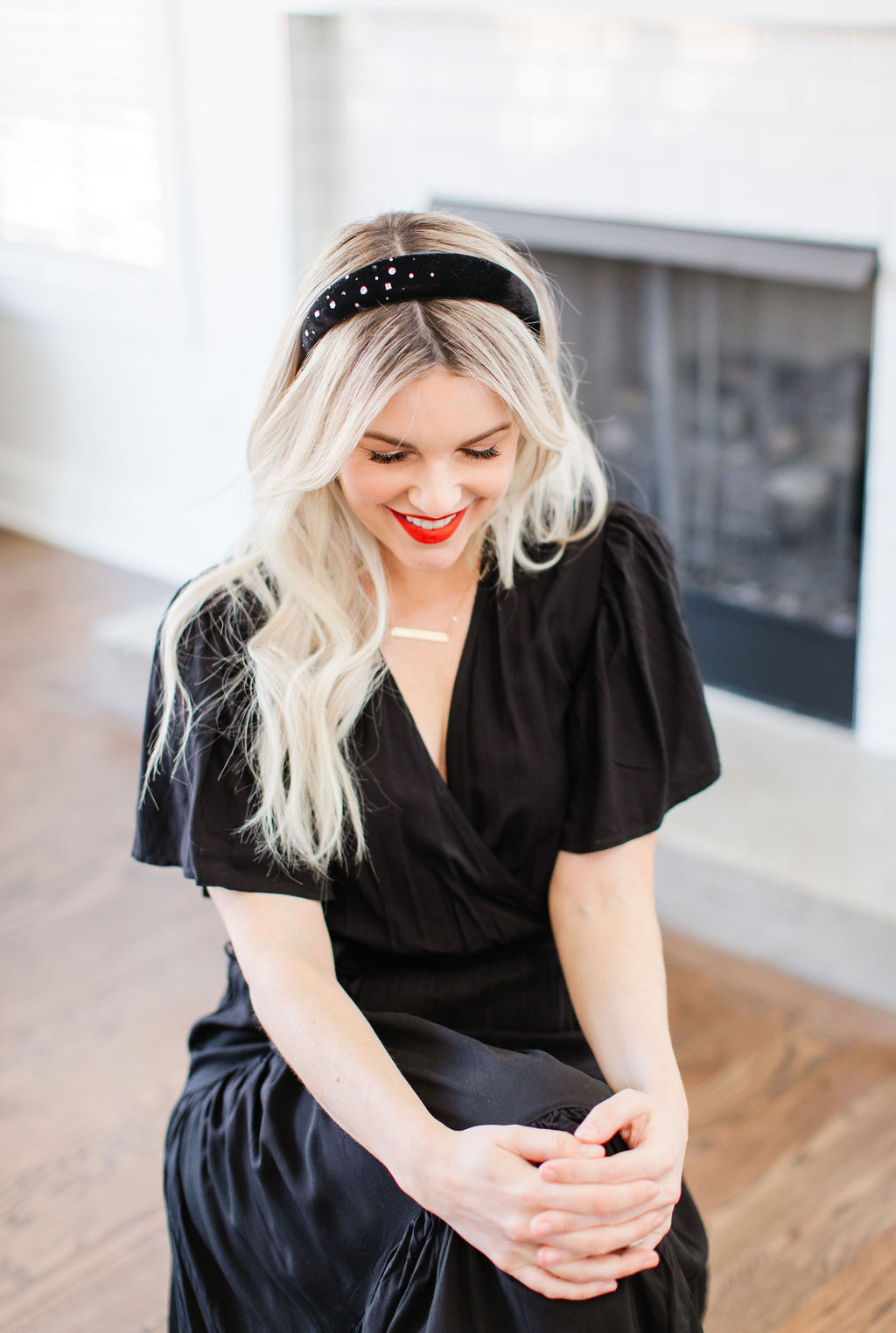 I also really wanted to create something that was perfect for the holidays, but also perfect for brides! I know a lot of brides are thinking about their upcoming spring weddings and festivities and I just thought this headband will be the absolute perfect piece for a rehearsal dinner or even for the big day! But then again, it's also just so beautiful to wear with a red dress for the holidays! That's why in these photos I wanted to show you guys how it would look with a white dress and a red one so you could see that it's perfect for either occasion. If you know any brides please share this headband with them because I really think they'll love it!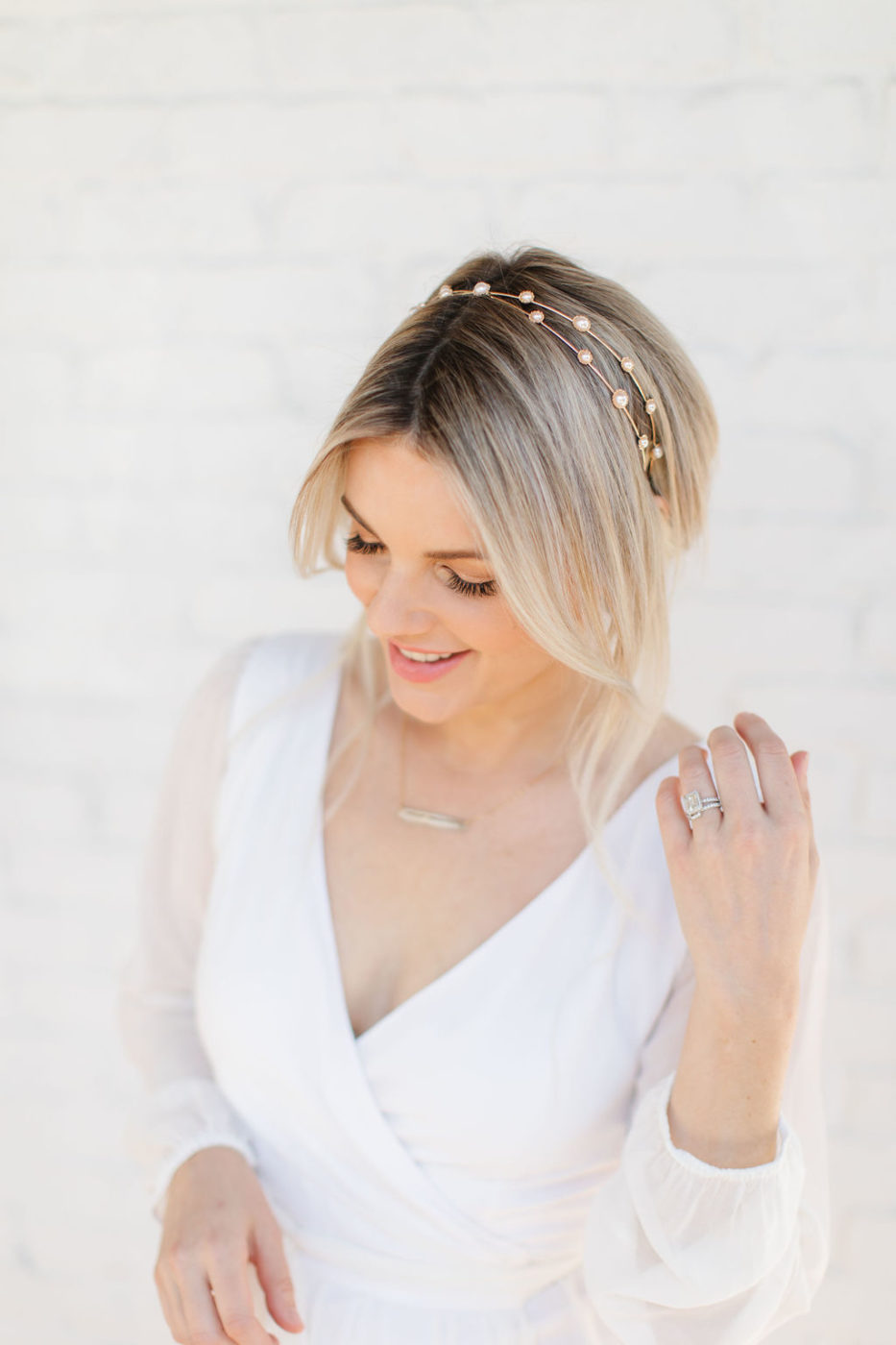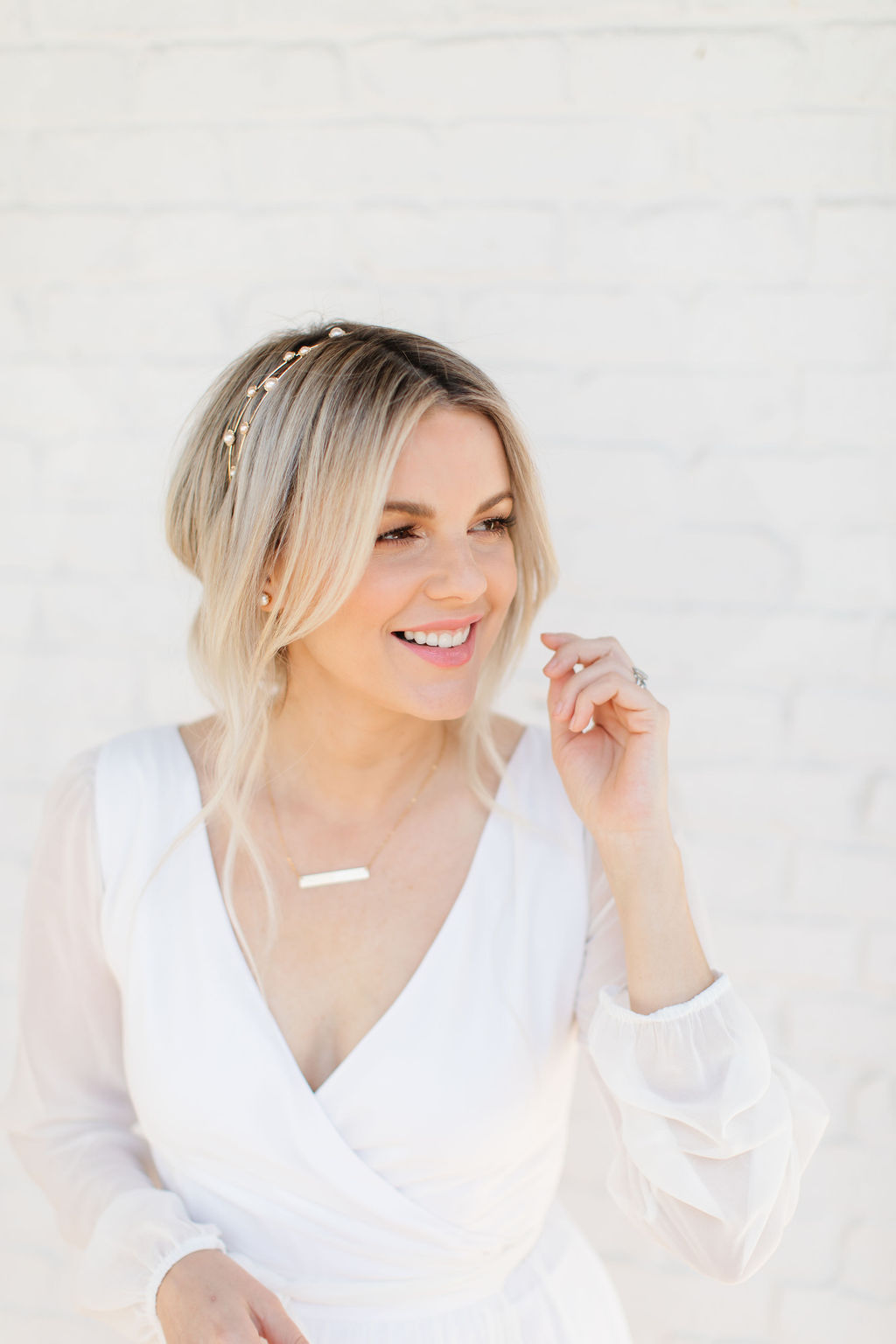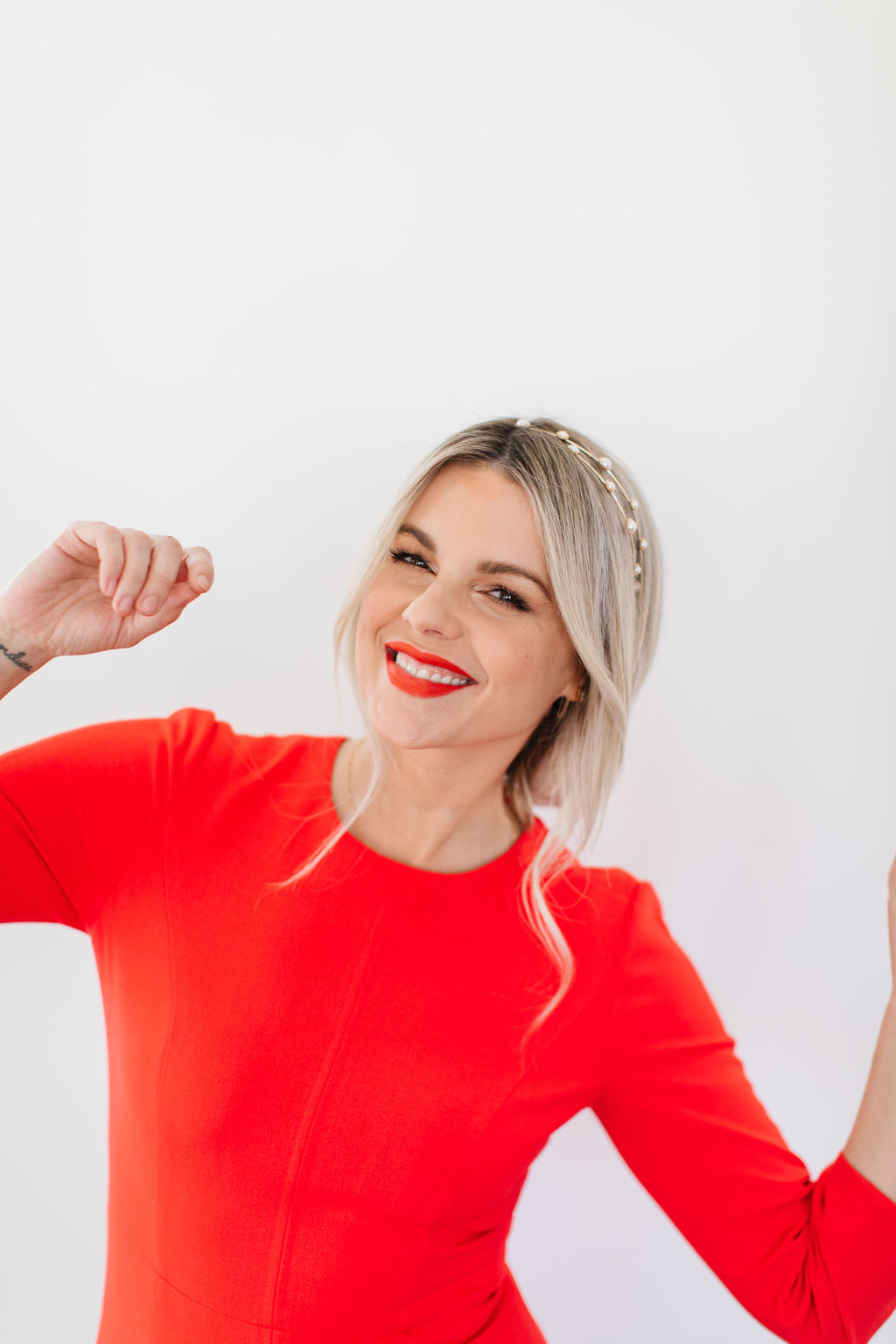 Head Wraps
I know so many of you loved the jumbo sweater scrunchie from the first collection and I really wanted to use that same kind of sweater material and create a head wrap. Oh my gosh, this will be the comfiest head wrap you ever ever ever wear! If you've got any for my previous collections you know there's so great to wear to just throw your hair up and keep it out of your face. I even saw some people from my Facebook group posting that they wore them during labor which just made me so happy! As you guys know, it's really important to me with head wraps to create them with enough stretch that they'll fit a small head, but also fit a larger head very comfortably. I have a very large head and I've always had trouble finding head wraps in the past they don't give me a headache and knees won't. I tested them again and again and again! I found this cranberry color so gorgeous and especially great for the winter months and holidays!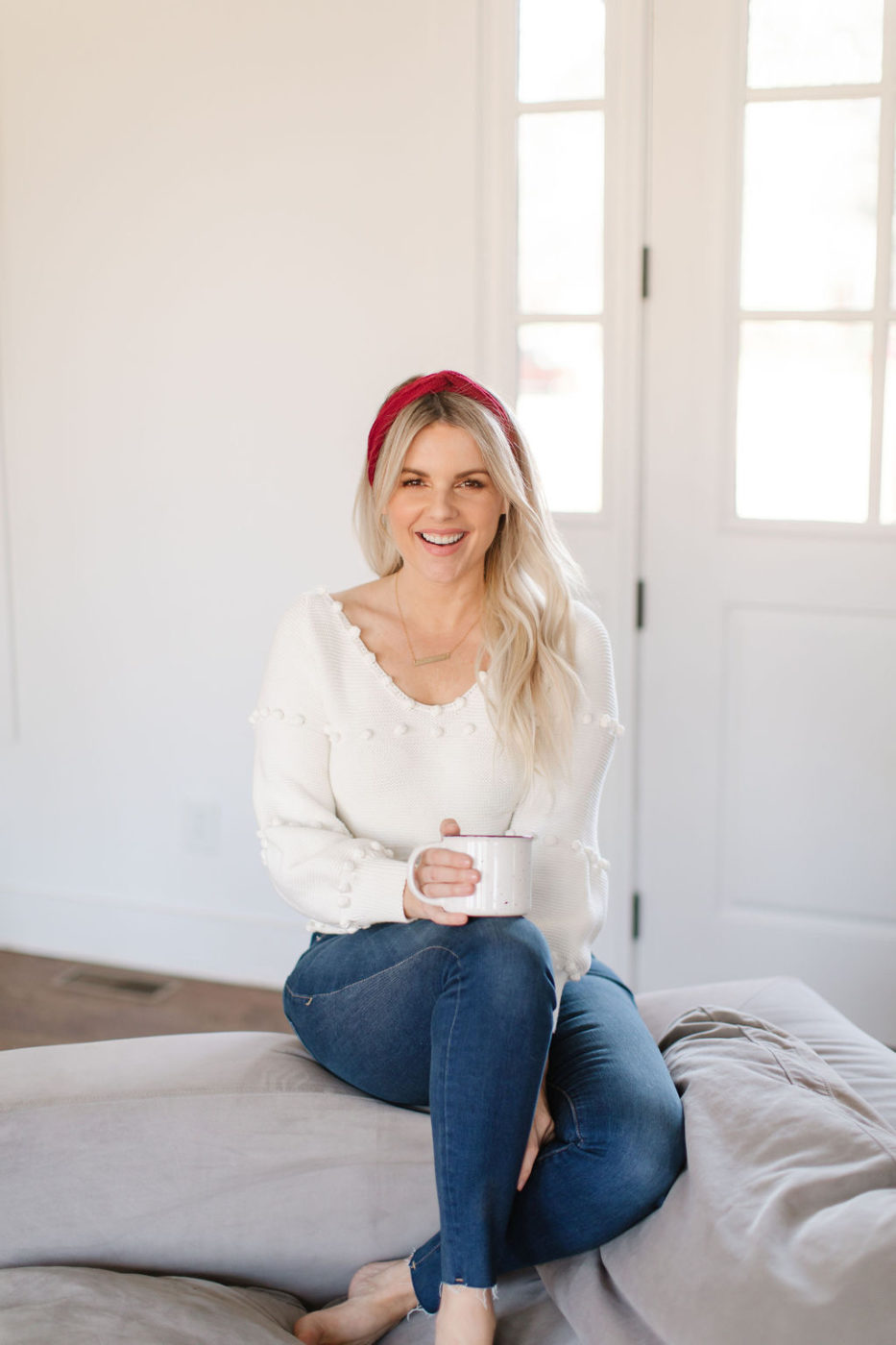 Then my second head wrap in the collection has a gorgeous braid in it. When I first saw the sample of this head wrap it came in a bunch of different colors that I chose and honestly I had such a hard time choosing just one. I almost wanted to do five head wraps with this braid all in different colors for the collection because I love it so much. It just gives that sweet little touch of femininity to any look you have and it's just so interesting. I promise if you get this head wrap you will get compliments on it and if people ask you where it's from and tell them at my line at Walgreens! Ha!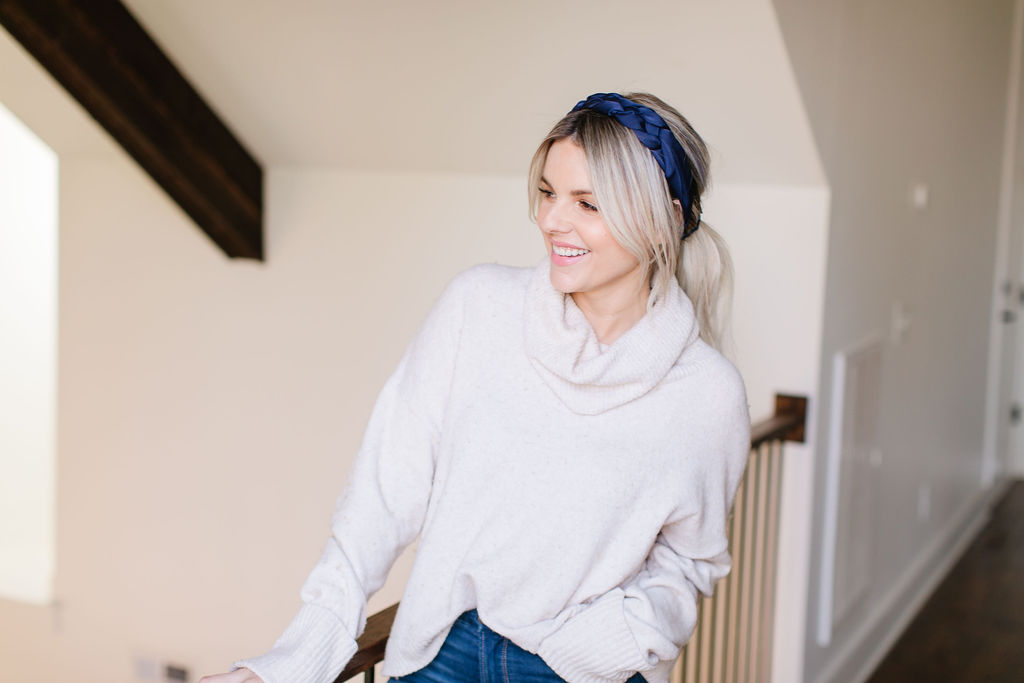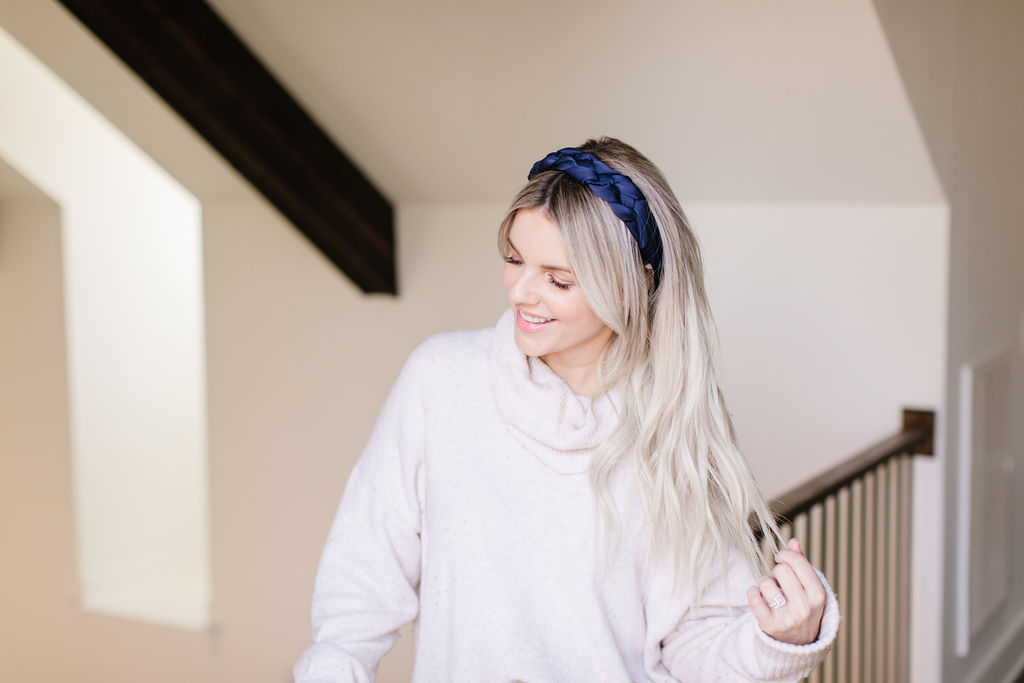 Clips
I also have two sets of clips in the collection. First, these snap clips that once again I wrapped with some fabric because I loved that from my first collection – and again the colors are just perfect for the holidays. I also love that they're not tiny and they're more of a medium size so it gives you more of a substantial look. You can use them to style the front of your hair or the back! They're super versatile! It also comes with two gold snap clips as well that are perfect for every day or to dress up a look.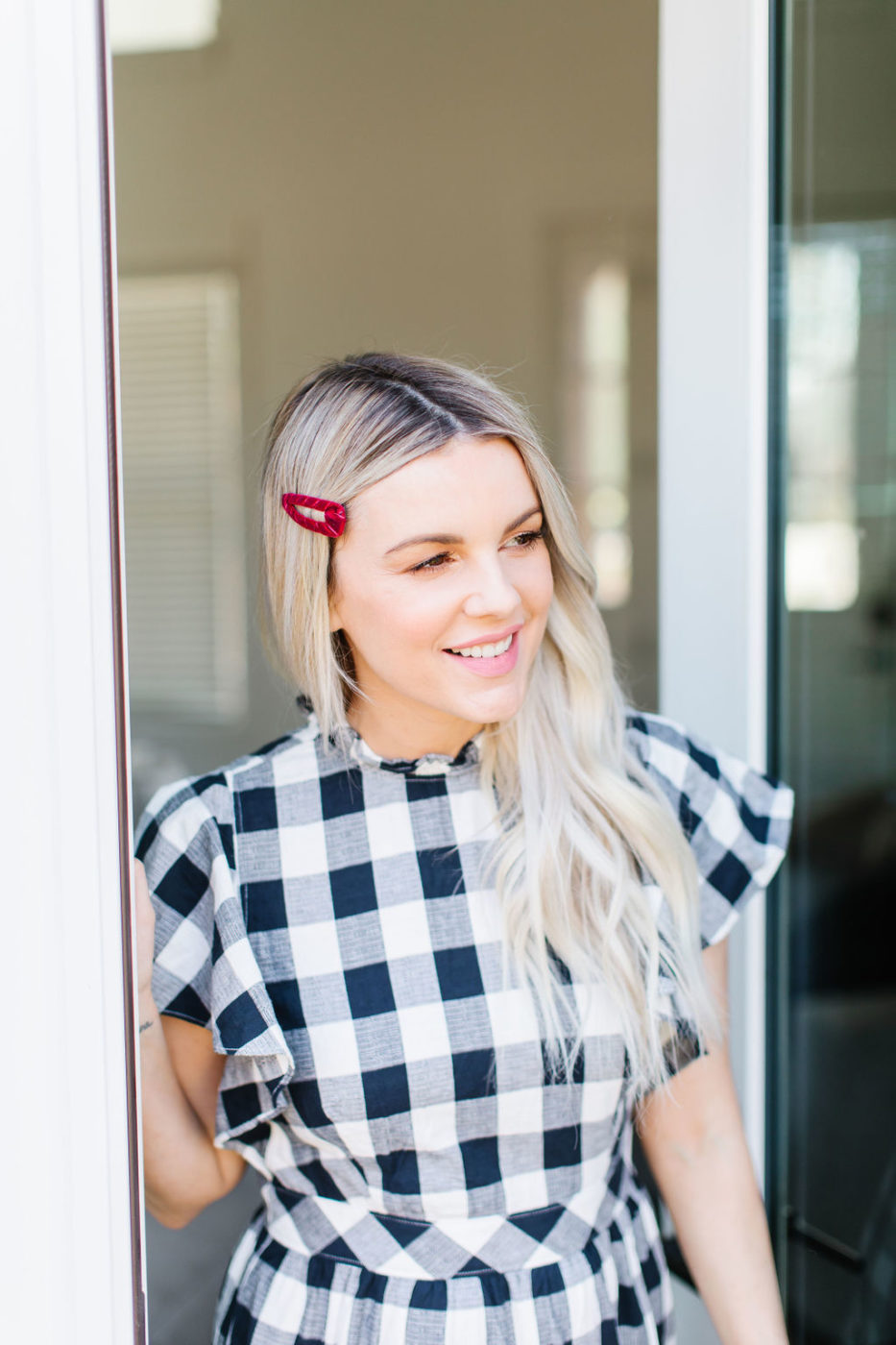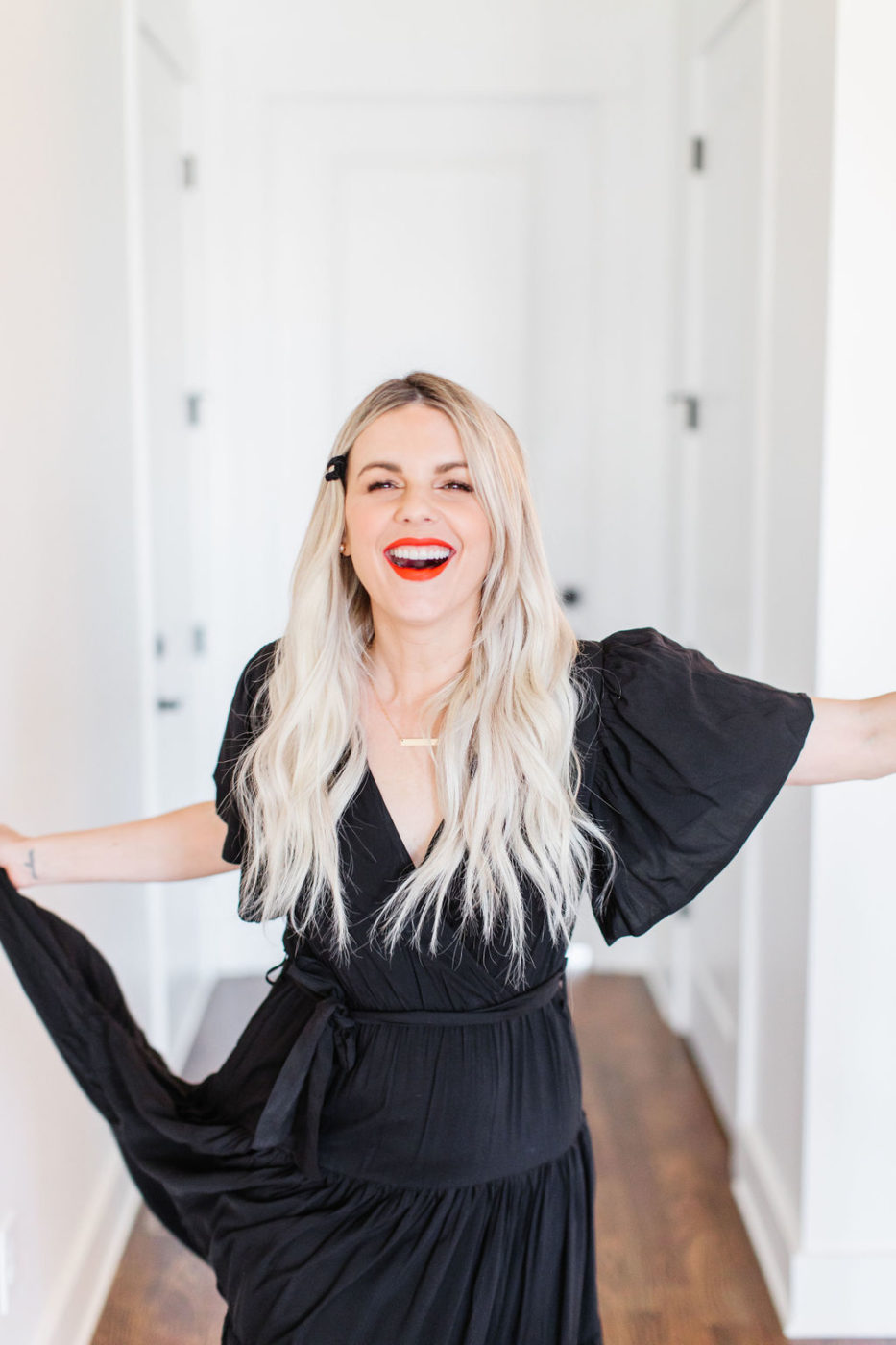 GOLD + FABRIC WRAPPED SNAP CLIPS
Then these two clips are a classic, clean perfect look for the holidays and I just feel like they're super elegant. I really hope you guys love them as much as I do. One that is a neutral colored fabric with bead and crystal accents and a plain black one. They call these bobby pins on the website, but they do have more of a claw like backing to keep them from slipping.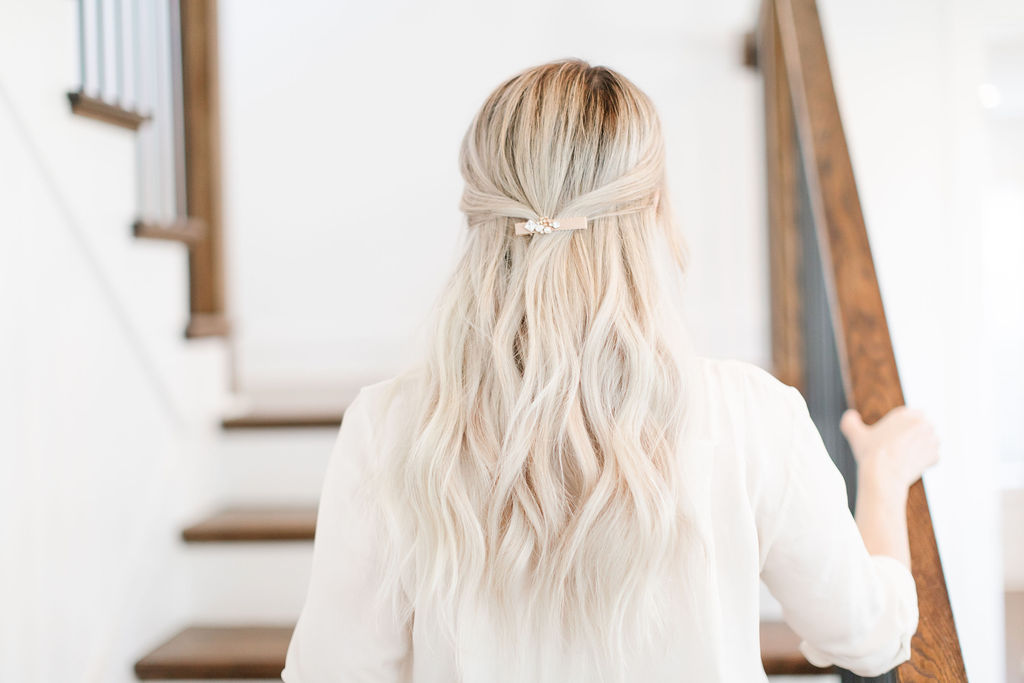 Hair Ties
We also have these gorgeous nylon hair ties in the collection! There is one pack that are black and another that have jewel tones. They have some pearls on them which I thought was just such a fun touch for the holidays. I know the pearls feel like they would get in the way when you look at them on the elastic, but I promise you when you use them they don't. They just pop out at little points and just look really pretty. I love putting them in Molly's hair. The other pack is Because you can never have enough, always pick up a set of the spiral hair ties! I've had a set of these in every collection so far!
Thank you for your support!
Okay, do I sound super obsessed about every piece in this collection? I hope so because I am! I hope you guys love them as much as I do. Once again I want to say thank you guys so much for all of your love and support. Any way that you could possibly support me in this collection would mean the world to me. Whether it's buying a piece or two for yourself, buying a piece for holiday gifts or stocking stuffers, or even just sharing on your social media about the collection it would mean the world to me! Love you guys & thank you for making this possible. I am forever grateful!
Source by www.alimanno.com