If you have made it to this post, you're probably familiar with cPanel. Well, regardless of the fact that it is being used by over one million users to manage websites and servers, the cost has become a problem for many. You can manage your servers without having to pay for cPanel if you use a reliable open-source alternative.
The question here is, which cloud-based panel is the perfect alternative to cPanel? Well, we have handpicked the best cloud server management panels you can trust.
The Best Cloud-Based Control Panels to Choose From
The core purpose of going for a cloud-based control panel is to save your time and effort. Therefore, a good cloud server management panel should automate routine procedures, simplify complex tasks, and only require attention when required.
A good management tool should also notify you when something happens that needs your attention. It should issue warnings through various channels to keep you updated at all times. Here are a few reliable server management tools you can trust to do the job for you.
CloudPages
If you are looking for a tool that combines speed, security, and simplicity, then CloudPages is the cloud-based control panel to go for. With extremely professional support, you won't worry about getting stuck as their representatives are available to assist you.
This lightweight SaaS-based website management panel is a great cPanel alternative that is mostly dedicated to WordPress users. However, this tool can also be used to host PHP-based websites. Here are a few key features of CloudPages;
WordPress Manager
Firewall
PHP and File Manager
Multiple PHP
One-Click free SSL
Git Manager
reCAPTCHA
Reports server load
Team Management
Pricing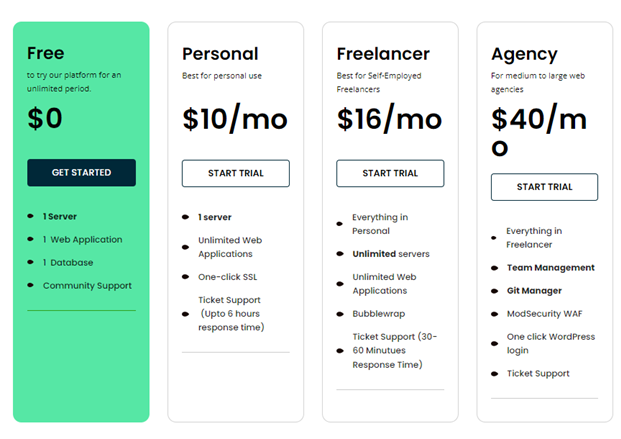 CloudPages currently has four different packages you can choose from. You can try the platform for free for an unlimited period. Or, you can take the 7-day free trial for any of the premium plans. Once the 7-day trial is over, you can pay to continue the service. Remember, in free trials, you are only allowed to work on one project.
RunCloud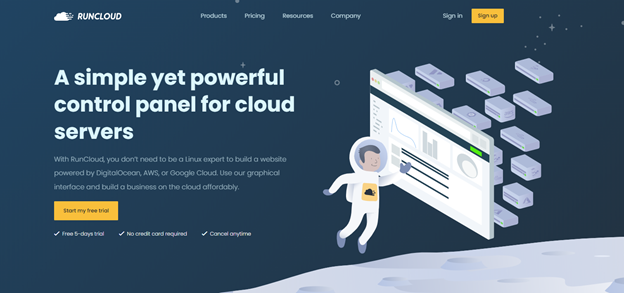 RunCloud is a simple yet powerful cloud-based control panel that is considered the 2nd best alternative to cPanel. If you aren't an expert on Linux, you don't have to worry. Similar to CloudPages, this tool is also a SaaS-based web hosting panel that has been developed for the management of PHP-based applications. RunCloud has an easy-to-use dashboard that allows you to configure Nginx or Apache2, configure or install SSL, and install any particular PHP version. You can also comfortably monitor tasks through elegant graphs and readable logs. In addition, this control panel also keeps you updated by monitoring activities and notifying you via email. Here are a few key features to make this control panel a standout;
Autonomous setup
Instantaneous deployment
Performance-driven dashboard
Secured management panel
Split-second notifications
Virtual PHP machines
One-Click SSL
WordPress deployment and site staging
Pricing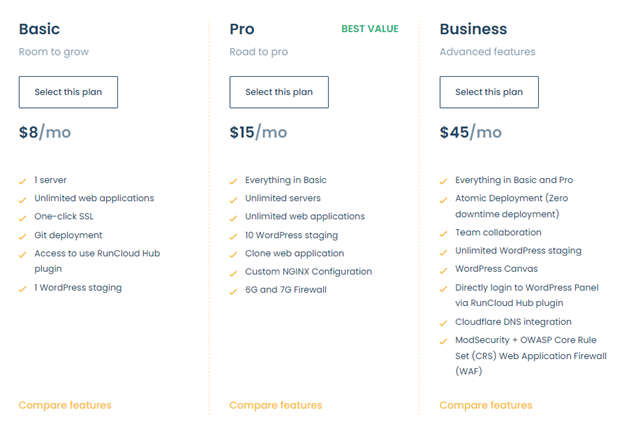 RunCloud offers three premium plans you can choose from. A 5-day free trial comes with each plan, after which you'll have to pay to continue. They are so confident in their tool that they are offering a 14-day, no-questions-asked money-back guarantee.You'll get custom SSL certificates, powerful administration, and expert support in all plans.
ServerPilot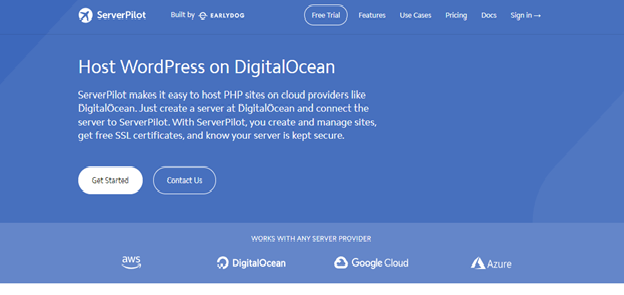 The cloud-based control panel that lets you configure a new server in less than two minutes is none other than ServerPilot. You are free to use servers from any service provider to host WordPress or any other CMS. This cPanel alternative is specially designed for hosting providers, agencies, and developers. You can focus on your business as this tool takes care of all cloud server management tasks.
Its integrated monitoring features are reliable as they are aware of what is running on your server. If you want to save your time and effort, you can trust ServerPilot to manage your servers. You can also keep an eye on your website's health with real-time server stats. Speed, security, and support are what ServerPilot representatives aim for. Here are a few key features of using this cloud-based server management tool;
API access
Free SSL certificates
HTTP/2 support
Database management
One-click WordPress
Server security updates
Firewall
Multiple PHP versions
Pricing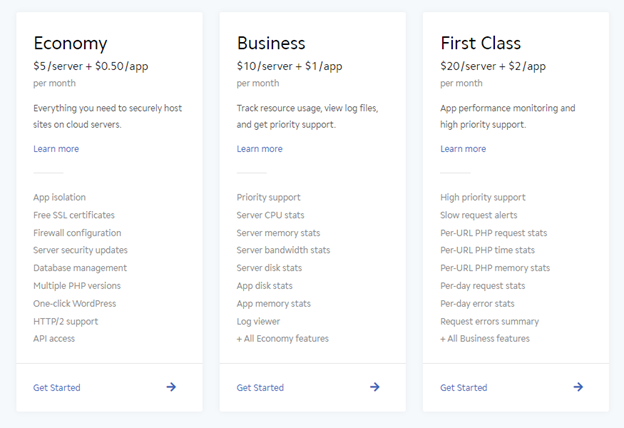 ServerPilot has three packages you can choose from according to your requirements. If you are looking for a plan for personal use, then Economy is the best choice for you. On the other hand, if you are running a business, you can go for either Business or First-class plans. Users are given a 14-day trial period to test the service. You'll have to enter your card details once the trial period is over.
SPanel

Scala Hosting created this all-in-one web-hosting platform. With this cloud-based control panel, you can manage your servers, secure your websites, backup all your data, and much more. Since this tool is compatible with the Nginx web server, it can speed up your website. The admin interface it offers is easy to use and lets you manage accounts on a web server. This service is highly cost-effective as it has a free license. Here are a few noteworthy features for you to consider in this cPanel alternative;
Faster page load times
Enterprise-grade security
High email deliverability
WHMCS Integration
Powerful API
Free SSL certificate
Innovative security system
Built-in backup system
One-click WordPress
Free Migration
Pricing
As SPanel is free with any Scala Hosting VPS service, you can take a look at this page for more information.
Final Words
Regardless of the fact that you have experts and professionals in your team that are aware of server management techniques, having a good cloud-based control panel is a plus. Therefore, if you are still looking at the cost of adding a tool to your arsenal, you should go over how much you'll save, not only in terms of money and time but also with better website performance and less effort.
Do you want to add a cloud-based control panel to this list? Feel free to share your thoughts in the comments section below.
Source by blog.zumvu.com