Stripe launched in 2011 as a payment processing software for e-commerce. Since its launch, Stripe has grown into a $94.4 billion company that operates around the world.
With just 7 lines of code and a great idea, two brothers from rural Ireland totally revolutionized online payments. How did they go from a small-scale startup to a dominating force in the financial industry?
Let's break down Stripe's story to find out.
Stripe Background: How Stripe Was Started
Stripe was founded 11 years ago by John and Patrick Collison, aged 19 and 21 at the time. Hailing from Dromineer, a small town on the shores of Lough Derg in County Tipperary, Ireland, both the brothers were academically gifted and showed a special interest in math and physics from a very young age.
While the internet wasn't easily accessible in their remote village, they had nine computers at home by their early teens and were paying €100 a month for a satellite broadband link. When they were 18 and 16, John and Patrick launched their first-ever business called Auctomatic, which helped eBay store owners track their inventory. Ten months later a Canadian company bought it for $5 million – a testimony to the brothers' talent.
While studying at Harvard and MIT in 2009 and continuing to develop apps, the idea for Stripe was born out of their own experiences with running an internet business, where, according to John, "the hardest part was finding ways of accepting customers money." Having stumbled upon a problem that no one else seemed to have solved, they soon realized this wasn't for lack of trying. It was just because developing this kind of secure and reliable payment system was a tough job.
All the online payment methods that existed back then included several steps, required many fees, and took weeks to set up – which isn't something that the Collison brothers wanted to do. They took a leap of faith and wrote seven simple lines of code that businesses could plug into websites and apps to instantly connect with a credit card and banking systems and receive payments, streamlining the process considerably.
In 2010, both the brothers dropped out of college to try and get their business idea off the ground. And so, Stripe, although then called /Dev/Payments, was born as an online payment processing platform. The company aimed to cater to web-based ventures of all sizes, preventing fraud and offering easy-to-use payment solutions.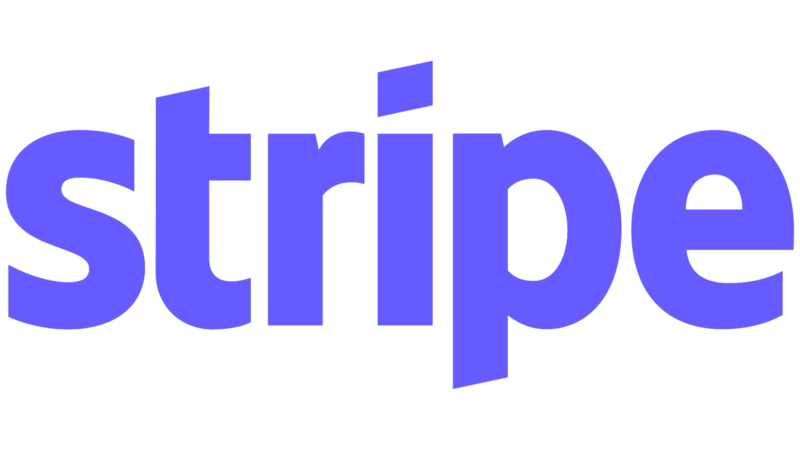 What Made Stripe So Special?
Still confused as to what made Stripe stand out? It's because the platform's software made it possible for online businesses to accept digital payments without having to obtain licenses or strike deals with banks or credit card operators to receive money.
This model is what gave Stripe its edge and motivated businesses to start using the platform's services. In 2010 they received an estimated $20k-$30k of seed funds through startup accelerator Y Combinator, which had previously funded Auctomatic, helping the Collison brothers start their operations.
John and Patrick did all they could to try and kick off their idea. They approached people like Elon Musk and Peter Thiel to ask them to invest in Stripe.
"It's a little impetuous to go to PayPal founders and say payments on the internet are totally broken," said John in an interview, adding that "you can WhatsApp anyone around the world, and it's free. It's a remarkable act of coordination between the telcos and ISPs and the people who own the fiber underneath the sea to create this global communications network. Then, if you look at the economic infrastructure, we haven't even started."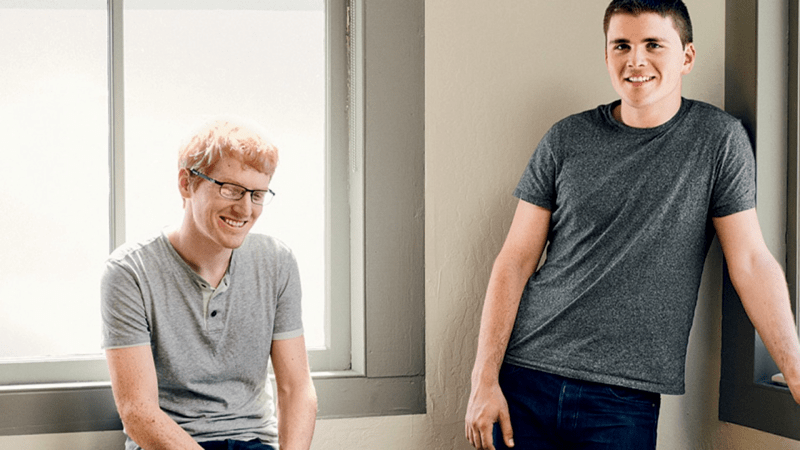 Stripe Funding and Valuation
The brothers' confidence paid off when Thiel led a $2 million seed round with Sequoia Capital and Andreessen Horowitz in 2011. In 2012, Sequoia Capital led the Series A round alongside PayPal co-founder Elon Musk, Elad Gil, and Max Levchin, bringing Stripe's valuation to $100 million. Its valuation crossed the billion-dollar threshold after 2014's Series C round, led once again by Sequoia Capital and Founders Fund, Khosla Ventures, and Allen & Company brought in $80 million and raised its valuation to $1.8 billion.
In total, Stripe has held ten equity funding rounds, from its pre-seed Y-Combinator round to its most recent, $600 million Series H round that valued the company at a whopping $95 billion. Stripe has raised $2.2 billion from 39 investors, more money than the company needs, making it highly capital efficient. This has also helped the Collison brothers' net worth go up to $11 billion each.
Stripe has become the third most valuable venture-backed private company in the world, and the most valuable in the US earlier this year, when it was valued at $95 billion.

Stripe Revenue
Stripe processes hundreds of billions of dollars every year at a charge of only 2.9 percent of the total transaction value and 30 cents for every transaction. This business model has helped the company generate $7.4 billion in revenue last year—up 70 percent year-over-year, the Wall Street Journal reported.
Stripe's current client roster includes big names such as Google, Slack, Zoom, Shopify, Lyft, Amazon, and more, meaning that more than half of the world's users might be making their purchases through a Stripe-powered business without them even knowing!
As they say, good design is invisible – a motto that Stripe has taken pretty seriously. And because so many tech giants in the world use Stripe for their financial transactions, it's been fairly easy for the company to approach investors and venture capitalists the way it does.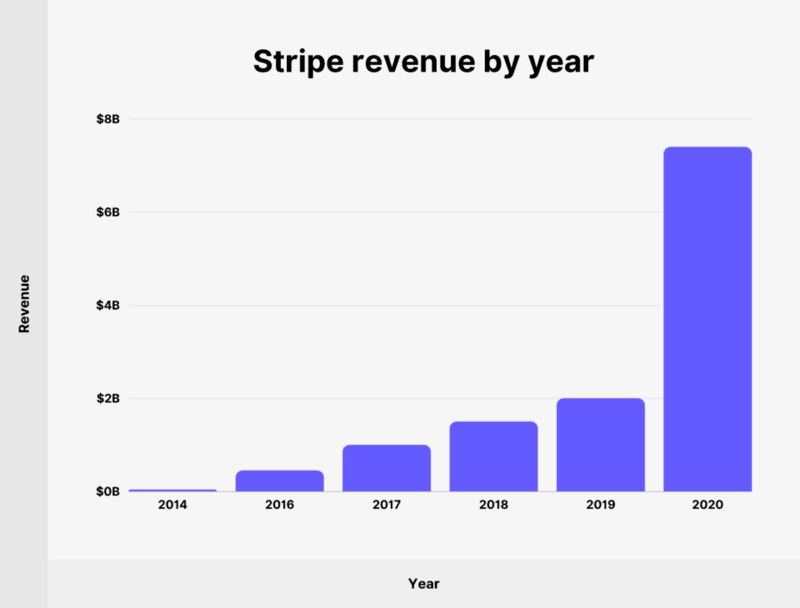 How Does Stripe Make Money?
As of now, Stripe has 50 corporate clients that each process more than $1 billion annually. Stripe makes money through transaction fees. These include fees for online transactions, subscription billing, invoicing, connecting clients that pay through third-party sellers, and in-person point of sale payments.
Stripe also makes revenue through its Stripe Capital Service business loans, its Radar product, and custom finance and data analysis reports.
The company also has 2,500 employees at its 14 worldwide offices, showing how far this small company has managed to go just a decade into its operations. Over time, Stripe has become the default choice for businesses worldwide, which is reason enough to believe that this platform will always be relevant in this age of the internet.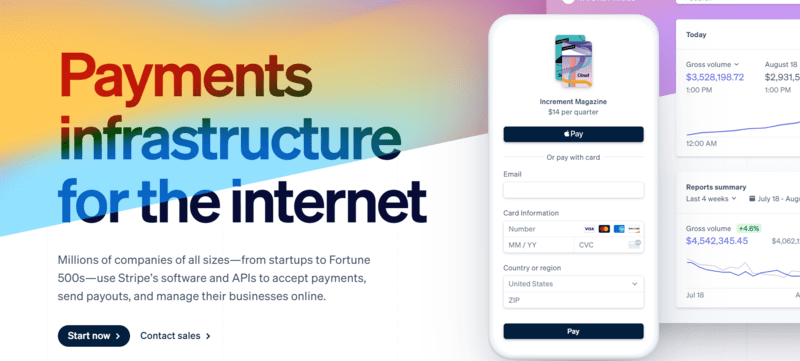 Stripe Investments and Acquisitions
Stripe has also participated in funding other companies. Since 2017, Stripe has disclosed a funding amount of $2 billion across 40 deals. $1.1 billion of this came from 14 investments during 2021 alone.
Some of these companies include Step Mobile, Wave, TrueLayer, Balance, Fast, Safepay, Check, Pilot, Codat, and more.
Stripe has also acquired a total of 11 companies since 2011. The latest of these was Seachange (June 2021). Some of Stripe's other acquisitions include Bouncer, Tax jar, Paystack, Touchtech Payments, Index Systems, Payable, Indie Hackers, and more.
Is Stripe the World's Leading Payment Platform?
Currently, Stripe's primary competitors are platforms like Paypal, WePay, and Silicon Valley's very own, Square – valued at $112 billion. However, in order to become the leading online payments platform, Stripe will need to continue to expand beyond the US.
This is a strategy they have been pursuing through investments and acquisitions of payments companies and neobanks based in places such as the UK, US, Mexico, Philippines, Israel, Pakistan, and Nigeria. Stripe is especially committed to European expansion and plans to add 1,000 jobs in Ireland alone over the next five years, with John Collison saying that "the growth opportunity for the European digital economy is immense."
It's pretty safe to assume that the internet will be the primary source for monetary transactions very soon. The Collison brothers themselves have frequently said that their goal is to "increase the GDP of the internet" and that we're still in the early stages of an internet economy. Stripe is ready to deal with this huge shift in terms of how we handle our finances.
Currently, Stripe is available for businesses in 42 countries and can accept payments from anywhere in the world. As John Collison sees it, moving commerce online will be a "global equalizer.", which means that businesses aren't limited to geography now because of how easy the payment system is. The company's recent funding will be used, in part, to fuel global expansion, which shows that Stripe is ready to go big once the digital financial revolution comes.

Stripe IPO
So, with this kind of success, is Stripe going public soon? The company itself hasn't announced anything, but having filed its intentions to IPO with the Securities and Exchange Commission in July 2021, expectations are that it will go public in the last quarter of 2021 or the first quarter of 2022.
The valuation of Stripe could be around $100 billion or more after listing.
Stripe and the Crypto Market
Stripe recently announced that it's building up a new crypto team to help develop the future of Web3 payments.
Stripe was initially an early payment processor that adopted Bitcoin. However, in 2018, the company announced that it was ending its support for Bitcoin payments – stating that Bitcoin has "become less useful for payments".
It seems like Stripe's philosophy on Bitcoin has changed, as the company is now reentering the crypto space. They're being pretty quiet about how this will play out, but it will certainly be an exciting move from the payment processor.
Watch this space!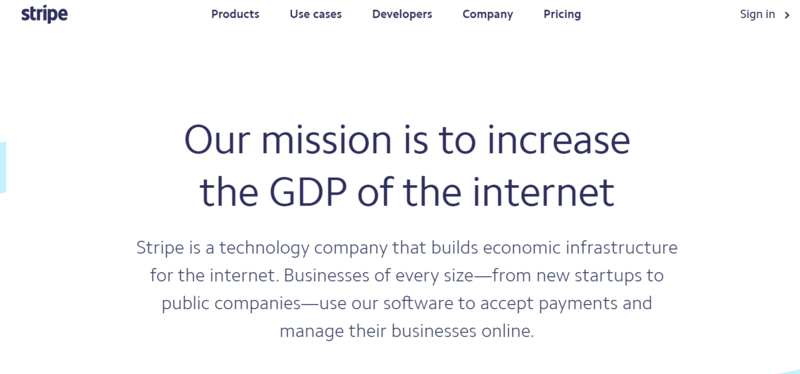 Conclusion
Stripe is one of the most exciting companies in the world right now. The company started with a simple idea to improve e-commerce payments, and they've grown into a massive, multi-billion dollar business. The fact that so many investors have shown so much interest in Stripe is a sign that the company still has a huge future ahead.
What do you think of the company's journey through the years? Let us know in the comments below.

Stripe FAQs
How many websites accept payments through Stripe?
Approximately 3,124,751 live websites accept payments using Stripe. The Stripe Checkout solution is used on 784,256 live websites. This gives Stripe a 15.49% market share in payment processing.
Where is Stripe available?
Stripe is available in 46 countries, which includes 5 countries that have limited access.
How many payment methods does Stripe support?
Stripe supports 32 different payment methods. These payment methods are spread across categories that include cards, wallets, bank debits, bank redirects, cash-based vouchers, and buy-now-pay-later.
How much does Stripe process in payment volume?
It's estimated that Stripe processed a total of $350 billion in payments in 2020 (a 133% increase compared to 2019). Over the past 5 years, Stripe has seen a minimum growth rate of 50% each year on its payment processing volume.
Source by blog.wishpond.com