The perfect lightweight jacket, all affordable.
What exactly is a chore coat? First and foremost, the name is your biggest clue. Popular during the first half of the 1900s, the chore coat was born out of France and exclusively made to protect laborers and artists by creating a tough barrier on top of clothing, typically work overalls.
Chore coats featured oversized pockets (at least one large breast pocket and even larger hip pockets) for the tools of their respective trades, and they were generously cut so as not to impede movement. Materials typically included cotton canvas or thick cotton twill fabric in a blue hue with large buttons rather than zippers, which required more dexterity and focus to operate. The fabric could be cut and sewn together quickly since drape and fit weren't exactly priorities.
When the chore coat came to the States in 1923, it ditched the blue French coloring for more neutral tan and brown tones and was crafted for the American railroad worker. As a result, it received its own distinctly American flavor that lives on today.
Carhartt was the first one that took a stab at creating an icon and went ahead and crafted one with copper rivets and triple stitching for strength. A flannel lining was later added for warmth, a necessity in the colder climes and work environments.
The chore coat was also popularized in post-WWII Japan largely because the prevalence of American military garb eventually led to the westernization of men's style. The button-up shirt and blue blazer were eventually replaced by the chore coat in the '70s, and its most prominent iteration is the denim version that's a staple today.
Some might confuse the chore coat with the field jacket, which we've covered extensively, and that's understandable since both are casual and practical while imparting a rugged style. The chore coat is traditionally unlined and wasn't meant to act as a layer of insulation but rather a protective layer, while field jackets may be unlined or lined.
Original field jackets were military-spec, and they were not as baggy as chore coats and typically had a standing collar and flap pockets with snap closures, while chore coats could employ notch-lapel or point collars and had large open patch pocket. Occasionally, a chest flap pocket was used. Modern interpretations of the chore coat run the gamut of materials and still use traditional denim, waxed cotton, canvas, and even boiled wool. The versions are myriad, and you'll also see chore coats called "engineer coats", which is another very similar permutation. The chore coat was never meant as a fashion statement, but like the venerable work boot, it's evolved into a key member of workwear style that's prevalent today.
They also tend to be cut slimmer today, though boxier versions are still popular. The key is to find the cut and material that works for you. If you're on the job as a contractor, factory worker, tradesman or artist, go for the roomier cut. If it's hitting the pub on a crisp day, opt for a narrower cut for a more put-together style pallet. And rather than scour the web for the best choices, we've assembled 11 of the best chore coats to suit your look or your occupation.
Amazon's house brand offering might say Barncoat in the name, but the construction, pocket setup, and materials are derived from the venerable chore coat. Goodthreads gave this number thick canvas construction that's unlined and also has a large open breast pocket for easy access.
The 100% cotton canvas can take punishment, but the lack of a lining makes for great layering options. With five colors, you'll be sure to find the right look for way less than the rest in this selection.
Keeping things visually consistent with the chore coat's origins is always welcomed, and this take from Spier & MacKay details why this European classic has quickly become a modern menswear staple. This traditionally cut chore coat in 100% cotton twill features spacious exterior and interior pockets for easy access, the cut is roomy, and the big buttons ensure ease of use.
See how we styled it in our recent vacation morning Getup.
Vans goes one step further by giving this coat a corduroy finish for a pop of texture. The 100% cotton 14-wale corduroy has a snap front closure and huge pockets to stash plenty of gear. The boxier silhouette means more room throughout the chest for an easy fit.
Made in San Francisco of legacy American-made Cone Mills Denim, Tellason's denim chore coat is just as drool-worthy as their famed jeans. Made of 14 oz non-sanforized selvedge denim, this classic design represents a stylish non-trucker denim jacket.
Everlane's spartan interpretation of the chore coat combines old school boxiness with a shorter body and sleeves. Sure, it stays unlined and retains the four pockets, but its 100% organic cotton silhouette leans more toward a youthful look with its shortened cuffs and hem. The large buttons and point collar also retain the customary chore coat look, as do the five colors that should provide the right selection for your workwear wardrobe.
Count on the iconic American jeans brand to come out with a minimalist but handsome version of the chore coat. This coat is the perfect layer for microclimates, with a mid-weight feel to the fabric. The rugged silhouette features a fold down collar and four front pockets to bring together form and function to this signature style.
Give a chore coat soft merino wool, and you have the makings of unlined spring or early winter style. Wool is naturally warm even when it's wet and remarkably soft when it gets boiled. The single-seam construction keeps things simple, and the notched lapel collar gives it the slightest tinge of class beyond normal workwear. Three large pockets, three big genuine horn buttons, and a cut that toes the line between slim and roomy make this a go-to layer at work and leisure.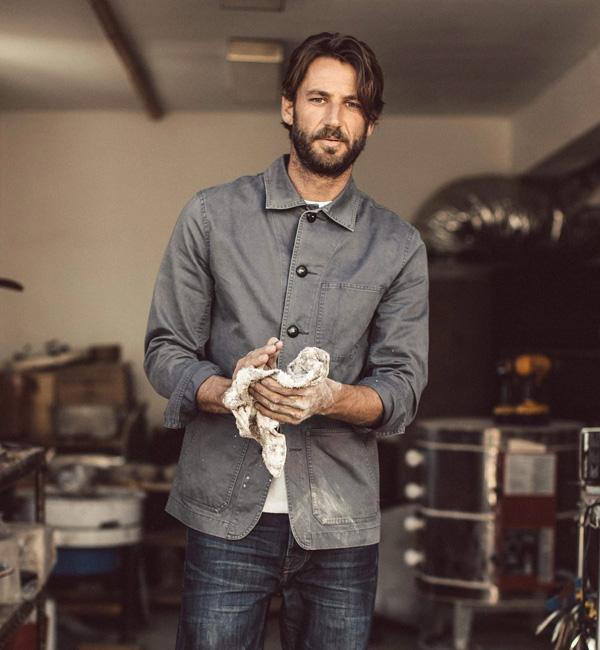 The Ojai jacket embodies just about everything we love about a modern chore jacket because it honors tradition while adding style and versatility points without deviating from what made the chore coat so great to begin with. Pre-washed and properly faded 8-oz. 100% organic cotton is soft, and the Ojai's cut is just the right amount of roomy. It all gets punctuated with slick black ring-buttons that use real brass, bar-tacked pockets, and double stitching all over. Getting it dirty and faded will only add to its character, but we're guessing you'll take really good care of it.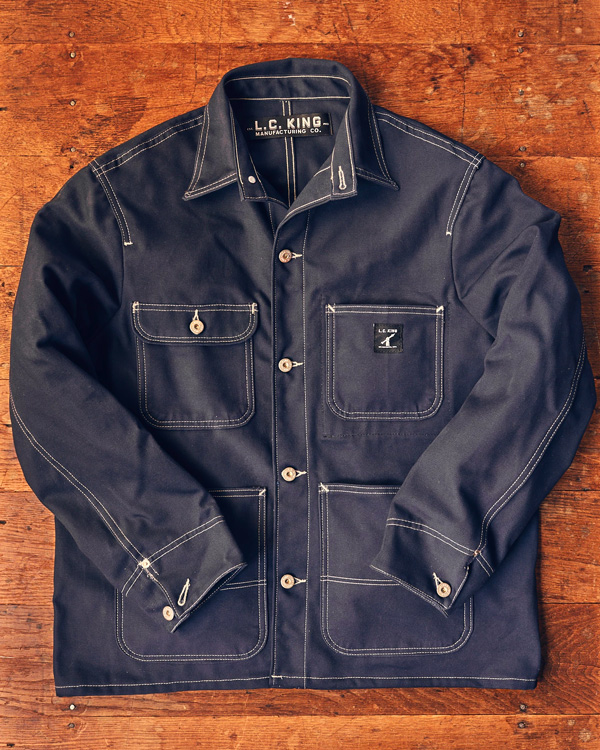 This navy denim version embodies traditional chore coat style, rugged materials, and American craftsmanship. The thick 12oz. Cotton duck fabric was woven by Mount Vernon Mills in Georgia, and the style features pewter riveted seams and pockets with big pewter buttons and beautiful white contrast threading. There's a simple single interior pocket, and button cuffs to roll back. It's unlined, roomy, and versatile for both work and play.
Red Kap has made some modifications to the traditional chore with water repellency and a lining for warmth, adding versatility compared to standard versions. The blended fabric includes polyester as the predominant fabric to repel moisture and wick sweat but uses 35% cotton for strength and texture. Big pockets with red contrast stitch detail add some subtle style, and snaps at the front and the cuffs replace the standard buttons.

A vintage design with modern comfort, this broken-in, blakish grey chore coat features stretch. Coming from one of our favorite men's clothing brands, Todd Snyder, it's an upgrade piece you'll love for years.
Looking for more jackets?
Read next: The 10 Best Field Jackets
Source by www.primermagazine.com