Okay what could be better than Affordable Friday Vacation edition?! If you're not going on vacation, really it's just a spring/summer edition! I know I know, it isn't Friday, but I had planned to post this before my vacation and time escaped me with the stomach bug and travel changes, and plus, how much better is it that this is now coming from my actual vacation!
I am so so so excited about the warm weather! While I was shopping for these clothes I was legit giddy over the idea of wearing them. So I hope you enjoy all of these outfits I put together with super affordable pieces that I love!
Dresses
Floral Dress
Starting with this floral dress because it's gorgeous! It's super feminine and comfortable. But best of all, I think it's extremely flattering! It has a tie waist that ties from the side to the front and it really just cinches the dress in the perfect spot to be ultra flattering! Can you believe this dress is only $17.98. It's truly almost unbelievable, so snatch it while you can. I'm wearing a size medium which is my normal size, but it comes in sizes XS up to XXXL.


Turn on your JavaScript to view content
1. MY FLORAL DRESS | 2. MY SNEAKERS| 3. MOLLY'S TANK (5-PACK) | 4. MOLLY'S BIKER SHORTS (6-PACK) | 5. RILEY'S SANDALS
It's fully in stock right now, but it won't be for long. So truly don't wait on this one. If pink isn't your thing, it comes in three other prints/colors so check those out as well. I also encourage you to read the reviews because there's a bunch of amazing reviews from other people that love it too. One person mentioned wearing the dress for Easter celebrations and I think that's a great idea! One review mentions that it runs a little big. I do think if you're in in between sizes you could size down on this one. I'm wearing my normal size in medium and I love the way it drapes on my body, but I definitely could have sized down!
Fit & Flare Dress
I'm gonna stick with dresses before I move onto the other options and talk about this super chic Free Assembly dress. I love this brand because they're focus on sustainability which is amazing – and what's even more amazing is finding a sustainable brand at an affordable price! This dress is $32 and I feel like I look so expensive while wearing it. This is the type of dress I would to see in a boutique for over $100 and not question it at all. It could be dressed down with sneakers, but dressed up with wedges and a cute belt. I'm wearing the arctic ice/optic white color. Right now, it's fully in stock from sizes XS to XXXL.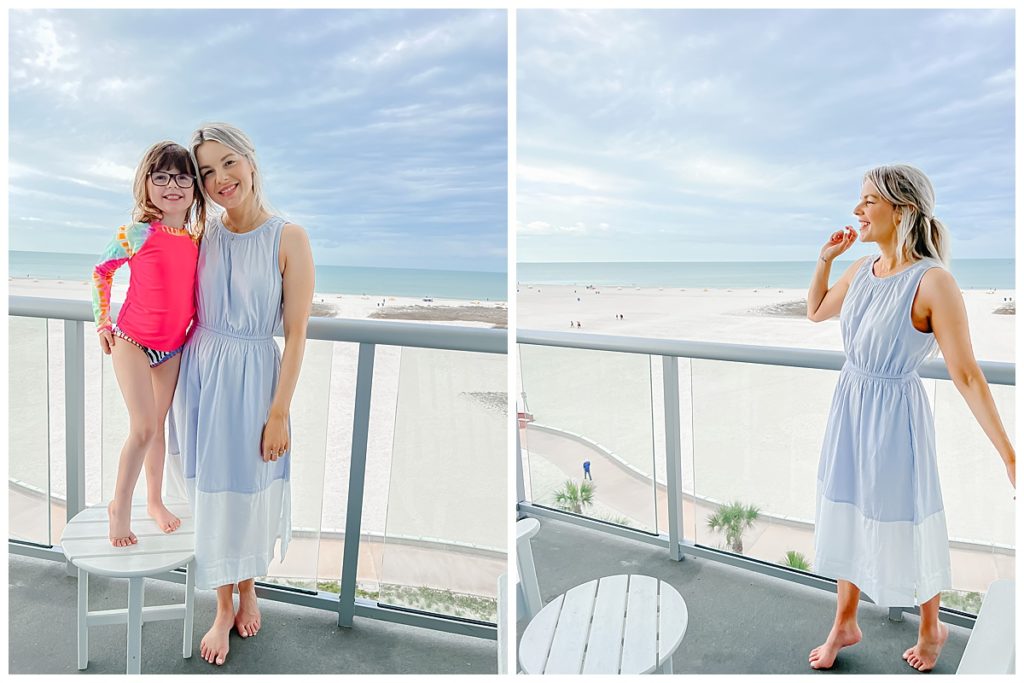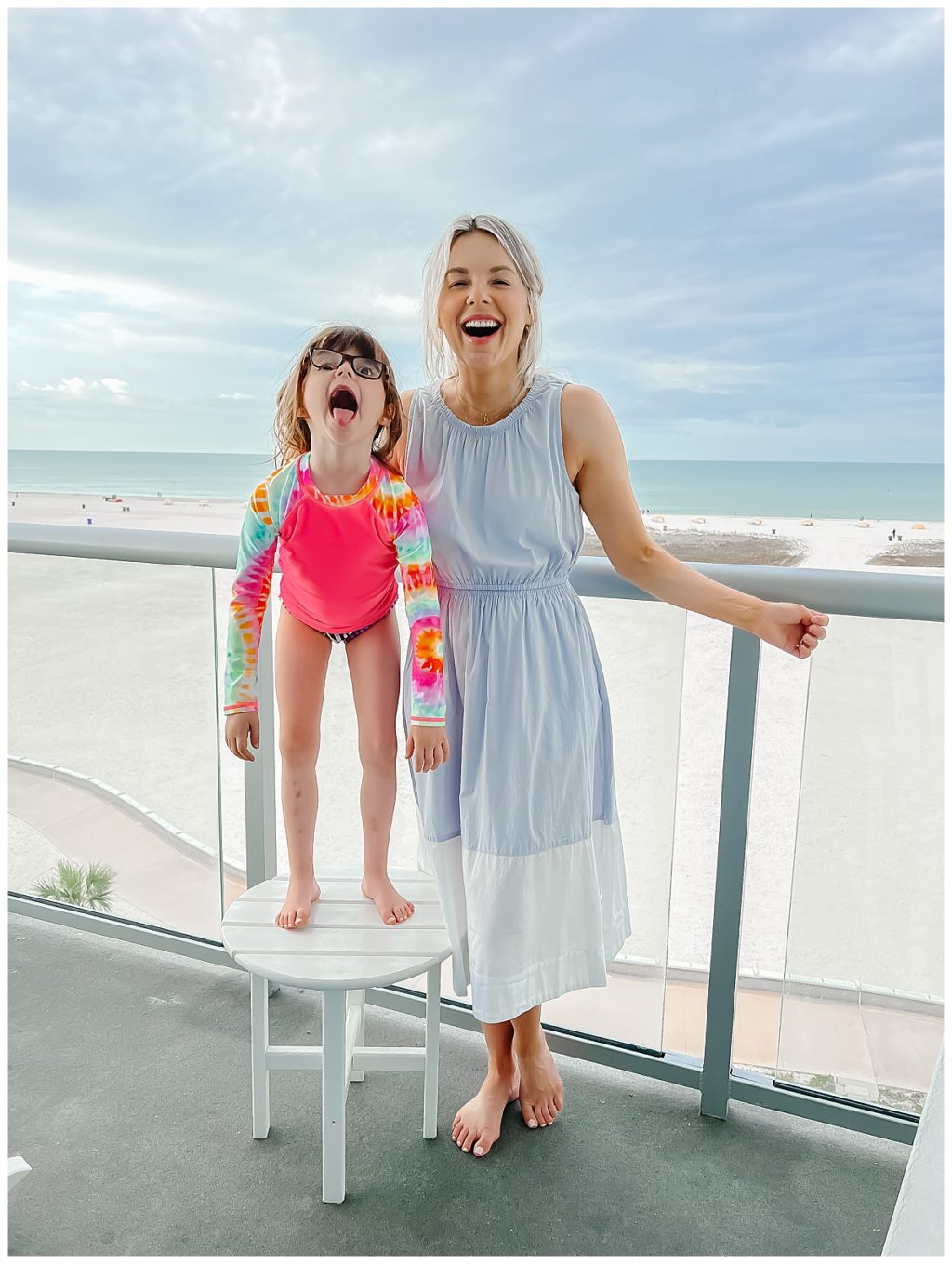 Turn on your JavaScript to view content
Shorts!
Casual Shorts Look
Moving onto more casual wear! I wore this MTV shirt the other day and got a gazillion DM's asking me about it, but I didn't link it cause honestly I wasn't even sure if it was in stock anymore. However I went and checked before writing this blog post and it is in fact still in stock in all sizes. It's a men's shirt, so when I originally bought it about a year ago. I got a size small and it was too small, so I re-ordered it in a size medium and it fits perfect. So definitely get your normal size even though technically this is a mens tee, I feel like it's more women's sizes. It comes in sizes small to XXXL. Like I just mentioned above, I've had this t-shirt for about a year and it still looks great. I love it and I love the nostalgia of it!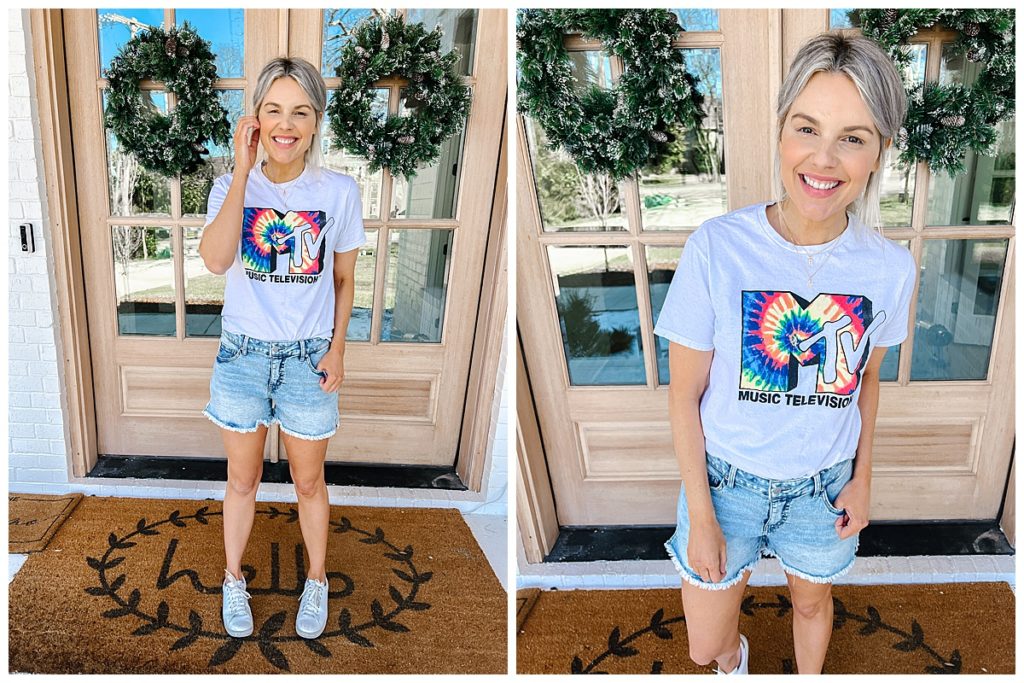 Turn on your JavaScript to view content
 1. MTV T-SHIRT | 2. JEAN SHORTS | 3. WHITE SNEAKERS
I'm wearing it with a cute pair of jean shorts. I have these shorts in the denim color, white, and black! The denim is definitely a super 80s style, so if that's not your thing you might not love it. But the white and black are super classic and amazing! What sold me when getting these jean shorts were the reviews. There's only a handful of them, but people seem to be obsessed so I was super intrigued especially since they're only $13.98 a pair. They truly are great! However, I would suggest sizing up in these. I first ordered a size 6 and I felt like they were a little too tight for my liking, so I ordered size 8 and I love them! Although I feel like a I'm normally a size 8 in Walmart denim, so I don't know why I got a 6. I am a 29 pants size for reference. I will link all 3 colors below!


Turn on your JavaScript to view content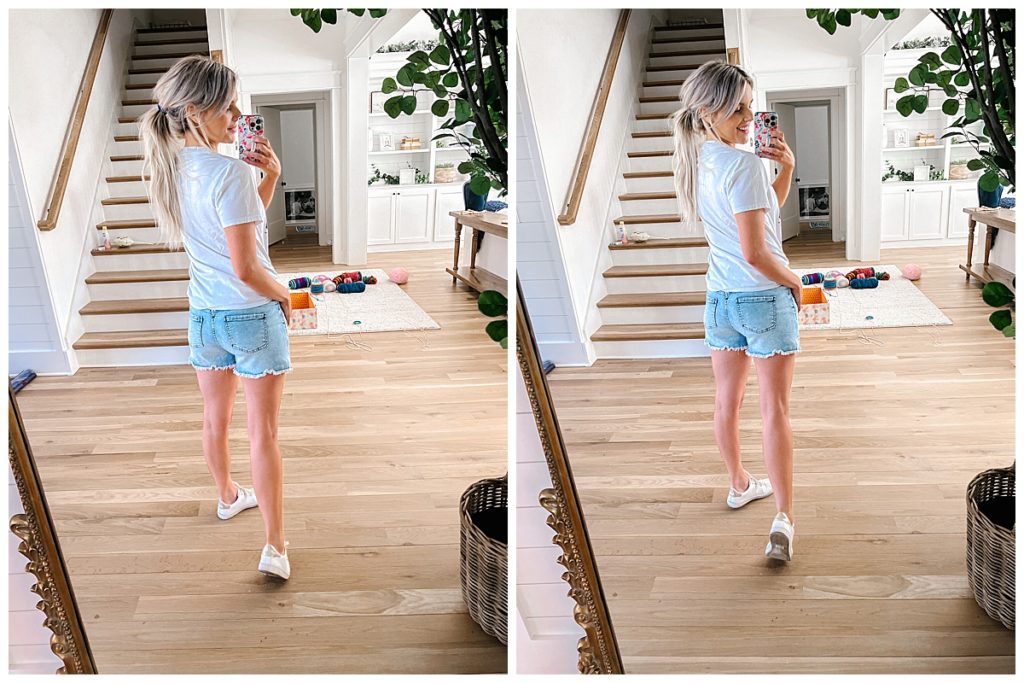 Turn on your JavaScript to view content
 1. MTV T-SHIRT | 2. JEAN SHORTS | 3. WHITE SNEAKERS
However, even though the 6 was a little tight, it still fit fine because the material is super stretchy! It really just depends on the fit you like. If you like your jean shorts more fitted, your normal size will be great. I like a little room in mine, so the size 8 is perfect. And as you can see from these pictures, the waist and really everywhere on the shorts is incredibly stretchy so they're super comfortable and will move with you.
With the look, I'm wearing this pair of white sneakers from Walmart that I've had forever. They're only $14 and I've had them for quite a while now and they've held up extremely well. Just as well as any $80 sneakers I've ever bought.
Cuffed Jean Shorts
If the 80s denim shorts above are not your thing, these ones might be just your thing! I love these cuffed shorts! I also wanted to share these as an option because I know in the past some of you've told me that cut off denim shorts aren't necessarily your style, so I wanted to show a cuffed version for people to get that I think are really great.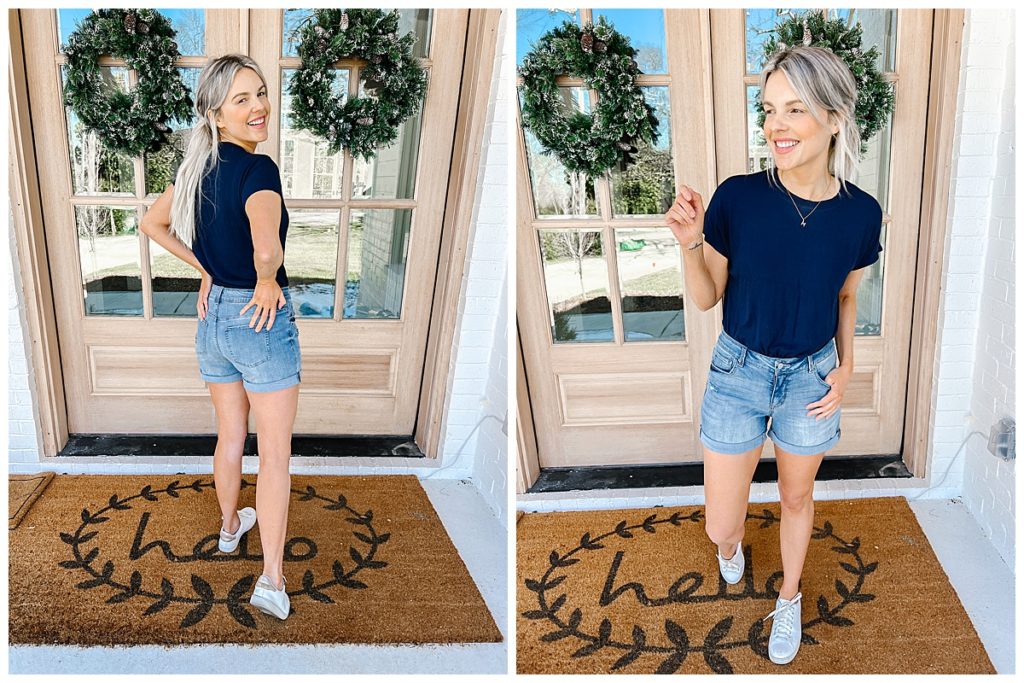 Turn on your JavaScript to view content
 1. NAVY BODYSUIT | 2. CUFFED JEAN SHORTS| 3. WHITE SNEAKERS
They have a 4 inch inseam, which is not too short but not too long. Really the perfect length in my opinion. They are super stretchy and so so so flattering! These don't have as much of an a-line leg like I normally like for my shorts, but I love the fit and they remind me of something that Baby wore in the movie Dirty Dancing. But I think they would be absolutely perfect for someone with more of an apple shape because they're super stretchy in the waist.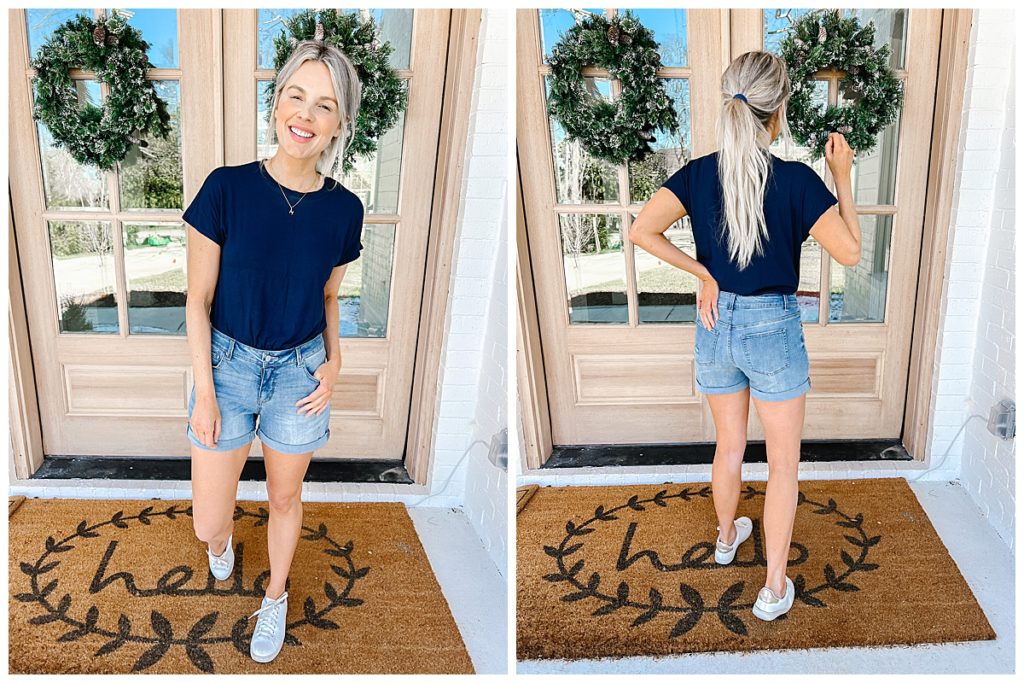 Turn on your JavaScript to view content
 1. NAVY BODYSUIT | 2. CUFFED JEAN SHORTS| 3. WHITE SNEAKERS
I actually bought these in the store when I went the other day and they only had a few sizes left in store, so I'm so happy to see that they are fully stocked online.  They come in sizes 0 to size 20. Plus, they're only $13.98! Check out the reviews because I definitely think you should consider sizing up like the other reviews say. Like I mentioned in the shorts above I'm normally a size 6 when it comes to dresses and with other brands, but I got a size 8 in these denim shorts and they fit great! Not too snug in a little room for me to feel really comfortable wearing them!
Striped Linen Shorts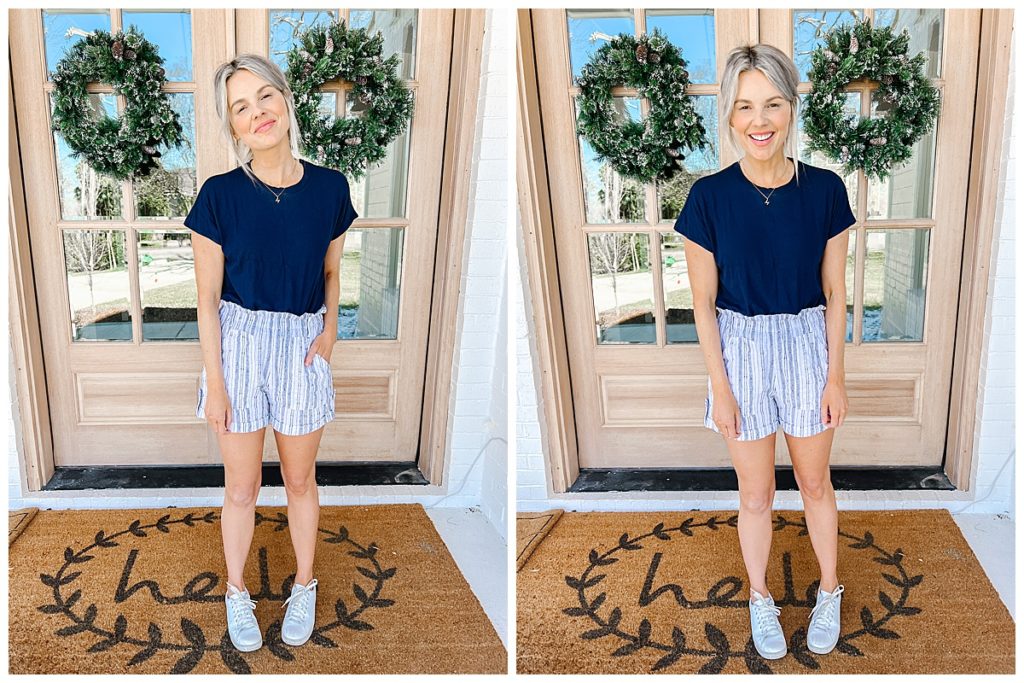 Turn on your JavaScript to view content
 1. NAVY BODYSUIT | 2. STRIPED LINEN SHORTS | 3. WHITE SNEAKERS
I also have to mention these linen shorts. Right now, they're only in sizes medium, large, and extra large in this print (which is the Tan Stripe color), so snatch them up quickly before those are even gone! They also come in a black stripe version that has a few more sizes. But I got these because they had 168 really positive reviews and people are talking about how much they love them, so I want to give them ago and I totally get it! They're flattering, super comfortable, and really easy to throw on and style.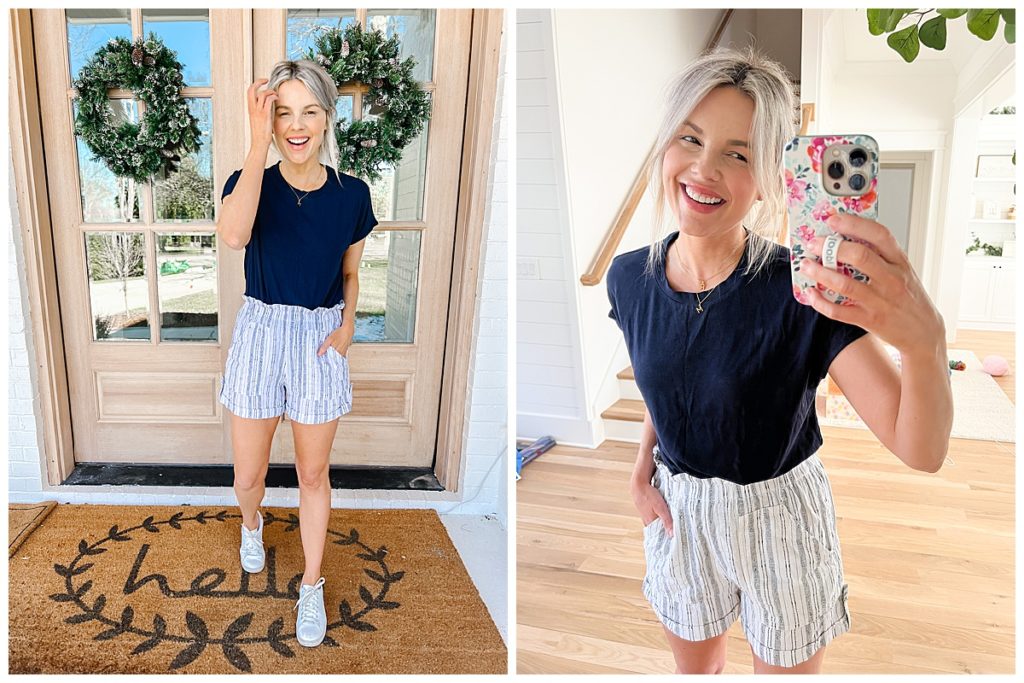 Turn on your JavaScript to view content
 1. NAVY BODYSUIT | 2. STRIPED LINEN SHORTS | 3. WHITE SNEAKERS
Bodysuit Look with Gorgeous Sandals
How cute are these sandals?! I really wanted a pair of super comfortable, but cute sandals that I could wear on the trip. I do love a thong sandal, but I feel like they are sometimes uncomfortable, especially if you're walking around a lot. So I found this pair of adorable nautical striped sandals for under $40 and I immediately snatch them up. In fact they're normally about $70 so definitely get them while they're on clearance right now!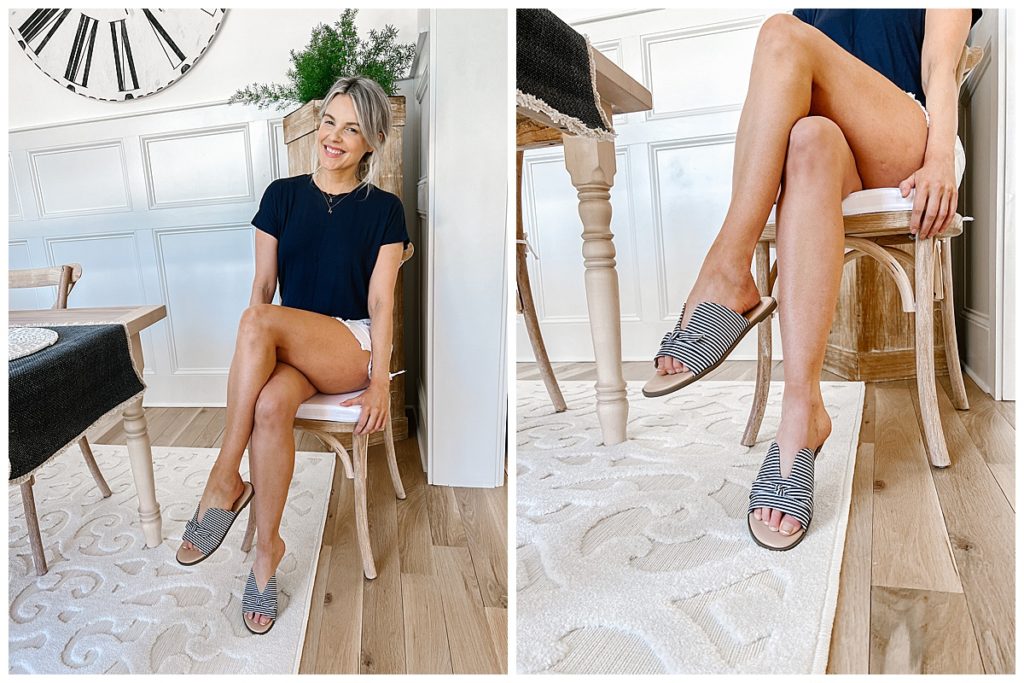 Turn on your JavaScript to view content
1. NAVY BODYSUIT | 2. STRIPED SANDALS | 3. WHITE SHORTS
I'm wearing them with this navy bodysuit that I've had for a while as well and just love because it goes with so many things! They give you that was really cute tucked in t-shirt look without the t-shirt becoming untucked and looking messy.
Pants
Utility Pants
Let's start with these utility pants. They're only $18.98 and they are beyond amazing! That might sound a little dramatic since I'm talking about pants, but oh my gosh I'm in love with them! I'm wearing a size medium, which is my normal size. They are so cute to wear with a pair of sandals or sneakers and a T-shirt.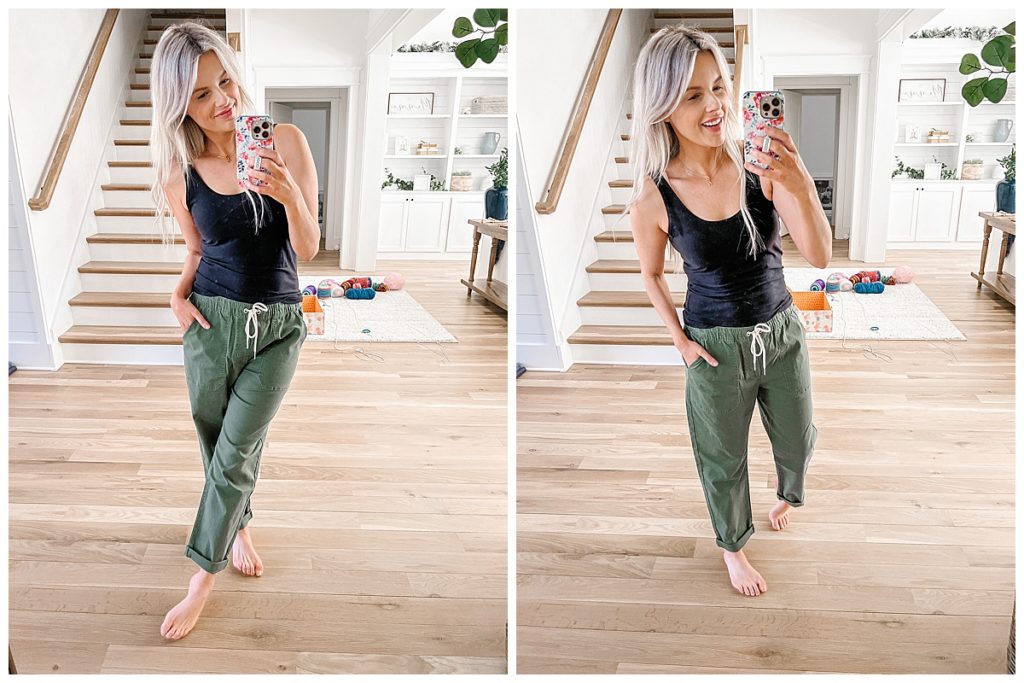 Turn on your JavaScript to view content
 1. UTILITY PANTS | 2. TANK (3-PACK)
I have to say, get this tank top and get it now! I apologize that this one isn't as size inclusive as the rest of this post, but if they have it in your size I highly highly highly recommend! However make sure to size up! This is a juniors top and I always size up when I buy juniors clothes. So instead of getting my normal size medium I sized up to a large and I love the fit! It is made of the most dreamy soft fabric! I can't even describe to you how soft it is! This will be a must have basic this spring/summer! I haven't even mentioned the price. You get three of them for only $10! That makes then just over $3 apiece!
Boyfriend Tee Look
Another casual option I have to mention is this boyfriend tee look. Do not judge this t-shirt based on the pictures on the website. I almost didn't buy it because it looked a bit baggy on the model, but then I looked and saw it had almost 1000 reviews that are almost all positive and I had to see what the shirt was all about. Plus, it's only $8.98 so I was intrigued all around. It's sold out in a lot of colors right now, but it's fully in stock in the white and the black which are both the options that I got. I got my size medium which is my normal size.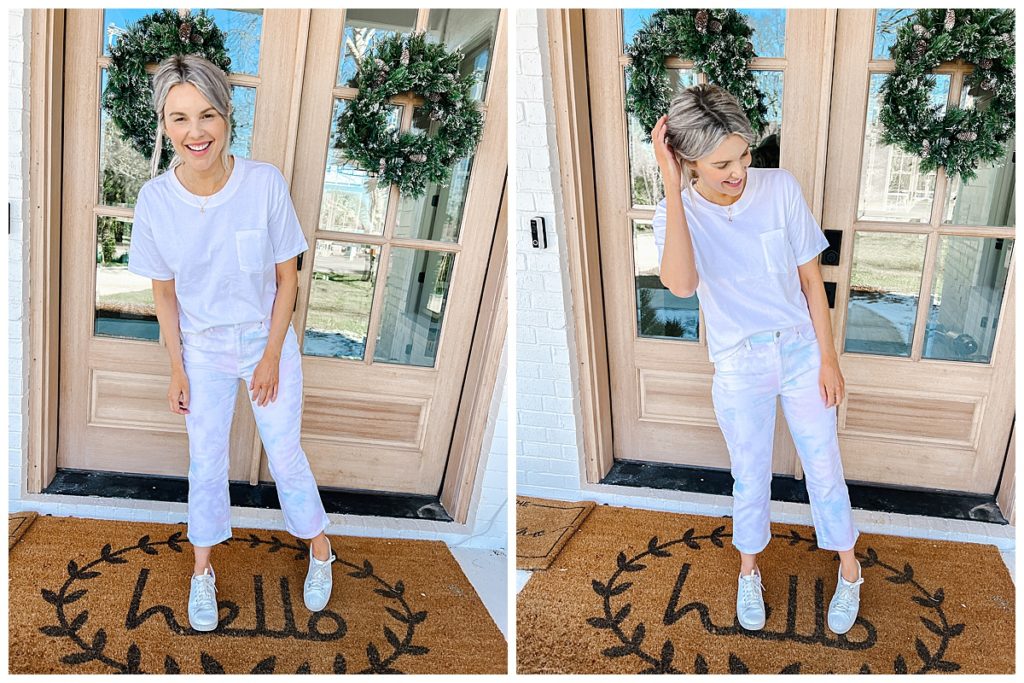 Turn on your JavaScript to view content
 1. BOYFRIEND TEE | 2. 'COTTON CANDY' PANTS | 3. SNEAKERS
I'll be wearing and styling these tees in a lot of different ways, so definitely snatch them up now and take a minute to read the reviews so you can see how obsessed people are with this top.
Now for the pants…I bought these "cotton candy" pants about two months ago and they just arrived. I saw them on Walmart's site and they were only available for pre-order, but I just loved the look of them and I thought they were so fun so I bought them and waited patiently! Well now they are in stock and you can get them quickly!
There are so many great things about these pants. First they are only $19.88. So you can get them for under $20! But they also come in sizes 2 up to size 20! You know how passionate I am about size inclusivity! I love the look of a white jean, but they just get dirty so easily and what I love about this pair is it because they have like the cotton candy tie-dye on them that's super subtle, they have the look of a white jean but you don't have to worry about getting them as dirty. Plus, I think it just makes them more fun for summer. I got a size 8 and normally I'm between a 6 and 6 in Walmart denim, so I'd definitely say they're true to size. But in sizing outside of Walmart, I usually say I'm a size 6 so if you think of yourself as a size 6 dress wise, maybe size up to the 8.
I know pants aren't the first thing you think of when you're buying stuff for the spring/summer but if you absolutely hate wearing shorts, which I used to, then these are the perfect spring/summer pants for you!
BONUS: Cute $11 Sneakers!
Finishing off the looks with these really fun floral sneakers! You might notice that the sneakers are the same print the dress I wrote about the beginning of this blog post. They are true to size and just a really fun way to add florals to your wardrobe. If you're the type of person that likes to wear a lot of denim and white t-shirts like I am, you can throw on this tennis shoe to just elevate your look a little bit!


Turn on your JavaScript to view content
Kid Options!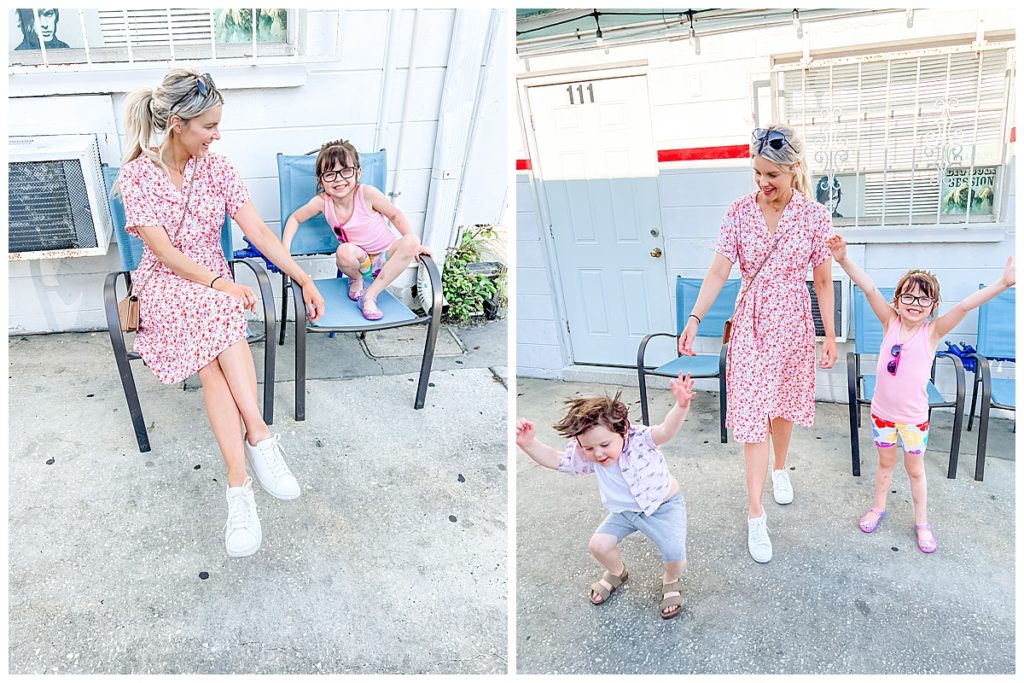 Turn on your JavaScript to view content
1. MY FLORAL DRESS | 2. MY SNEAKERS| 3. MOLLY'S TANK (5-PACK) | 4. MOLLY'S BIKER SHORTS (6-PACK) | 5. RILEY'S SANDALS
I also wanted to link a few  things that Molly and Riley have been wearing during this trip. I got these unicorn jellies and rainbow braided sandals both for under $14 for Molly, and cute little pair of brown sandals for Riley. All three options are velcro, which is kind of a must in my opinion. Whenever there's a buckle on a sandal, I am not doing it for my kids. Ha! Although Molly's sandals do you have a buckle, but it's a faux buckle. It's actually velcro! Love the look without the hassle of the actual buckling!


Turn on your JavaScript to view content
I'm also going to link these biker shorts and tanks we got for Molly. It's so crazy to me that you can get multi packs of these things for under $15. To get six pairs of shorts and then five tanks both for under $15 is a steal! The quality is really great and they're super comfortable for Molly. She's all about comfortable clothing and will not wear something if it's itchy or scratchy or sometimes even denim.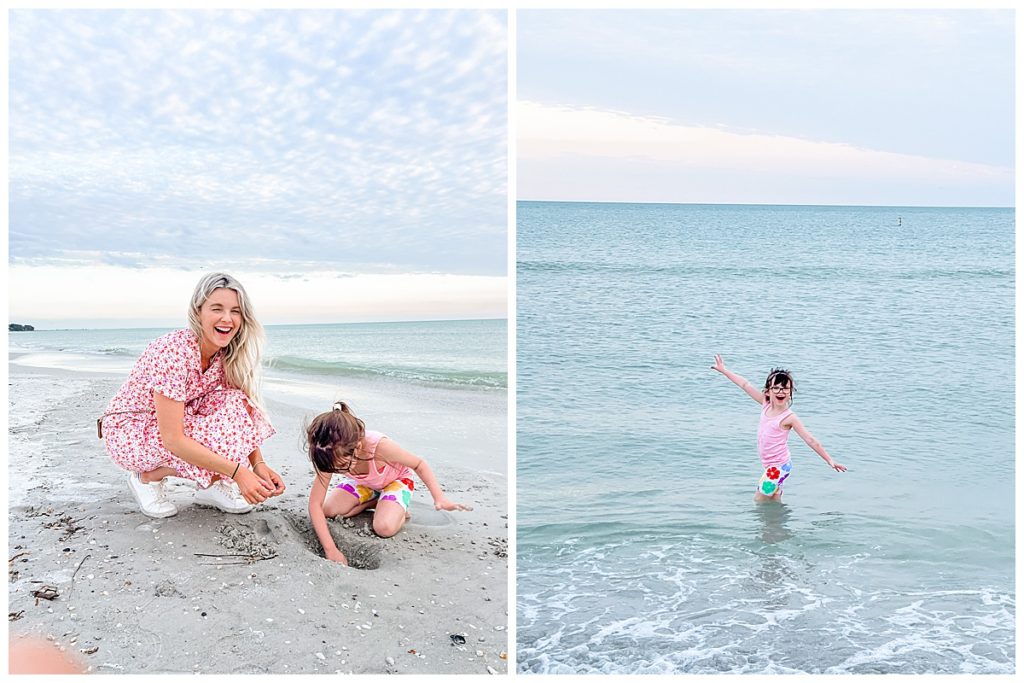 Turn on your JavaScript to view content
 1. MY FLORAL DRESS | 2. MY SNEAKERS| 3. MOLLY'S TANK (5-PACK) | 4. MOLLY'S BIKER SHORTS (6-PACK)
And then lastly, I'll link her little tie-dye top with a twist in the front that's really cute and again comes in a multi-pack you get the absolute best deal – 2 tops for less than $6 each.
That's It from Me!
I hope this helps inspire your spring and summer wardrobes, especially if you get to be in a warmer climate! Not only would many of the looks be good at the beach, but also for camping or other outdoorsy things! Let me know in the comments below what your favorite look is!
Source by www.alimanno.com