DankeSuper, based in Brooklyn, is a CBD company specializing in artisanal organic and sustainably sourced full-spectrum hemp and adaptogen infusions. 
The focus on plant-based living is becoming increasingly popular as a way to live more sustainably and healthier. But wellness isn't only about getting more plants on our plate.
More and more of us are turning to botanical solutions to makeover our skincare routines and medicine cabinets in search of relief from external and internal stresses and accompanying symptoms that conventional remedies haven't been able to nip in the bud. 
And toxic, synthetic ingredients? Us wellness seekers aren't crazy about those either.
With a number of benefits backed by science (listed below) CBD (cannabidiol), an extract of hemp, is currently one of the most popular sought after botanicals for those looking for relief from a variety of stress related symptoms including anxiety, chronic pain and PTSD. As far as anxiety goes, it absolutely worked for me. What's even better is that CBD has little to no side-effects and poses little danger of toxicity, unlike most other drugs. 
Alongside CBD at the popular table for stress relievers are plants that include certain herbs and mushrooms called adaptogens. Used for centuries across the world, adaptogens are used to bring our systems into balance offering more energy and overall balance, while taming anxiety. Depending on the adaptogen, benefits may include improved mental clarity and focus as well as improved endurance and promoting a sense of calm.
One organic CBD company called DankeSuper is on a mission to bring us the best of both worlds through their unique and artisanal CBD blends. They happen to have gummies and skincare too!
For transparency, traceability, and of course a high-quality organic full-spectrum CBD that's made sustainably, DankeSuper is one of my favorite CBD sources.
But first let's talk a little about CBD to clear up any confusion.
What is CBD Exactly?
CBD (which stands for cannabidiol) is one of over 100 beneficial compounds called cannabinoids found in the cannabis plant (Cannabis sativa). It's associated with a variety of health benefits. 
Often confused with marijuana, CBD is a plant compound extracted from hemp. And no, it won't get you high.
Here's why it's so confusing: Hemp and marijuana are both technically the same plant. But only marijuana plants contain enough of the cannabinoid THC (tetrahydrocannabinol) that will make you high. 
For CBD to be sold legally, it must only come from hemp and have a concentration of less than .3% total THC. Marijuana has a THC concentration of 25-30%.
Once extracted, CBD is usually mixed with a neutral carrier oil, like MCT oil or olive oil, to make it easily absorbed by the body.
Today you can find CBD in a variety of products and strengths, like tinctures, capsules, and even edible treats like gummies. It's even becoming a popular addition to cosmetics and skincare products like the DankeSuper products on this page.
How Does CBD Work?
In the 1990s scientists discovered a network of neurotransmitters and receptors in our nervous systems called the endocannabinoid system. 
While research is still unraveling its mysteries, it's believed this system is like the control panel of the body, regulating a variety of functions including energy, pain sensation, mood, memory and learning, sleep, appetite, and immunity. When we're out of balance, or "homeostasis," the endocannabinoid system signals endocannabinoids to be released to bring our system back to normal.
CBD molecules are very similar in structure to our body's own naturally made endocannabinoid molecules. When taken, CBD attaches to endocannabinoid receptors providing us benefits that can support the body and mind in a variety of ways.
What Benefits Can CBD Provide?
While research is still underway, CBD has been linked with a variety of benefits.  While the effects can be different for each of us, science-backed benefits of CBD include:
Relief of chronic pain

Relief of anxiety symptoms and depression

Promotes relaxation while bringing a sense of calm and focus

Support of healthy sleep without causing drowsiness

The reduction of exercise-induced inflammation

Nausea relief

Increased energy at low levels

 
Which Form of CBD is Best?
When shopping for CBD products, you'll find it in one of three forms: full-spectrum, broad-spectrum, or CBD isolate. 
Full-Spectrum CBD: DankeSuper's Preferred Form For The Most Potential Benefits
Full-spectrum CBD contains cannabidiol plus several other naturally occurring cannabis plant compounds including vitamins, minerals, flavonoids, and terpenes.  
Known as the "entourage effect," it is believed that all these compounds work together to provide the most benefits than if taken alone. It also has trace amounts (less than 0.3 percent) of THC, but it's not close enough to experience any feelings of high.
Broad-spectrum CBD
This type of CBD has no THC but does contain some other cannabis plant compounds. The entourage effect is weaker than full-spectrum.
CBD Isolate
CBD Isolate contains no other cannabis plant compounds but CBD. This is the right choice if you don't want to chance getting THC in your system because of drug-testing for your job. 
How Does CBD Relate to Adaptogens?
There are over 70 known adaptogens which include mushrooms as well as herbs. Like CBD, they help your body respond to stress to bring you back to the state of homeostasis or calm. Adaptogenic mushrooms include cordyceps, chaga, maitake and Lion's Mane and herbs like Ashwagandha. DankeSuper includes blends of these adaptogens in their gummies for even more benefits than CBD can offer on its own.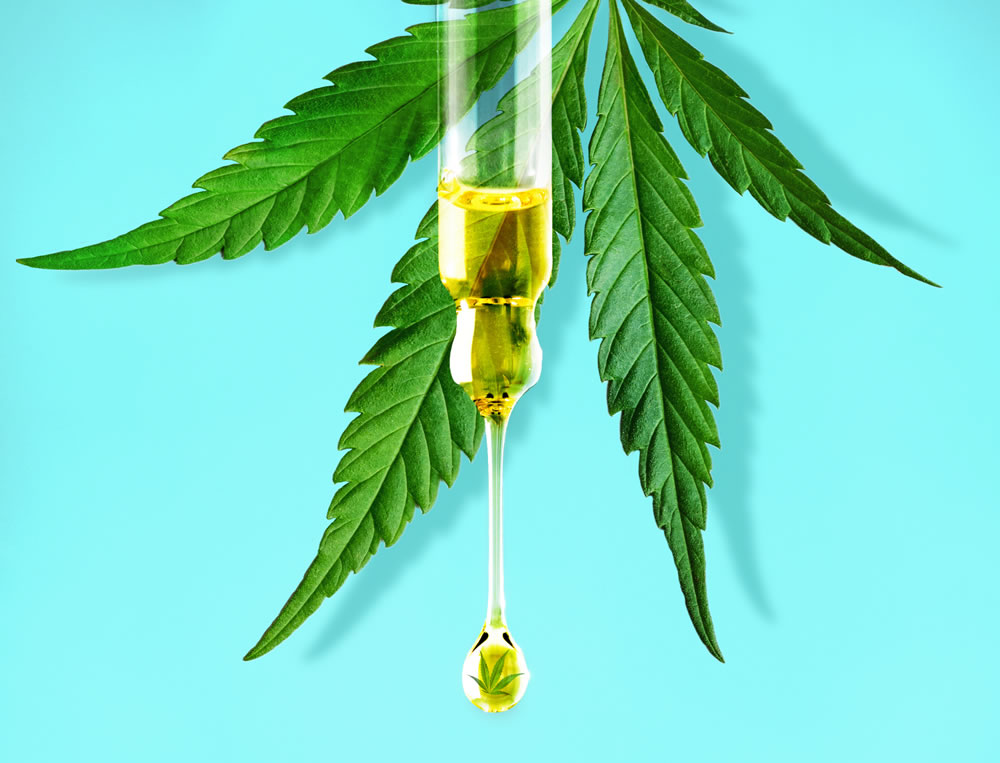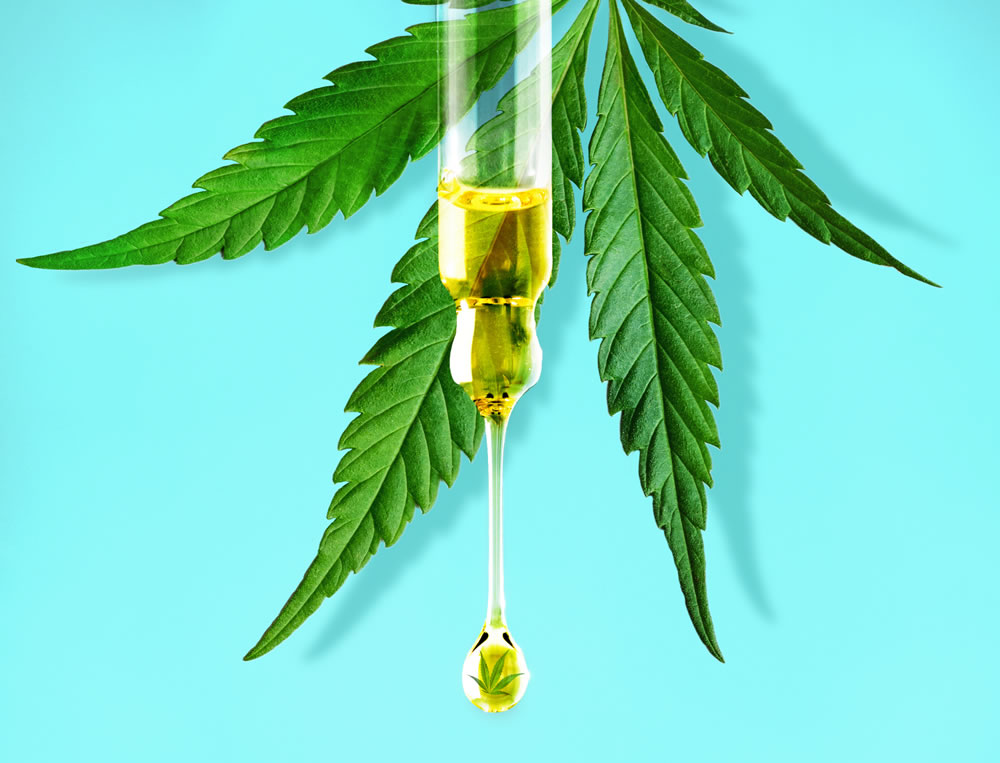 How DankeSuper is Combining the Benefits of Organically USA Grown CBD With Adaptogens
DankeSuper specializes in full-spectrum CBD and hemp products, including unique goodies like gummies and skincare that are made from organically grown, non-GMO, cruelty-free, vegan, and pesticide-free hemp. 
They also harness the power of adaptogens in many of their formulas to provide their customers with an enhanced CBD experience and enhanced benefits like mental clarity and stress relief. DankeSuper's dedication to bringing creative yet quality CBD products to market is the reason they're rising to the top. 
Why we love them? Clean and high-quality, each of DankeSuper's products are thoughtfully and artisanally made. And they're effective too.
DankeSuper's Organic CBD Growing and Extraction Methods are Important if You Want to Stay Clear of Toxins
It's important to know that the hemp plant is a bioaccumulator, meaning it's a magnet for pesticides, heavy metals and other toxins.
That means if your CBD isn't organic, you could be paying for a concentrated dose of harmful contaminants. Especially since these particles tend to settle on the flower bud of the hemp plant, where CBD is harvested from.
All of DankeSuper CBD is extracted using carbon dioxide by a method called supercritical extraction. Less reputable companies use chemicals including hexane which can be toxic. Not only is using Co2 safer and more environmentally friendly, but it also makes for CBD that stays fresher, longer.
DankeSuper CBD is Full-Spectrum Organic CBD, That's Third-Party Tested and Cruelty Free. 
Like any product that grows in popularity as quickly as CBD has, low-quality products and even fakes have flooded the market. But with DankeSuper and their commitment to quality you know what you're getting is healthy and toxin-free. 
DankeSuper CBD is:
Organically grown

Non-GMO

Pesticide-free

Vegan and cruelty-free
Reputable CBD companies like DankeSuper:
Disclose

where their CBD is sourced from

Have their CBD tested by a third-party lab

Provide a COA (certificate of analysis) for their CBD (available on DankeSuper product pages
Their CBD is also third-party tested and available to see on their website.
DankeSuper has been getting rave reviews and customers keep coming back for more. After using their products, we get exactly why they're rising to the top of the CBD pack.
Here are Some of our Favorite Artisan Blended Organic CBD DankeSuper Products We Think You Should Try.

From gummies and tinctures to hemp-infused body cream, DankeSuper offers a variety of products that can help you unwind or improve focus and clarity.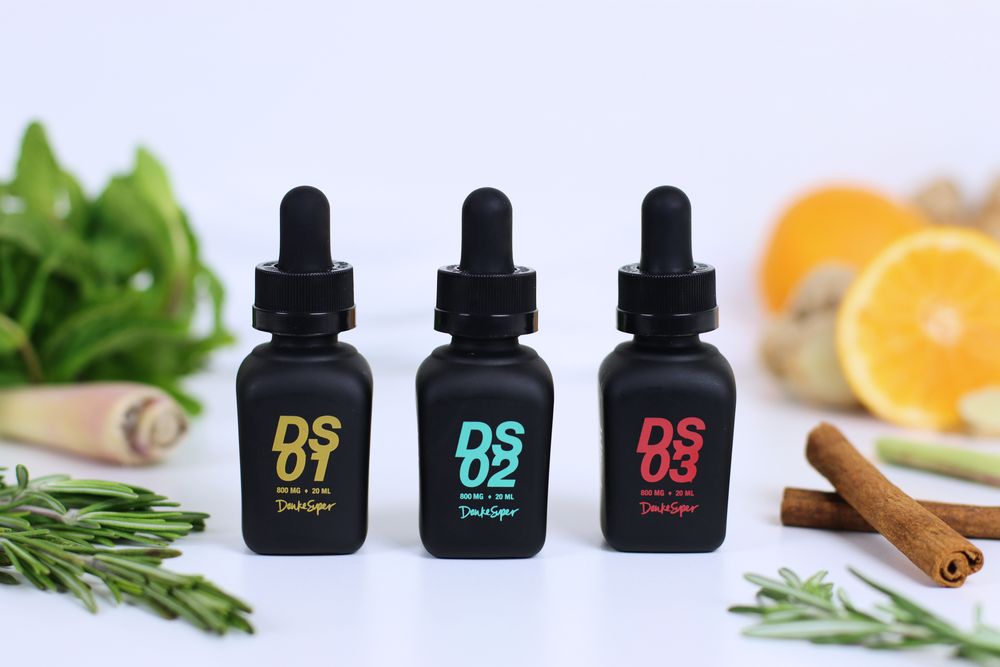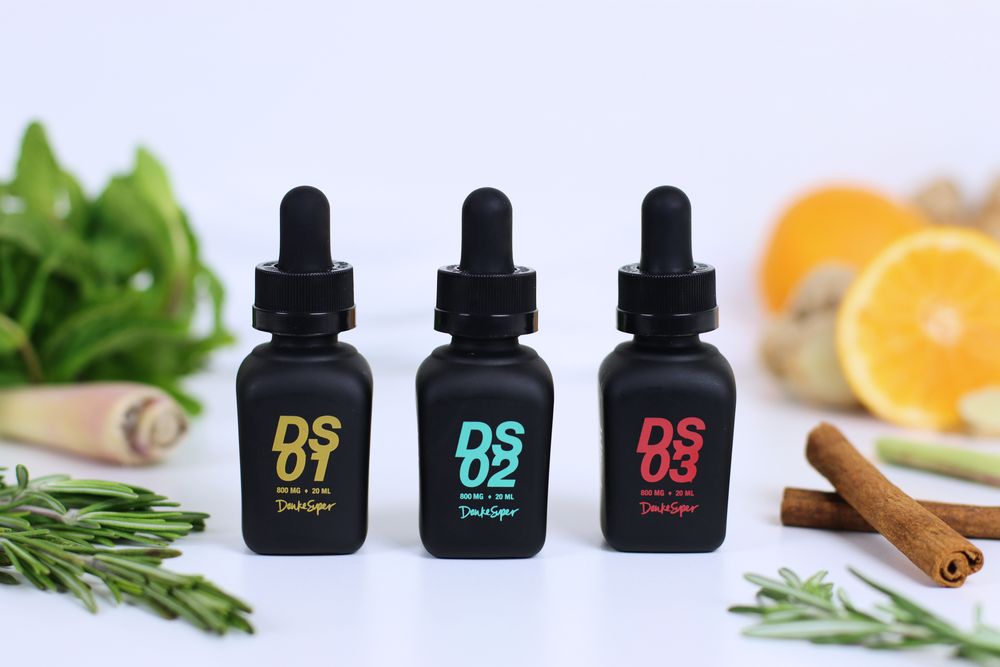 Get Relief With DankeSuper Full-Spectrum CBD in Unique Flavors
If you're looking for a high-quality  CBD full-spectrum hemp extract with the "entourage effect" DankeSuper Full Spectrum is a great choice at an amazing value. Full-spectrum CBD contains a variety of plant compounds found in the hemp plant to provide the greatest amount of benefits, including pain and anxiety relief. 
With a few flavor options each one is delivered in MCT oil for optimal bioavailability.
Full Spectrum Extract Potency Per Bottle: 800 mg 
CBD Dose Per Dropper: 20mg 
Flavor: Unflavored 
Perfect for blending into your morning coffee and "balancing" your system, this unflavored CBD is a versatile option. Benefits may include
A heightened sense of calm

Reduced inflammation

Restful Sleep

Reduced pain and improved mobility

Accelerated exercise recovery
Full Spectrum Extract Potency Per Bottle: 800 mg 
CBD Dose Per Dropper: 20 mg
Flavor: Lemongrass-Rosemary-Mint
Herbal and refreshing, this blend provides the benefits of the unflavored full spectrum while mint, rosemary, and lemongrass are meant to encourage circulation while enhancing memory and focus. Either way, this flavor is amazing.
Full Spectrum Extract Per Bottle: 800 mg 
CBD Per Dropper: 20 mg
Flavor: Orange-Cinnamon-Ginger
Description: This blend provides the benefits of the unflavored full-spectrum CBD with orange, cinnamon and ginger enhancing the entourage effect. Orange improves focus and mood while lessening pain and inflammation while spicy cinnamon has antimicrobial properties. Ginger has active compounds that are anti-inflammatory, antimicrobial, and offers antioxidant benefits. [1]
 ➡ Try all three in the DankeSuper Flavor Flight + get a gummy sample! (you know you want one.)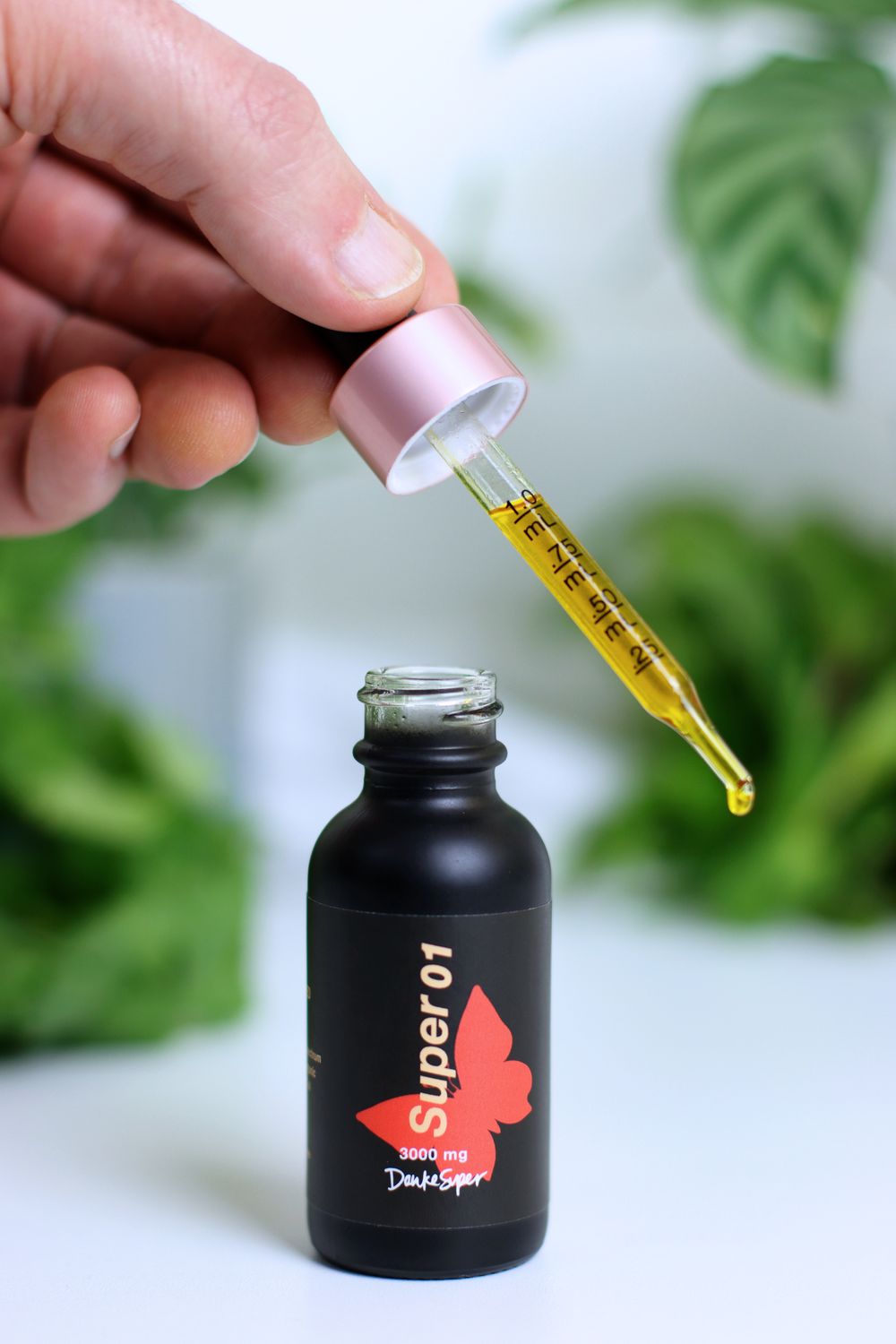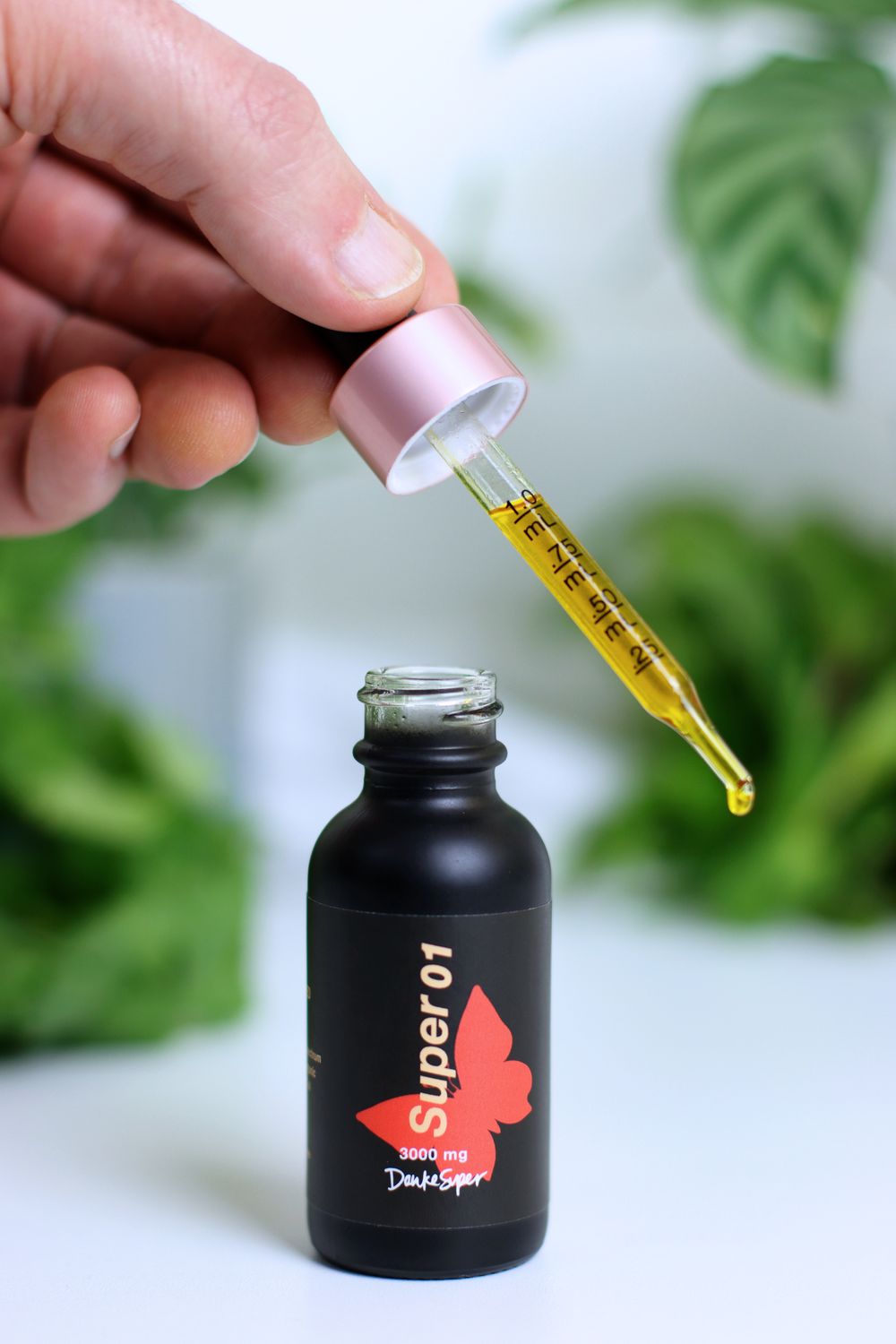 Want Something Even More Potent? Try DankeSuper SUPER01 
If you've tried a CBD product or two and you're ready for something more potent and possibly experience more benefits, Super01 from DankeSuper is the CBD for you. With 3000 mg per bottle this is one of the highest CBD strengths available.
Full Spectrum Potency Per Bottle: 3000 mg 
CBD Per Dropper: 100 mg Full Spectrum Extract and 50 mg total CBD per dropper
Flavor: Unflavored
Description: This potent organic CBD is one of the highest concentrations of CBD available delivering 100 mg of extract per dropper. Try this tincture if you're experiencing severe chronic pain, inflammation, anxiety, sleep issues, have difficulty concentrating, or find lower doses of CBD are less effective for you.
Mark M., a happy DankeSuper reviewer reported:
"I decided to give Super01 a try because it seemed to offer incredible value … I'm thrilled with the decision. My sleep, range of motion, and focus have all improved materially. I truly feel like a more mindful, productive version of myself. Thank you!"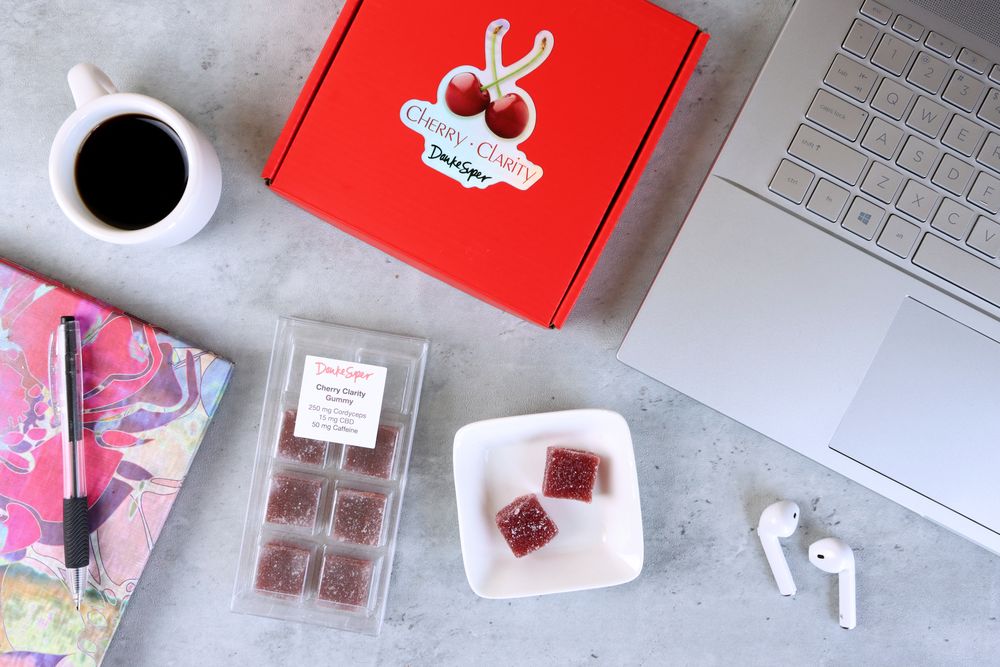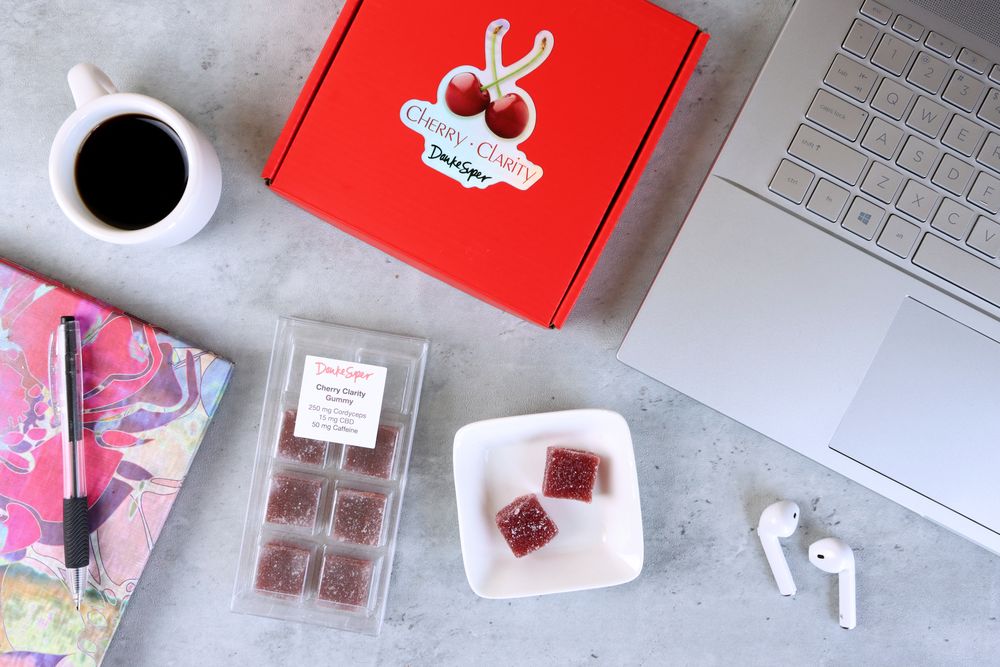 Indulge With DankeSuper CBD Gummies and Adaptogen Infused Gummies (Pâtes de Fruit)
CBD infused gummies have become one of the most popular CBD edibles for CBD lovers like myself. And DankeSuper is taking their CBD gummy game to a whole other level.
Falling somewhere between a gummy bear and a confection, DankeSuper's  vegan-friendly and delicious Pâtes de Fruit gummies are made with fresh organic fruit paste infused with their organic full-spectrum CBD, adaptogens and then dipped in sugar. 
Each can provide a variety of benefits, like mental clarity or relaxation depending on the desired effect. 
Perfectly portioned for on the go, with a dense chewy texture busting with concentrated fruity flavor they're pretty impossible to resist! 
Here are some of our favorite DankeSuper Pâtes de Fruit offerings.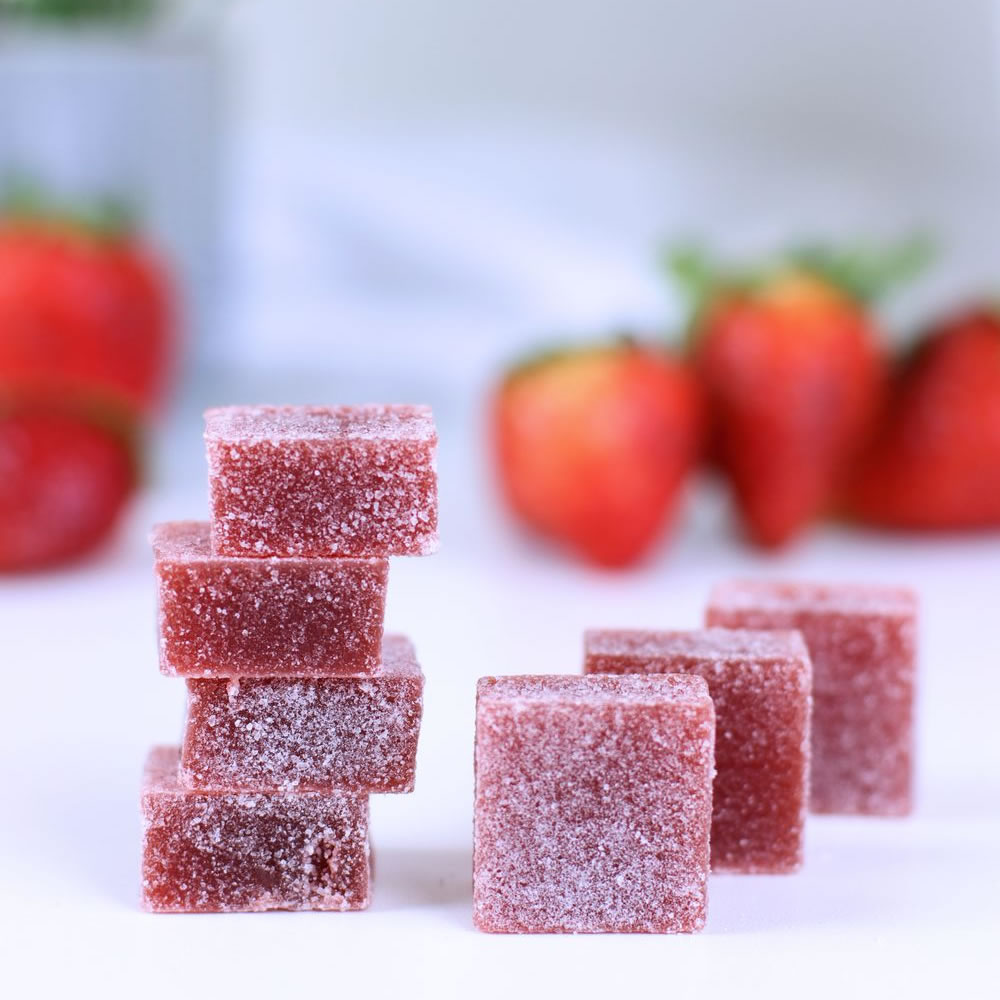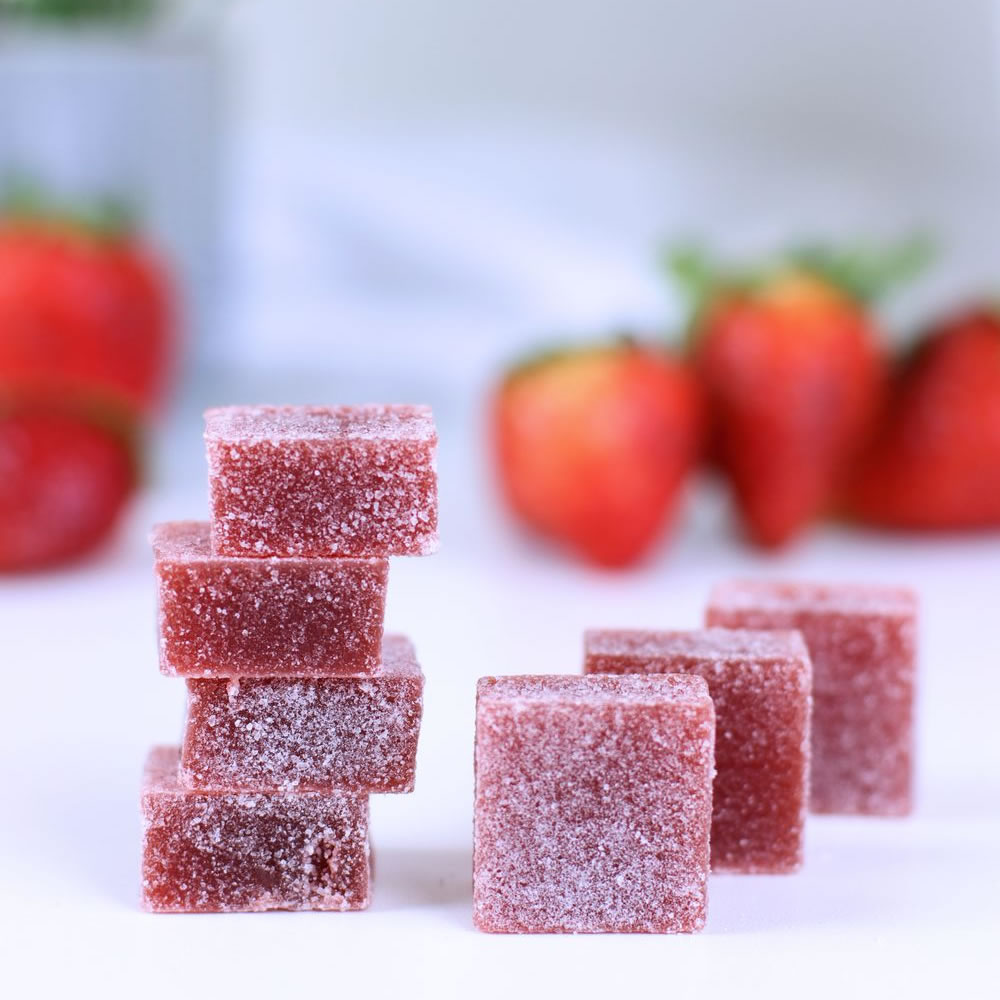 What's Inside: 40 mg Full Spectrum Hemp Extract, 20 mg CBD
What's It For?: A sense of calm that may provide relief from anxiety and pain
Each of these gummies has 40 mg of Danke Super's ultra high-quality Full-Spectrum Hemp Extract, 20 mg CBD per fruit square. 
These come in delicious flavors like Morello cherry, strawberry, blood orange, mango, and cranberry pomegranate.
Take these whenever you find yourself needing to relax or need pain relief.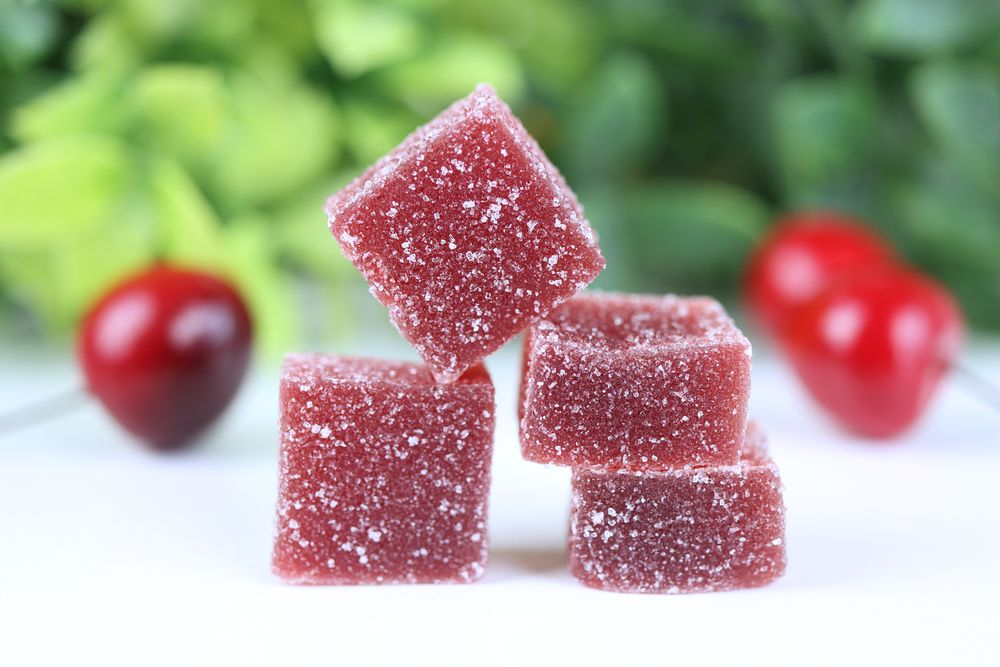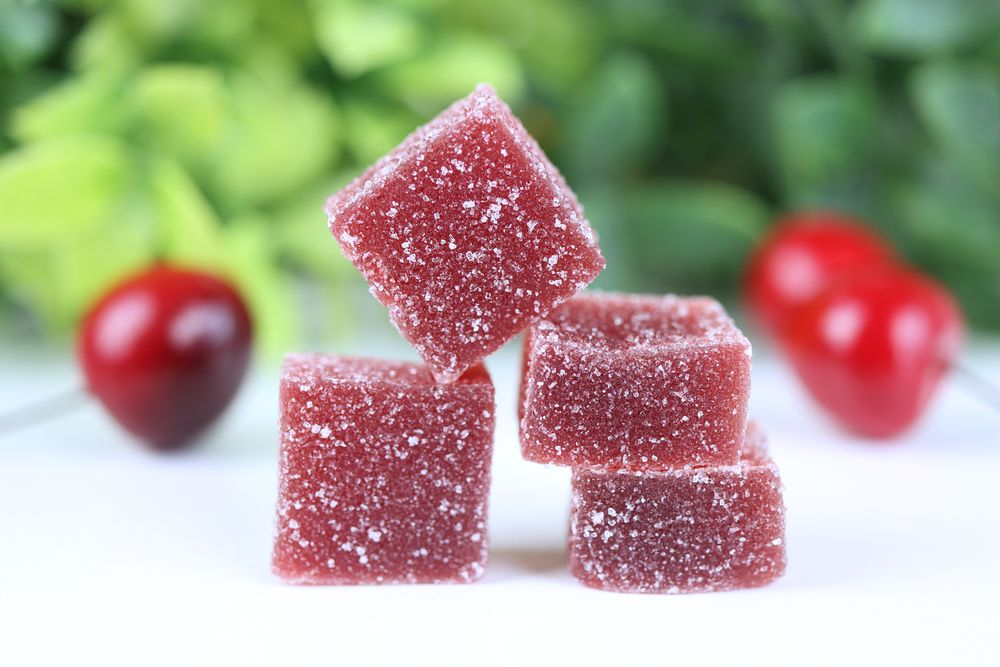 What's Inside: 15mg CBD, 30 mg Full-Spectrum CBD Extract, 50 mg Caffeine (the equivalent of half an espresso shot), 250 mg of Cordyceps Mushroom
What's It For?: Calm sustained energy, endurance, and focus
For calm focused energy without the jitters, these DankeSuper gummies are perfect. Caffeine and adaptogenic cordyceps work to boost energy, endurance, and mental clarity while CBD calms for lasting energy that's cool, collected, and focused.  We love these for times when we need to get to work and stay productive.
Try them here —> DankeSuper Edibles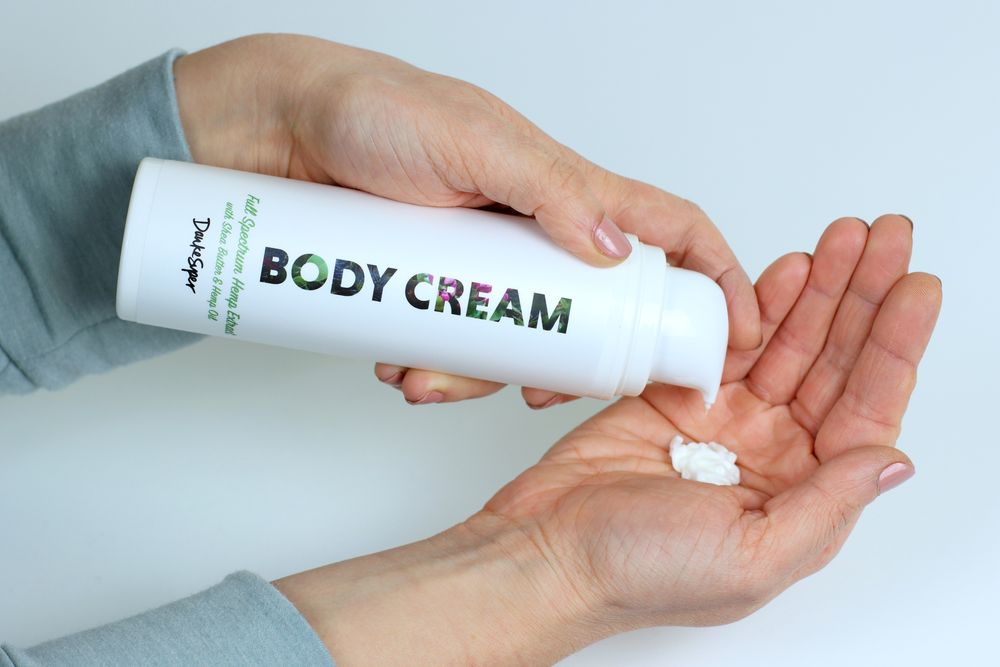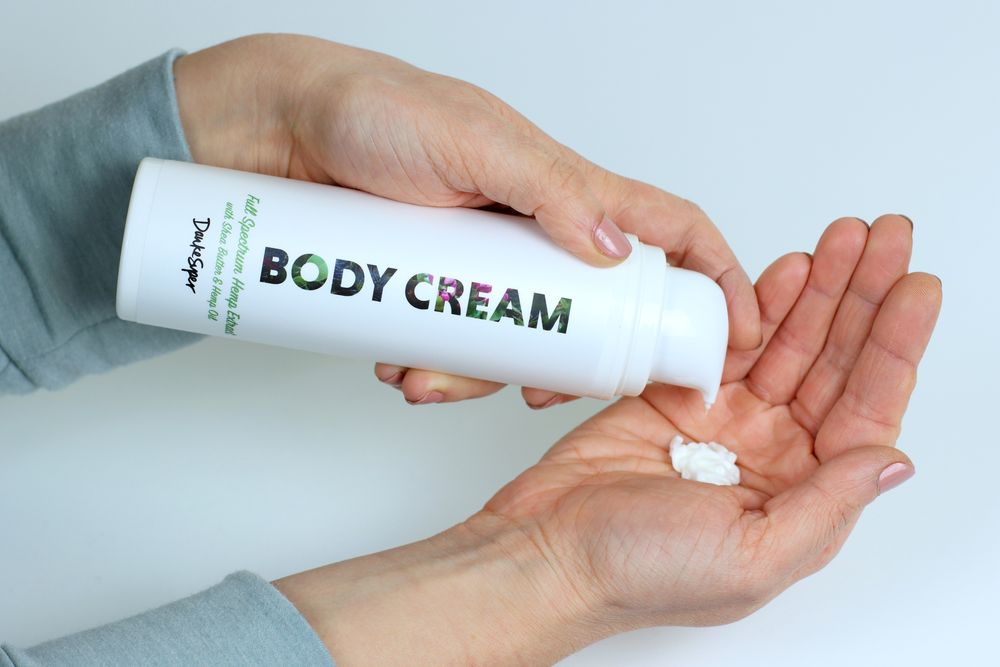 Get "Fresh from the Spa" Skin With DANKESUPER Hemp-Extract Infused Body Cream
While I've tried my fair share of edible CBD and hemp-infused products, I'm quickly learning that its benefits for skin shouldn't be ignored. A great natural moisturizer that smooths while it nourishes, hemp oil (aka hemp extract) is particularly rich in omega-6 and omega-3 fatty acids and vitamins which are important for skin health.  It's also anti-inflammatory which can calm irritated skin while encouraging cell turnover and rejuvenation.
What makes DankeSuper Body Cream so effective is that along with hemp extract it's chock-full of skin-soothing, anti-inflammatory natural emollients like shea butter and avocado oil. When applied to dry skin, these ingredients seal cracks in the skin's barrier that cause moisture loss which can lead to itching, irritation, and flaking. 
More moisture means smoother, softer skin that's more glowy and radiant. Plus it smells pretty amazing.
Besides Hemp Extract, DankeSuper Body Cream also includes:
Bisabolol: Prized for centuries for use in skincare and cosmetics, Bisabolol is a floral plant compound extract with anti-inflammatory, anti-microbial, and skin-soothing properties that encourage the skin to heal. The bisabolol in DankeSuper's Body Cream is derived from Roman Chamomile, a herbal flower.
Shea Butter: A skin-nourishing ingredient made from nuts of the shea tree, restorative shea butter is packed with antioxidants and vitamins like A and E, fatty acids and has anti-inflammatory and anti-aging properties. It absorbs into the skin creating a barrier that traps moisture for smoother, softer and healthier skin.
Sunflower Oil: High in vitamin E and K, highly absorbent sunflower oil is the perfect addition to a body cream since it can help firm up skin and while boosting elasticity. Yes please!
Jojoba & Avocado Seed Oil: The beta carotene, protein, lecithin, fatty acids, and vitamins A, D, and E found in avocado oil help moisturize and protect your skin from damaging UV rays and also may increase collagen metabolism. With a similar molecular structure to the oil in our skin, Jojoba oil absorbs quickly and has anti-inflammatory properties that soften and calm dry skin.
How does it feel? DankeSuper Body Cream is truly everything you'd want in a moisturizer. Quickly absorbed with zero greasy feeling (thank you!) my skin felt silky smooth, soft, and hydrated. 
With a totally gender-neutral scent that has "fresh from the shower" vibes, and notes of bergamot, grapefruit, amber, and musk officially obsessed. 
BUY IT HERE  – > DANKESUPER BODY CREAM
What's Next For DankeSuper?
While CBD is incredibly beneficial, it's only one of many cannabinoids. While DankeSuper currently also offers Delta-8 products they plan to expand their artisanal gummy line to include infusions of other cannabinoids including HHC, THC-P, and THC-O. 
Fair warning, these do have psychoactive effects and are not currently regulated by the FDA. 
For now they're legal in most states, but always check with your local laws if you're unsure. Rules and regulations can and do change at any time. Also, check with a doctor before starting any new supplement or health regiment, especially if you're on medication or have a pre-existing condition.
Ready To Give DankeSuper CBD Wellness Products A Try?
DankeSuper is a CBD brand that prioritizes ethically sourced ingredients and provides quality products at a superior value.
➡  Visit DankeSuper now to learn more about their products and how CBD may benefit you
Source by onbetterliving.com