Many coffee aficionados consider the AeroPress to be the most convenient way to brew coffee. Anyone can use it to brew the perfect cup of coffee without an expensive coffee machine.
For such a simple idea, AeroPress has managed to sell millions of units all around the world. This is all thanks to inventor Alan Adler and his crazy story.
Where did this revolutionary coffee maker come from, and why has it taken over the coffee world?
In this guide, we'll break down the story of AeroPress, what inspired its invention, and how it got so popular.
Alan Adler: AeroPress Inventor
The AeroPress was invented by Alan Adler, an American inventor and retired Stanford University engineering instructor.
Besides the famous AeroPress coffee maker, Adler's inventions include various aerodynamic toys that fall under the Aerobie brand. This includes things like footballs with fins, flying rings, and discs.
Brewing coffee seems quite unrelated to Adler's typical inventions, but the AeroPress went on to be his biggest success.
Adler started his career in the 60s as an engineer. He designed submarine and nuclear reactor controls, instrumentation systems for military aircraft, and optics.
He was a curious person and pursued a variety of hobbies. He always wanted to make things better, so he invented things based on these hobbies.
Adler now holds more than 40 patents ranging from mirrors for astronomy, a race-winning sailboat, and designs for a Japanese flute.
However, it was hist inverted brewing invention in the form of the AeroPress that made Adler known around the world.
Alan Adler's Early Inventions
One big fascination for Adler was flight. So, in the 1970s, he started working on designing a flying disc that was easy for the average person to throw.
The result was the Skyro, which he licensed to toy manufacturer Parker Brothers. Even though it sold a million units, it wasn't enough to maintain their interest, and they returned the license to him.
The Skyro had one major problem – you had to throw it at the right speed for it to fly properly. So Adler spent the next six years optimizing the disc. He discovered that a spoiler lip around the disc solved the issue.
This time, Adler decided to launch the product, known as the Aerobie, himself.
Alan Adler got tons of publicity for the Aerobie Pro because a toy being invented by a wacky college professor made good headlines. This led to early success for the disc.
Adler's goal for the Aerobie Pro was to outsell Frisbee's 10 million units, which he has more than achieved.
Since the success of the Aerobie Pro, the company has released 18 aerodynamic toys, including a football with fins and a dog-proof disc.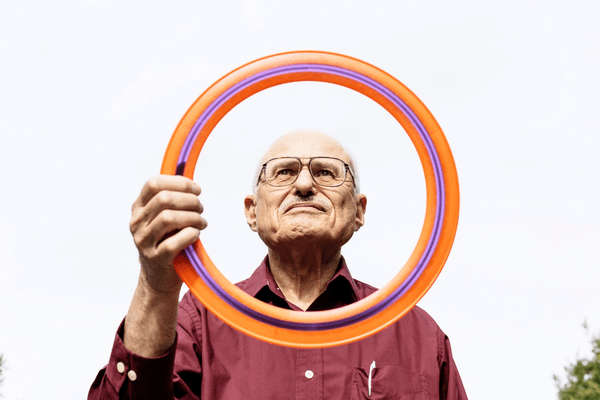 Image: Wired
How the AeroPress Was Invented
Despite Alan Adler's flying ring success, it was a conversation with his sales manager's wife that would prompt him to invent his most popular product.
The question that pushed Adler into action was "what do you do when you want one cup of coffee?" with both agreeing that a drip maker produces unappealing bitter coffee.
So Adler started trying to discover how to make the perfect cup of coffee, not thinking he was working on his next product.
He developed some methods to make pretty good filter coffee. But he also noticed that the 4-5 minutes it took for the coffee to pour through the filter added bitterness.
So Adler started experimenting with different brew methods to make the brew-time shorter. He came up with the design of the AeroPress, which, using air pressure, reduced this time to less than a minute.
After making the first AeroPress prototype in his garage and tasting the resulting coffee, Adler was blown away by the results. He invited Aerobie General Manager Alex Tennet to his house, who, after tasting a cup, said, "Alan, I can sell a ton of these."
Adler spent the next year refining the product because he didn't know how to use it himself yet. The result was the simple to use AeroPress.
All you had to do was put in 2-4 scoops of finely ground coffee into the plastic tube, add 175-degree water, stir for ten seconds, and insert the plunger. Then slowly push down to get a pure cup of coffee that was about as strong as espresso.
An unintended feature of this method is that it self-cleans the device as you use it.
The Aeropress was the ultimate solution to make coffee brewing easy and convenient for a single cup.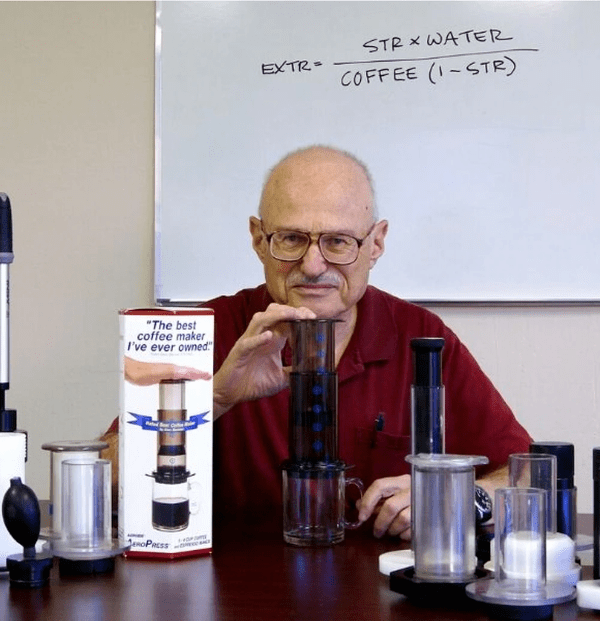 Image: AeroPress
AeroPress Launch
Adler debuted the AeroPress in 2005 at Seattle's Coffee Fest, where it was well-received.
Still, in the first few years after its launch, AeroPress sales were low. Tennant even had to convince a prominent sales rep group not to drop the product.
What made things even tougher was that there were many coffee makers AeroPress had to compete against in the same price range.
The AeroPress set itself apart by creating fresh, single servings of coffee compared to the 8-12 cup drip makers.
The company decided to focus on what AeroPress did best, make a great cup of coffee. They kept attending trade shows and sending products to food writers and coffee experts. This tenacity paid off when, in 2008, sales started to rise.
One strategy Adler used to get the coffee community on his side was to join a popular coffee forum. Here he answered almost 700 questions users had about his product on the site.
This attention helped AeroPress become popular not just in the US but also internationally.
What Made the AeroPress Unique?
Coffee fans like the AeroPress because it's easy to make a quick, clean, and smooth cup of coffee. But there's another reason why coffee-lovers are drawn to the product – its hackability.
AeroPress is perfect for people who want control over all aspects of the process of brewing coffee. It allows you to adjust all of its variables, including temperature, brew-time, coffee water ratio, and more.
The customizable nature of the product has led to several feature-extending inventions. These include a reusable metal filter, specialized brew stations, and weights that push down on the plunger for you.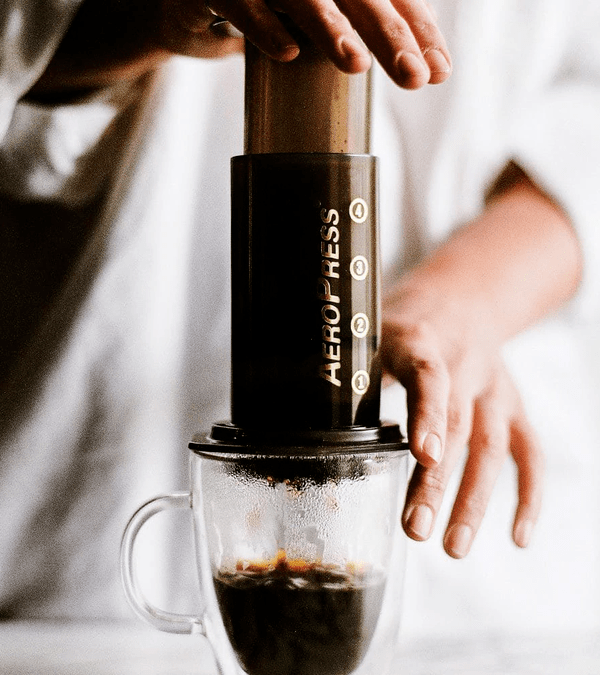 Image: AeroPress
World AeroPress Championship
This popularity and flexibility has led to a fun expression of AeroPress obsession, the World AeroPress Championship.
Since 2008, baristas using different recipes have been competing to make the perfect cup of coffee with AeroPress.
The simple brewing process has resulted in all kinds of different AeroPress recipes and techniques for brewing better coffee.
The World AeroPress Championship is the perfect example of just how well-loved and popular this little plastic tube is to brew coffee. Who would have thought that such a seemingly simple invention would have its own world championship?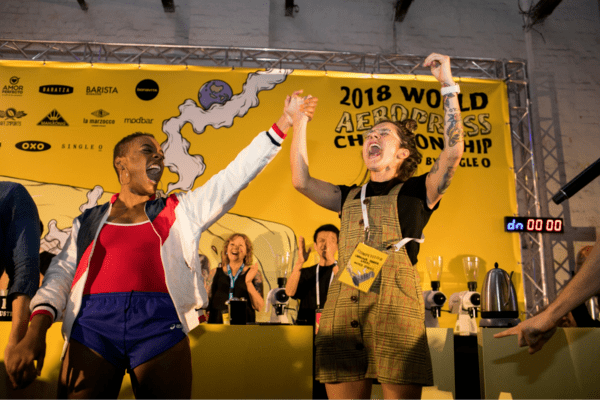 Image: worldaeropresschampionship
AeroPress Company Growth
In 2017 Adler sold the Aerobie toy line and renamed the company AeroPress Inc. He started focusing on a new product, resulting in the release of a travel-sized model called the AeroPress Go.
Since launching, AeroPress coffee makers have become Adler's main focus. Quite a far-off difference from the Aerobie flying ring that he was originally determined on.
After 16 years of heading up AeroPress, Adler decided to sell a majority investment to Tiny Capital for a reported $70 million.
AeroPress Sales and Revenue
AeroPress doesn't disclose its revenue figures.
Still, with the original AeroPress retailing for $29.95 and the AeroPress Go selling for $31.95 and having sold millions of units, it's safe to say that the business is doing alright!
What's Next for AeroPress?
While AeroPress has gone from a slow-seller to one of the best-known coffee-makers, little has changed with the product. Apart from some visual upgrades, it's still the same AeroPress.
And although they introduced a new product with the AeroPress Go, Adler has always said he isn't interested in making a larger AeroPress. Still, with new ownership, this could change in the future.
Whatever the future holds for AeroPress, what can be said is that thanks to Adler, a fresh, clean, and smooth cup of coffee is less than a minute away.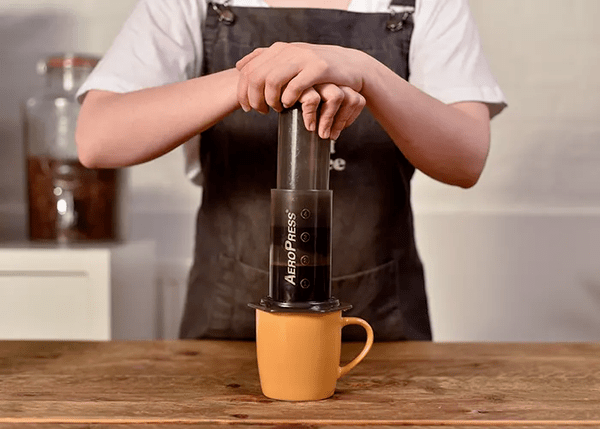 Image: pactcoffee
Summary
From designing control systems for submarines to inventing record-breaking flying discs, Adler's constant curiosity has taken him from engineering to the toy industry. His desire to improve things has netted him over 40 patents.
This includes a revolutionary coffee-maker that's captured the hearts of millions of coffee lovers worldwide. With such a simple plastic design, inventor Alan Adler has revolutionized coffee brew methods. His own invention has become so popular that it's even resulted in the World AeroPress Championship – pretty crazy for a simple idea that resulted from Adler's garage.
Source by blog.wishpond.com