The world of SEO is exciting. Google updates its search engine ranking algorithm hundreds of times per year. An SEO strategy that worked last year might not work this year, and one that works now might not work next year.
If your site isn't generating as much organic traffic as it did last year and you want to improve your SEO, we've got you covered.
We've pulled down the top SEO methods for 2022 to help you retain and improve your organic search presence — encompassing both basic and advanced SEO techniques — in this piece.
1. Implement Content Optimization
For most people, SEO means frequently posting content, targeting new keywords, and obtaining links to those pages. However, skilled SEO practitioners understand that you may grow organic traffic more deliberately by refining your existing content via a process called as "content optimization."
The goal of content optimization is to optimise a page's on-site meta tags, such as:
Incorporating primary and secondary keywords at the appropriate concentrations
Having a sufficient word count
Ensuring excellent readability
Using optimal meta title and description tags
2. Deliver a Perfect Page Experience
Page site optimization has historically been a pretty weak ranking criterion that, understandably, SEO practitioners have never taken too seriously. Sure, it was important, but not as much as traditional on-site optimization and good old-fashioned link building.
Life in the SEO sector, on the other hand, moves at a breakneck pace. With the introduction of BERT and MUM, Google is attempting to humanise its search engine by tailoring its ranking algorithm to measures such as, you guessed it, page site optimization.
Links and tags are important — and will be for as long as we can see — but they aren't the only things to keep an eye out for. With the release of the Page Experience Update in 2020, Google made this new statistic a major component of its algorithm.
3. Instead of keywords, concentrate on topic clusters.
The subject relevance of a web page to a search query heavily influences its ranking. Google prefers sites that show Expertise, Authority, and Trust (E.A.T.). As a result, developing topic clusters employing pillar page best practises is perfect for increasing traffic.
A subject cluster is made up of pillared (core keyword theme) and clustered content (articles with a narrow focus).
The pillar pages are often long-form and cover a wide range of keyword topics. Pillar pages connect to clustered material to delve deeper into more particular topics related to the major keyword theme.
This internal linking technique improves the topical relevancy of your pages and contributes to higher rankings, traffic, and click-through rates.
Tips for creating effective topic clusters
To generate the most successful subject clusters, use well-researched keywords. Long-tail keywords should be targeted in your clustering content to reduce competition and drive traffic that is more relevant to your website.
To score highly and be the best solution in a search result, publish 10X content that answers a specific problem.
Conduct a content audit to ensure that existing content is used to target keywords in your cluster and to avoid keyword cannibalization.
4. Optimize for featured snippets
For almost every question that is searched on Google, featured snippets appear. Increase traffic to your website by utilising sites that are currently on Google's first page. According to an Ahrefs analysis, being listed in the snippet (also known as position zero) provides an additional 8.6 percent of accessible traffic to your site.
Identify each keyword for which your site ranks on the first page of search results. To gather a list of your first page appearances, utilise Moz, SEMRush, Ahrefs, or any keyword-tracking tool.
Keep in mind that under the new arrangement, if your site ranks first, there is some discussion about which position is more useful in terms of traffic.
5. Add FAQ structured data markup to performing pages
Google included FAQ structured data markup, which appears as a rich result. You can utilise FAQ schema to enhance the number of clicks on your page. Each of the questions you've listed is displayed in an interactive drop-down fashion in the rich result.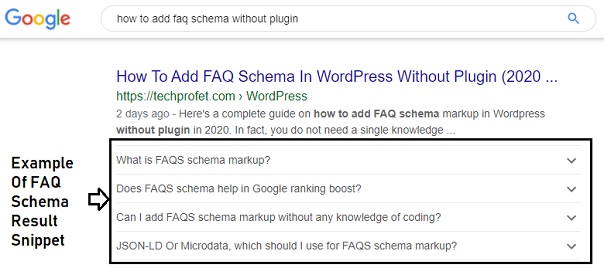 Because of the extra space taken up by the SERP result, this might be beneficial to sites in terms of raising click-through rate.
To make your FAQs suitable to appear as a rich result, utilise the markup given on Google's developer reference page.
6. Guest post on healthy relevant websites
Backlinks help your content rank higher in search results. Good content draws backlinks, but if you don't want to wait for links to appear, you must act.
Use guest posting as a method to develop links to internal pages of your site, giving users more ways to access your material (referral traffic).
By connecting to your content, you can gain streams of targeted traffic as well as an increase in authority and trust.
The links you get from guest posting are contextual, which is the finest kind of link. Include connections to related information on your website within the post to present your reader with a resource that will improve their experience.
For example, if you are unti online course business, get relevant backlink from educational website and its is better if the anchor text is related to your keyword, like "Sell courses online"
Tips for guest posting
The best sites to guest post on are those that are robust, authoritative, and have a large subscriber base for referral traffic.
The importance of topical relevance in generating the biggest impact on links pointing to your site cannot be overstated. Connect to stuff that improves the user experience.
To increase the impact of your work, form alliances with authors or websites. If you include a link to a partner's site in your material and they reciprocate, your efforts are multiplied with each article you write.
7. Build your local presence
Increase local traffic by brushing up on the fundamentals of local SEO. Request client feedback, keep your NAP details consistent, and maintain your GMB profile updated and accurate. Obtaining local backlinks is one of the most effective strategies for surfacing your website in localized searches.
Aside from the usual venues to link from (directories, review sites, profile links, etc.), aim for unstructured citations on local business blogs.
An infographic such as 12 Web Design Trends by Toronto Experts was utilised in a local outreach campaign. This local SEO campaign blended an expert round-up with an infographic to increase traffic to local landing sites by 63.64 percent.
Final thoughts
There are so many different ways to attract traffic to a website that it's worth researching new choices and trying various strategies to determine what works best for you.
Whatever sophisticated SEO method you select, make sure you give it a fair try by following the procedure from start to finish.
Every new strategy has a learning curve, but you'll learn the most through real, hands-on experience. If something works, persist with it and scale it up. You now understand how to use ten distinct tactics to increase traffic to your website.
Source by blog.zumvu.com