Clean design and precision German craftsmanship: An introduction to Nomos watches.
The world of watches is expansive, expensive, and often intimidating. Unlike most other clothing and accessories, which we know we'll cycle through in a rotation, watches are an everyday piece. There are, of course, people with fabulous watch collections, who can swap them out as easily as you or I might choose a different pair of jeans, but that isn't how most of us live.
When it comes time for you to wrest a chunk of change out of your savings and put it on the line for a new watch, you want to know you've covered all your bases and for that reason, we want to introduce you to a brand called Nomos.
Nomos Glashütte (pronounced "Glass-Who-Ta") is not the sleeper it was when I received my first watch from them nearly five years ago. Now, carried by the likes of Hodinkee and other prestigious watch retailers, they are becoming more and more common, but that doesn't mean you should turn up your nose.
Even those not especially watch-aware probably know that many of the field's most famous brands are based in Switzerland, but Nomos is different. Based in Germany, Nomos is the largest producer of mechanical watches in that nation, and unlike some of their competitors produce all of their watches and components on site. Though the Glashütte region has a long history of watch-making, the brand itself is rather young (by famous watch brand standards) and was founded in 1990.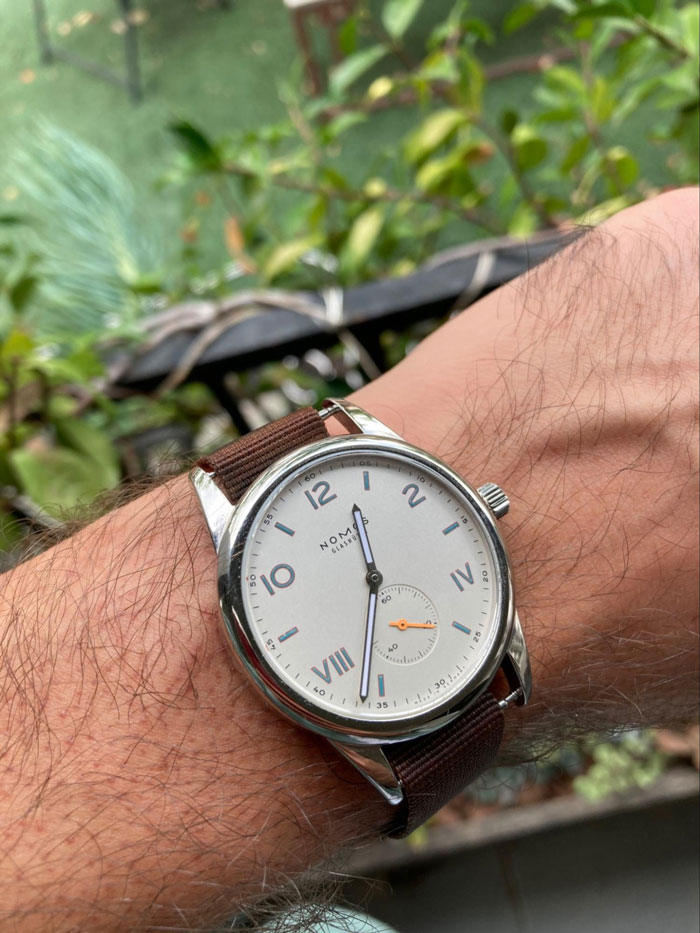 The author's watch. Image via Albert Muzquiz
I received this Nomos Club Campus 38 as a graduation present before I even really understood anything about watches. I'd only ever owned battery-powered (quartz) watches and I don't even think I understood that they could be mechanical. It's a manual winding watch, so you spend a moment or two with it every day getting it prepped. I began to feel really attached to it about a year in. I would just sit sometimes and look at it, the white dial catches the light so beautifully and there are small orange details that people often notice.
I put it on a vintage nylon watch strap to dress it down even further, but it's not uncommon for people with much more expensive watches (think $40k Rolexes) to stop me on the street to compliment it.
There are many things that set the brand apart from its larger and more renowned competitors, but one of them is immediacy. It may sound cheesy, but owning a Nomos makes you feel a part of something. When I sent mine back for its first service, I received a quaint and incredibly earnest letter back from its repairer, who ran me through every minute part of the exhaustive process to ensure it runs its very best.
What adds to this community factor is Nomos' rarity on the wrists of watch collectors. There are many people who admire and respect the brand, but it's rare you see one out in the wild. When someone does notice your Nomos out and about, they're ecstatic to see one, and the wearer is usually stoked too. (Compare this to asking someone about their Rolex, at which point they clam up and act like you're trying to rob them.)
Another important factor that distinguishes Nomos from other, better-known brands is their design. Many of the watches ascribe to that famous German school of design known as 'bauhaus.' There are many aspects of Bauhaus, but at its core, it is a minimalistic style that prioritizes function over form and embraces new technologies. This is a refreshing take from a luxury brand, when many others focus on ostentatious and maximalist designs, you can trust Nomos to toe the line of good taste.
Nomos Watch Models of Note
Perhaps the most convincing argument to be made in favor of Nomos is the price. Because their watches are entirely hand-made and use in-house mechanical movements, they're not cheap by any means, but they are competitively priced. A Nomos Club Campus, which uses the brand's manual Alpha movement runs for $1,500 in a 36mm case size.
Prices increase from here as you delve into models with automatic movements and ever more complications. No matter which model you choose, you'll find yourself engrossed in your new Nomos. You'll be sitting in a meeting, watching the sweep hand on the seconds sub-dial move round and round and the light play on the rich dial and steel hands.
Nomos Tangente
The Tangente is one of the best-known models from the brand. Coming in a wide variety of styles, this particular model has a date aperture at 6 o'clock and a power display. Its blue steel hands are a result of being fired at extremely high temperatures, an old watch-making trick.
Nomos Ahoi
The Ahoi is one of very few explicitly sporty watches from Nomos. As one might ascertain from its nautical name, this is a watch that likes the water. Waterproof and fitted with hefty crown guards, this is a dive watch! A rarity in the lineup.
Nomos Tetra
Like a friendlier, more approachable Cartier, this square-cased watch is a real looker! The Tetra is available in a wide variety of colors and with a few different movements and case sizes.
Source by feedproxy.google.com