Dress it up or down – but does this $32 sweater deserve its star rating?
By Primer reader Christopher A.
Raise your hand if you've ever tried to emulate Daniel Craig in a shawl-collared cardigan. It's ok—this is a safe space. In Casino Royale, Craig (the new, grittier, more dressed-down Bond) wore a black shawl-collared cardigan in two scenes, but Quantum of Solace was perhaps more memorable for menswear fans. You know the scene: Italian villa, exorbitant Tom Ford cardigan, white shirt, beige pants, and brown chukkas. Even though Quantum came out in 2008, the sweater's popularity seemed to explode a few years later as several factors like Americana, Steve McQueen, "hashtag menswear," Tumblr, Reddit, and various message boards all combined to form the perfect storm that was 2012-14 men's style.
Lately I've been back on the hunt for a comfy shawl-collared cardigan that can keep me warm at my desk but also look presentable if I ever do leave the house. Hoodies are great, of course. But the hood never seems to lay right when I'm sitting down, and the metal zipper gets annoying when unzipped. And I've never been a fan of the Y-neck cardigan style. Full-zip mock necks are fine, but there's just something about the comfort of that beefy shawl collar and the buttons that allow you to adjust the warmth level just right.
And when I began my search for the perfect cardigan, I had Quantum of Solace in the back of my mind: black, substantial collar, thick ribbed material, patch pockets. But surprisingly, it's hard to find. And anything in merino wool or cashmere is expensive—sometimes even eye-watering. I get it; they look and probably feel amazing. But it's still a sweater. And you definitely get diminishing returns when you pay outerwear prices for knitwear.
So for me, versions from Drake's, William Lockie, or even Spier & Mackay (who seem to have a very nice merino one for around $200) were out. I also tried and returned the 100% lambswool version from Amazon's Goodthreads line (which can be hit or miss for me). The fabric was thin, insubstantial, lost its shape easily, and just felt cheap. Side note: it's easy to get misled by an item that's "100%" something or other. You can buy wool, cashmere, or Supima pieces that are still bad because not all fabrics within that family are created equal or constructed equally well. A quality blend can beat a crappy wool.
Drake's / Spier & Mackay / William Lockie
Then I stumbled across a version from Amazon's lower-tier Amazon Essentials line. I ended up pulling the trigger because the reviews were decent and the cardigan had everything I was looking for: nice thick collar, substantial ribbed fabric, patch pockets. And it came in black. I'm happy with it for the price and with several caveats.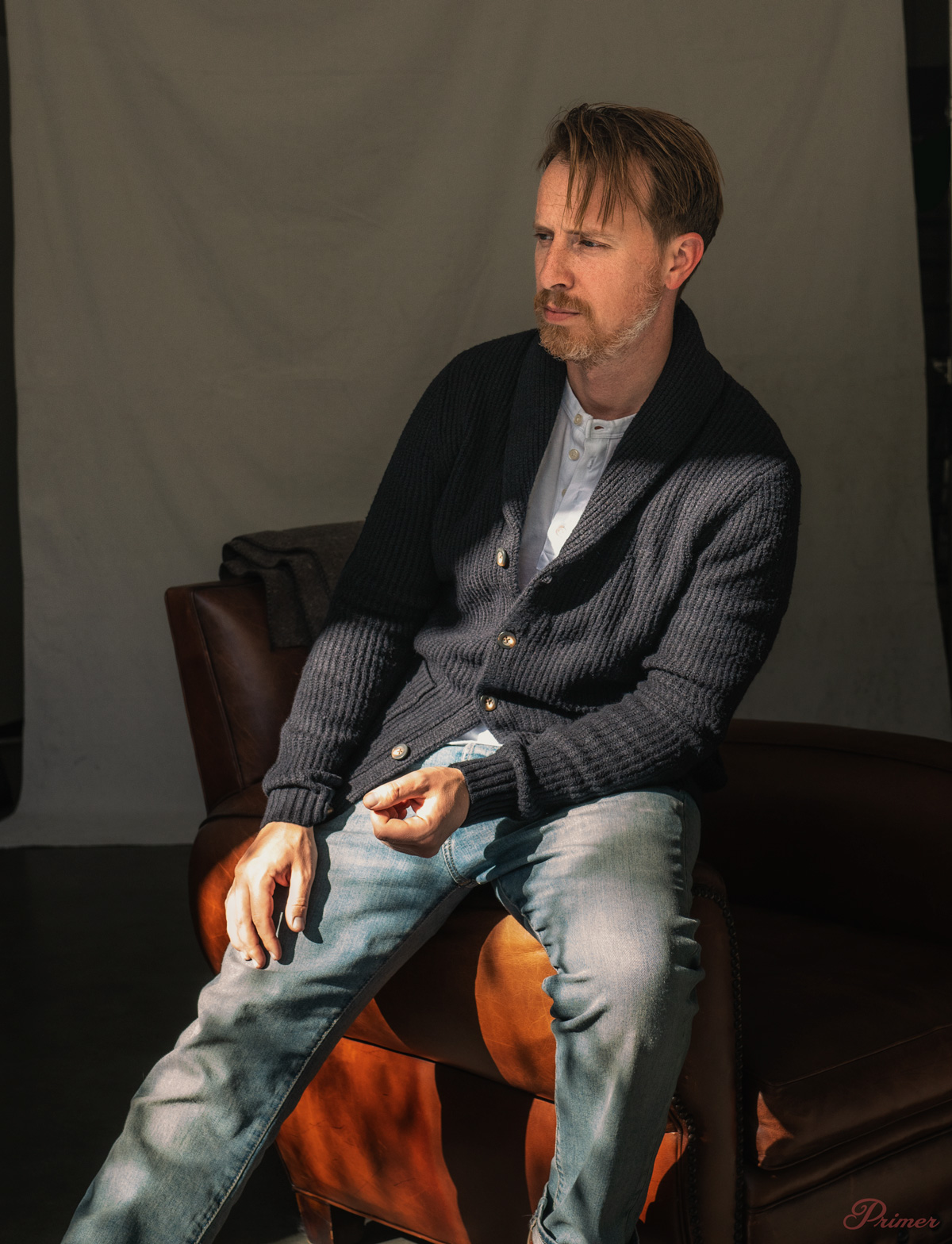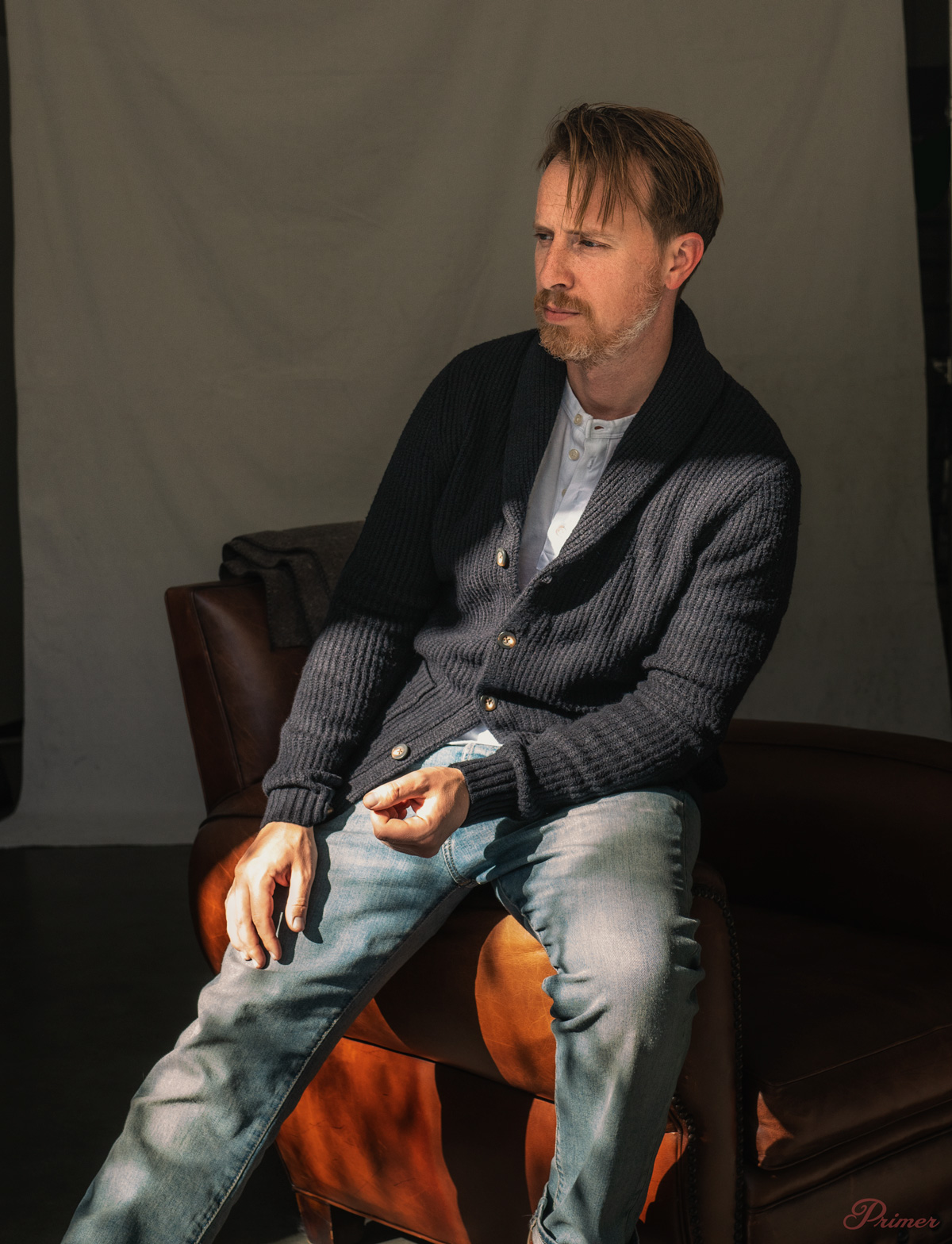 Amazon Essentials shawl collar cardigan / Buck Mason henley / Levi's
First, the sizing. I'm a solid medium in Goodthreads and other brands (Gap, Banana, Uniqlo, Polo), but the Amazon Essentials medium was HUGE. The small fit perfectly, with ideal sleeve and body length (I'm about 5'10" and 165 lbs.). Measuring knitwear is tricky, but here are some rough dimensions for the small:
Chest (pit to pit): 22"
Waist (at hem, just above ribbing): 19"
Shoulder seam to shoulder seam (in back of sweater): 17" or 18" (difficult due to knit)
Length (from base of collar in back to hem): 25.5"
Sleeve (from shoulder seam to cuff): 26"
The flattering fit, collar, and button stance lend it that Quantum look for a low price, and that's its main strength.
Second, the fabric. At this price, obviously, we're not expecting wool. And we're also not expecting 100% Supima cotton. What we end up with is a 56/23/18/3 blend of cotton/poly/acrylic/elastane. Now, going back to the 2012-14 men's style orthodoxy I mentioned above, we've all been told that synthetics are bad and blends are used to cut costs, etc. And that can certainly be true. But everything needs context. For knitwear, I'm not a fan of 100% cotton because it bags out quickly and doesn't return to form until you wash it. In this case, the acrylic helps give this (admittedly cheap) cardigan more loft, insulation, and shape retention. In other words, it's a better imitation of wool than 100% cotton. It's perfectly comfortable in a chilly house, and still warm for a brief trip outside in the 50s (maybe upper 40s) when worn over just a t-shirt. And zero itch.
Third, the durability. I bought the sweater mostly for working from home, but there would be no point buying something new unless it's also presentable outside the house. And for the price, I wasn't expecting amazing quality. Even cashmere pills, so I was expecting a good bit of pilling. And boy, did it pill—this is the biggest drawback. The cardigan held up ok to a wash (cold water, delicate cycle, dried flat) but required quite a bit of de-pilling with a sweater shaver.
Is it ideal? No. But if you go in with the right expectations, the Amazon Essentials shawl cardigan will give you a flattering 007 look that won't stretch your budget. Which is, at least, some solace.
How does the Amazon Essentials cardigan compare to a $150 Banana Republic Supima cardigan?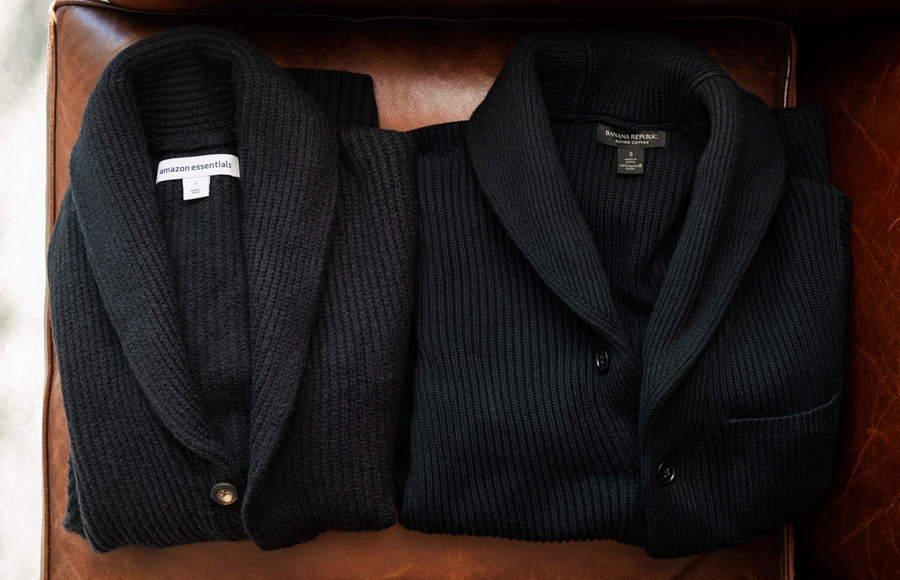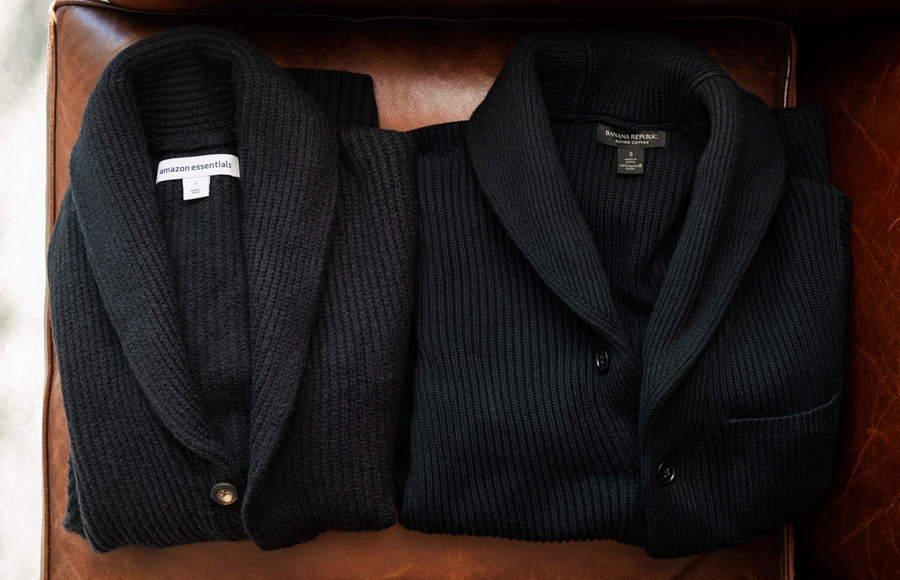 Left: Amazon Essentials, Right: Banana Republic
I have owned many-a shawl collar cardigans in my day. For me, it's a perfect smart casual item, it can easily be worn in place of a hoodie like I do in the photos above with a henley and jeans; or it can be dressed up with a button up shirt and trousers like Bond did for a more business casual vibe. I purchased this black Supima cotton cardigan last winter and featured it in this Getup. It is easily the most expensive sweater I've bought, I want to say I paid $128 for it, but I could be wrong since it wasn't on sale and now it's $150.
Supima is a brand name for American made Pima cotton and is supposed to be a status indication of quality. It's a solid sweater for sure, but I've also purchased shawl collar cardigans from Lands End, two from Gap, Abercrombie, American Eagle, and another from Banana Republic. Most of them I bought on sale through Primer's deal picks between $40-$80. I would say the Supima cardigan is more of an $80 sweater than a $150, just based on what I've gotten before, but this one has not been included in any of the sales at BR since I bought it so that may not be realistic. If I were to pay $150 for a shawl collar cardigan, I'd probably pay a little more and splurge on one from Buck Mason or one of the three Christopher mentioned above.
That gets me back to the Amazon Essentials cardigan: I'm a guy who has seen the versatility and long-term usefulness of a quality shawl collar cardigan so I'm fine with paying more for an upgrade. But if you're new to the style or know it will be a limited pull for you in your rotation, it makes perfect sense to start out with budget-friendly option.
Next to each other the sweaters are nearly identical looking. The knits are slightly different – Amazon's has more of a fuzzy texture and the Banana Republic's being a little more fine and less chunky, probably giving it a slight edge in being able to be more dressy but it's much more of a preference than a clear rule. The Amazon Essentials can easily be dressed up too.
Left: Amazon Essentials, Right: Banana Republic
Interestingly, the Amazon version does have a softer hand feel, but it's that artificial softness you get with poly or acrylic. The Supima is not rough by any means, it just feels like fine cotton. Buttons and pockets are similar, with the Banana Republic having a chest pocket as well as the two front pockets.
In regards to quality and pilling, Amazon's sweaters in general have met my expectations for the price, unlike ones I've had from Old Navy, H&M or similar brands, but I'm quite gentle with how I wash them. I've been burned over the years with putting even nicer sweaters in the gentle cycle so I generally only launder when necessary, washing them by hand and air drying them to avoid pilling and color loss. (If you are going to wash a shawl collar sweater in the washing machine, you'll definitely want to turn it inside out to avoid color loss/fading.)
I ordered both the small (which I normally am across the board) and an x-small based on Christopher's review and I found the small to be adequate so I didn't bother trying on the x-small. I would recommend buying both your normal size and a size down, just in case your experience matches Christopher's.
Hand me both without labels and I would pick the Banana Republic sweater because of the feel – but is it worth an extra $120? If you're a guy just getting into the look or know you have limited wear opportunities, the Amazon Essentials Shawl Collar is a safe buy at $32(!). Take care of it and you should get your money's worth. On the other hand, if you already believe in the gospel of the shawl collar and plan to wear it for years to come, I'd hold out for a Primer deal pick in the $50-70 range or jump off of the deep end with one of the higher priced options above.
Source by www.primermagazine.com