Tumblr fashion is often remembered as an indie sleaze haze full of messy hair, dark eyeliner, and ripped tights. But, back in the early-to-mid 2010s, twee fashion — a late '50s-, early '60s-inspired aesthetic marked by polka dots, Peter Pan collars, and A-line dresses — was the It-look. And one woman dominated the website's inspo scene: New Girl's Jessica Day, played by Zooey Deschanel. Today, fashion is witnessing the trend's comeback: Videos about twee fashion have garnered over 1 billion views on TikTok, while videos about the twee revival have clocked over 300 million views.
A school teacher, Day was never afraid to flex her personal style, as quirky and young as it might have seemed. Throughout the series, which aired from 2011 to 2018, Day wore a mix of colorful A-line dresses, printed cardigans, bow-adorned ballet flats, headbands, and printed tights, all paired with her signature thick eyeglasses and wavy brunette hair. Even when her roommates, who were all men, made fun of her retro choices — Schmidt (Max Greenfield) once instilled a ban on her high-waisted shorts as a prank — she never wavered. Not just because she liked the aesthetic, but because it was part of her personality.
There's a particular scene in Season 1 where this is evident: Jessica is at odds with her roommate's girlfriend Julia (Lizzy Caplan), who is a pantsuit-clad lawyer, because of their opposing personalities and views on the value of homemade cupcakes. While Julia, who swears she's not a dessert person, wears mostly black to be taken seriously at work, Jessica, who owns checks adorned with baby farm animals, says she dresses and acts in a quirky fashion at work so her students "don't turn in weird, dark dioramas." For young women, Day's twee style presented a way to have their cake and eat it, too… literally.
Today, twee fashion is making a comeback in the form of mini skirt suits, ornate collars, printed tights, and ballet flats. Over the past few years, Danish brand Ganni has also made Peter Pan collars a must-have for today's trendsetters. In more recent releases, Saint Laurent's resort 2022 collection included a mix of scalloped high-waisted shorts, embellished cardigans, and bow-clad dresses. There's also Dior's spring 2022 collection, which featured a slew of colorblocked looks, including halters, A-line dresses, vibrant coats, and Mary Jane shoes.
LOS ANGELES, CA – MARCH 22: Zooey Deschanel is seen on the set of "New Girl" on March 22, 2013 in Los Angeles, California. (Photo by GONZALO/Bauer-Griffin/GC Images)
A decade after New Girl's release, Jessica Day, with her cardigan-clad teacher-to-principal career climb, still provides a blueprint for the style for the twee fashion revival.
"I would watch the show and really identify with Jessica Day as a very quirky, unconventional person," says Zameena Mejia, a longtime fan of the show. "It was also about the very approachable sense of fashion that she had; incorporate all things polka dot, nautical stripes, the big bows in your hair, leave your curls falling over your face, etc."
During the show's run, Mejia looked for style inspiration on Tumblr. She even discovered a dedicated New Girl style account, named "Dress Like New Girl," where, much like some of today's Instagram accounts, a blogger would identify specific brands and pieces worn on the show for fans to shop on their own. "It would always have links to J. Crew, Kate Spade, brands like that," Mejia says. Now, fans of the aesthetic are on TikTok, with videos dedicated to the trend.
Costume designer Debra McGuire, who worked on the series until its finale in 2018, says she was inspired by a box of Crayola crayons she had as a kid to dress Day, building a color palette that embodied the fun, child-like nature of the character, while still keeping her stature as a school faculty member intact. McGuire also drew inspiration from Deschanel in real life: "Her style is so reminiscent of a vintage, classic look," she says.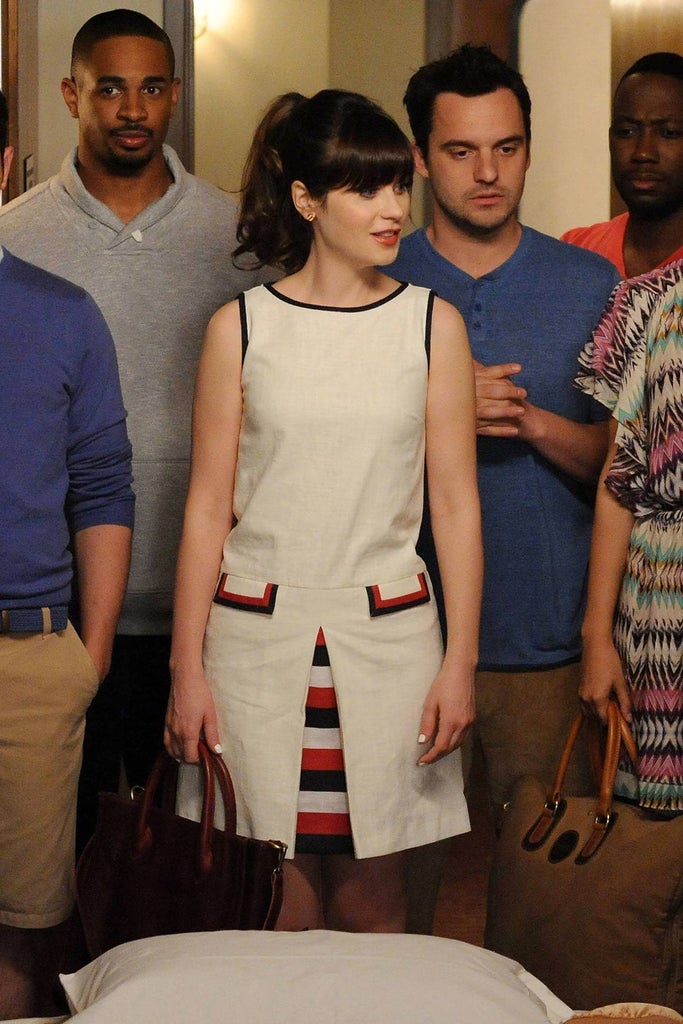 NEW GIRL: (L-R) Max Greenfield, Damon Wayans, Jr., Zooey Deschanel, Jake Johnson, Lamorne Morris and Hannah Simone in the "Cruise" Season finale episode of NEW GIRL airing Tuesday, May 6, 2014 (9:00-9:30 PM ET/PT) on FOX. (Photo by FOX Image Collection via Getty Images)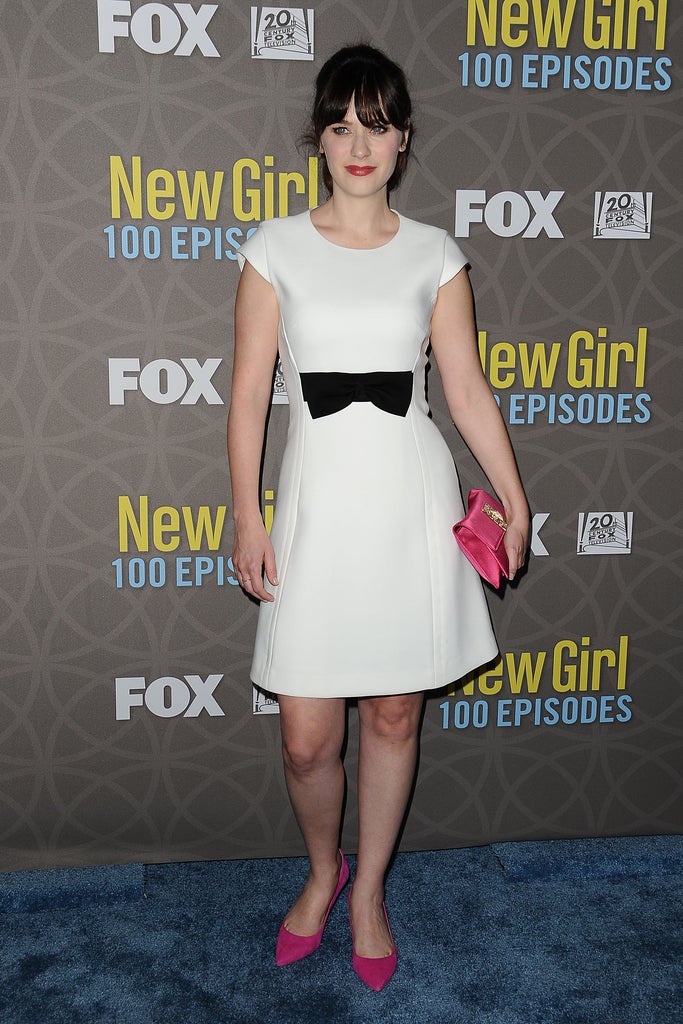 LOS ANGELES, CA – MARCH 02: Actress Zooey Deschanel attends Fox's "New Girl" 100th episode party at W Los Angeles West Beverly Hills on March 2, 2016 in Los Angeles, California. (Photo by Jason LaVeris/FilmMagic)
Before New Girl, Deschanel had already embraced the twee girl fashion aesthetic in her work — starring in movies like 500 Days Of Summer and Our Idiot Brother — and in real life — the actress and singer often wore '50s-inspired dresses while performing modern takes on melodies that might have been a fit for a cappella quartets in the early 20th century for her band, She & Him. During the New Girl years, the line between Day and Deschanel blurred even more: In the show's third season, Day sported looks from a capsule collection Deschanel worked on with Tommy Hilfiger, which included nautical themes and A-line mini dresses. It was a very defined aesthetic that encouraged the hourglass-figured, dainty female ideal in the 21st century.
While some criticized the twee aesthetic for glamorizing whiteness and thinness (and commodifying the idea of the "adorkable nerd"), that didn't deter many people outside those lines from adopting it. "Although I wasn't a white woman with blue eyes and super skinny, it still felt like a very approachable sense of style," says Mejia, who is Dominican-American. "The timelessness of the pieces that she wore really made it so that I would feel comfortable wearing the same kind of clothing."
A decade after New Girl premiered, McGuire is still stunned by the impact her work building Jessica Day's style had on pop culture. "It's so funny because I was just doing my job," she says. But what might have started on a random day at work is still shaping people's style today. "I just started a new job and someone made a comment, like: 'How many rainbow sweaters do you own?'" Mejia says, referencing the scene between Julia and Jessica in New Girl. "That is the epitome of twee fashion, and that's how I see it coming back."
Like what you see? How about some more R29 goodness, right here?
Twee Fashion Is Back — Here's How To Update It
Just How Adorkable Was <em>New Girl</em> Really?
Zooey Deschanel's<em> New Girl </em>Character Is Now Edgy
Source by www.refinery29.com